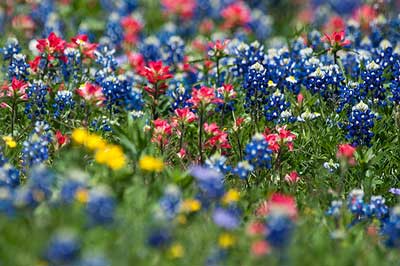 The Road Leads to The Gap: 2012 Buffalo Gap Wine & Food Summit
I left our casita just outside Fredericksburg, Texas, this evening after an afternoon gust of cool north wind arrived with only a spit or two of rain. The drive up through Mason and Brady was brightened with a flury of color: ribbons of yellow to the right and left with splotches of red and blue that grew in size into oceans as my path went northward. As I approached my destination, Buffalo Gap, Texas, I saw the fine, lime green leaves of the mesquite trees. Finally, as I rounded and exited a blind curve I saw the landscape described in countless pioneer travelogues and verbal accounts in buffalo hunter tales – The Gap.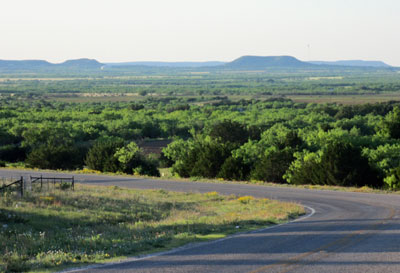 Buffalo Gap is an historic place; the confluence of geology, Native American culture and life, and Anglo-American wonderlust of manifest destiny. The "city" of Buffalo Gap resides under tall green cottonwood trees as does the Perini Ranch Steakhouse and thus the reason for this being: it's the site of The Buffalo Gap Wine & Food Summit lead by Cowboy Chef Tom and Lisa Perini. This is my third year to be blessed with the opportunity to come to Buffalo Gap and to attend the Summit. This year in addition to my usual wine media duties tomorrow, I will be fulfilling my authorly duties signing my book on the Texas wine experience, The Wineslinger Chronicles.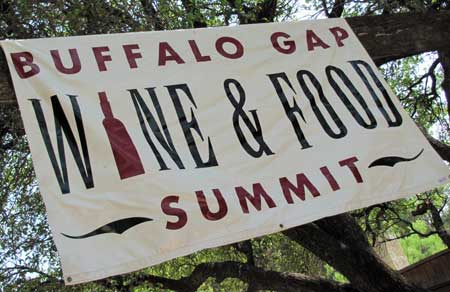 The 2012 Saturday schedule is chock full of wine and culinary excitement:
10:00am ~ Tuscany in Texas ~ Perini Ranch Grounds
We will Sip & Swirl with Master Sommelier Guy Stout of the Glazer's Family of Companies and our visiting Italian, Californian & Texan winemakers to learn about Italian wines and Italian varietals being grown stateside! Guy normally makes us do the tasting blind (that is, without showing or telling us where the wines are from or who produced them) which makes for an exciting early morning wine tasting affair.
12:00pm ~ "La Dolce Vita" Lunch!
It's an experience of an authentic Italian antipasto lunch with Damian Mandola of Mandola's Italian Market in Austin, Texas as he shares with us an array of traditional Italian fare! [Thats-a gonna be-a nice!]
1:30pm ~ Laura Werlin ~ Cheese & Wine Seminar
I won't miss Laura Werlin, James Beard award-winning author and one of the country's foremost authorities on cheese, as she teaches the secrets to pairing cheese and wine!
— break time and I'll be ready to sign books and head for the bunk house for a bit of wine and food R&R.
7:00pm ~ COWBOYS, CUISINE & CABERNET
I'll dine [and some may dance] the night away under the West Texas stars, sampling some of the regions' finest cuisine from today's hottest chefs. The chefs will showcase their cuisine and creativity at stations alongside perfectly paired wines from Texas, California and Italy. This unique, intimate event gives a rare chance to visit with top chefs and winemakers.
I'll be back for the Sunday morning festivities for:
9:30am ~ BID-ADIEU BRUNCH (An Exclusive Patron Only Event)
Before I hit the road, I'll make my trail a happy one as we all say "Ciao" with a traditional Tom Perini Texas chuckwagon brunch.
— — — — —
Follow and join in on the wine and culinary action at the 2012 Buffalo Gap Wine & Food Summit on Twitter using hashtag #BGSummit. I will provide a feed on the Texas wine scene using the hastag #TXwine.