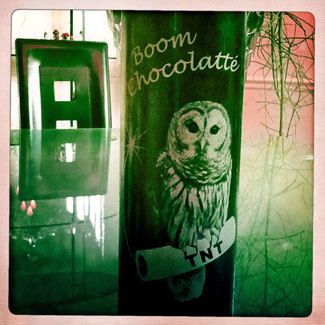 Port-Style Wines: Not Just for Old Fogeys Anymore!
My new Texas Wineslinger wine column on Lubbockonline.com went live tonight (click here). It was a bit of a free form narrative titled "Texas Has Many Ports in a Storm" and is based on a few references and a quick survey of friends and professional associates that like a splash of Port wine every now and then. The credits include the following:
Kevin Simon – University of Houston
James King – Texas Wine School
Don Pullum – Akashic Vineyard & Consultant Winemaker
Guy Stout MS – Glazer's
Paul Bonarrigo – Messina Hof Winery
But, Guy's quote was the one that's stuck with me. He's right…Port isn't a boring stogy old sweet wine any more only fit for cigar smoking old guys. Sorry Guy!
One example is the wine featured in the photo above – 2008 Boom Chocolatté made by Brushy Creek Vineyards. It's a chocolate-infused, Tannat Port-style Texas wine that won a gold medal at the 2012 Lone Start International Wine Competition. A few weeks ago, I tasted it at TWGGA's grape camp after running into winery owner Les Constable at dinner. Les opened his tall thin bottle of Boom Chocolatté and it was obviously unconventional and a definite hit with all that tasted it that night. I came home with the balance of the bottle and tried it out on friends and family since then, and in both cases, it made them say Wow!
On Les's Brushy Creek Vineyard website, he describes Boom Chocolatté as…
"This sinfully rich dessert wine will awaken your senses with an explosion of blueberry and chocolate flavors.  Enjoy this wine with your favorite dessert, or use as a topping for ice cream or cheesecake."
At $42.99 a bottle, Boom Chocolatté ain't cheap, but it's worth it. It's both powerful (19% alcohol) and powerfully good making a little go a long way.
— — — — —
One of the contributors to my Port wine column on lubbockonline.com James King sent me an email that further supported my case that Port-style wines are hot and getting hotter in the marketplace. He referenced information from Shanken News Daily that indicated:
Port shipments to the U.S. were up 11% in 2011 (and rising another 5% in 2012 through August).
In an interview with Adrian Bridge, CEO of The Fladgate Partnership, Bridge said:
"In the U.S., the really strong growth is in aged Tawnies. We're seeing double-digit growth on 20-year-old Tawnies and up, which is phenomenal when you consider that two-thirds of distribution in that segment in the U.S. is through restaurants."
That's the conventional stuff…now listen to this…
Ever heard of Croft Pink? It's Port Rosé. Yep, you heard me right.
This innovative new Rose style of Port has been made by a new technique which extracts fresh, fruity flavors and a subtle and delicate pink color from limited contact with the skins of classic Port grape varieties, grown in top quality vineyards of the Douro Valley. It has created the perfect opportunity for Port to be consumed in the warmer months of the year when Port may not otherwise be the drink of choice. This port is best served chilled and is an excellent aperitif accompanied by roasted almonds or olives. It is also a delicious accompaniment to lighter desserts and fruit. Try some of the Croft Pink Cocktails. Or pour over ice and mix with soda. It's gaining acceptance, despite Port's very traditional image?
Bridge said, "We needed a slightly different approach to get it into restaurants, because sommeliers, even in this day and age, were accustomed to Port being red. So we decided to bring it in through the bar, which meant promoting cocktails and engaging bartenders. But we encourage Croft Pink to be drunk on its own as well. People are receptive to Pink. It's bringing in a new generation and creating new consumption occasions."
Click here to check it out.
Remember…Port's not just for old fogeys anymore. I think that Guy's right.
As Bridge says, Port's for a whole new generation now. Think pink!