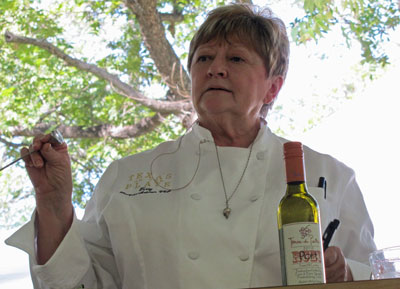 Texas Wine Shrimp Mac & Cheese Delight: My Fatal Mistake in Wine Selection?

When my wife and I get an invitation to Chef and cookbook author Terry Thompson Anderson's house, we always know to expect something delicious, exquisitely prepared and, perhaps, even unexpected. I always like to bring a special Texas wine: something that I consider better than very good and something that's a bit hard to find, but well worth it. However, the challenge when bringing a wine to a chef's house, as you might imagine, one often doesn't know what to expect. In these cases, I learned to throw out many of the conventional rules of wine selection (you know them: like well: red meat – red wine) and just go with my instincts: take the best wine that I think that I have at the moment.
In this case,  as we gathered around the dinner table with Terry and her husband Roger, Terry announced that her creation of the evening was prepared from a new recipe that will be featured in an upcoming cookbook on Texas cuisine. The main course was a single shallow bowl of macaroni and cheese, but not just any mac and cheese and particularly not anything like the ones that come out of a Kraft box.
Terry's version of this iconic (and usually infamous) dish was Texas Gulf Coast Shrimp Mac and Cheese. When it came, it looked and tasted nothing like the stuff that comes out of a box. It had a darker complexion and earthier aroma than I expected and topped with a crisp crumb crust.  It gave me a momentary pause and a sudden shutter that  I may have made a fatal mistake in my wine selection.
A few days earlier before departing our Houston home for our country cottage near Fredericksburg,  I perused my wine cooler. I was looking (as mentioned above) for something of distinction that was also from Texas, and something not from the usual list of youthful suspects found in our local wine shops or even our premium markets. So, I looked for a bottle of red wine: a bottle with age. Alas, I found a lone bottle of Llano Estacado Winery's Cellar Select Cabernet Sauvignon, designated from Newsom Vineyards on the front label and wearing a vintage date of 2002, only a year short of a decade old. My only concern was if the wine had aged well and carried the great qualities that it had in its youth, perhaps enhanced by nine years of bottle age.
However, when Terry announced her Shrimp Mac & Cheese presentation, I gulped with trepidation and asked myself, "How will a full bodied and aged Cabernet pair with the fruits of Terry's mac & cheese creation?" I continued this line of thought while I opened the wine. After uncorking and pouring the wine, it was obvious that it had held up well to bottle age. It was still dark and thick in its mantle of purple goodness so well known in Cabernet wines and blends that derive from Neal Newsom's Texas High Plains vineyard in Plains, Texas (near Lubbock).
I let the wine rest in my glass for a moment while I took my first bite of Terry's Shrimp Mac & Cheese. It possessed a yin-yang charm; heavenly delightful yet outwardly sweet, rich and earthy with scents of mushroom and sweet succulent shellfish and a perky hint of cayenne pepper.
Upon my first sip of the Llano Estacado Cabernet my apprehension were ameliorated. The wine exuded equally delightful nuances of wet earth, a pairing of mushrooms, an herbal note of farm fresh hay and a lingering scent of saddle leather over still perceptible dark berry qualities and the wine's inherent crisp acidity. This wine had more to give, perhaps five years or even longer of aging potential. But, this was my last great taste of a superior wine from the land of Texas past. Maybe I will have the opportunity to find another bottle. Where, I don't know, but if I do, I will let you know once I let it rest for another five or ten years longer.
Surely, this wine and food pairing (Shrimp Mac & Cheese and Llano Estacado 2002 Cabernet Sauvignon) will be one that I remember and cherish for a long time to come, despite the initial fear of a fatal mistake in my wine selection.
P.S. And, who says Texas wines don't age well. The performance of the Llano Estacado Cellar Select 2002 Cabernet Sauvignon from Newsom Vineyards was a complete demonstration that Texas wines of distinction can age as respectably as the few that the wine world can offer.