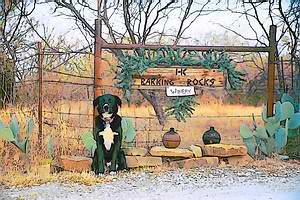 Hark! Hark! The Rocks do Bark. The winemakers have come to town.
This aberration of the old 16th century English poem my Mother taught me as a child was going through my mind as I drove through Granbury, Texas. It was followed by the thought of why someone would actually name a winery "Barking Rocks".
"The name of the winery just evolved" is what Lawrence Tiberia told me when I arrived. He is co-owner with his partner Sissy and winemaker at Barking Rocks Winery and is known to most people as simply "Tiberia".
As Tiberia told me, "The winery is actually located in a renovated cattle barn previously built for Helen Knox. We decided to use her stylized "HK" brand on the label and try to incorporate it into the name of the winery. However, we were initially hung up on the alphabetical interpretation, and it really didn't work. Finally, it took a little wine and a brainstorming session for us to see the HK brand on a rock wall that we use in our logo hieroglyphically. Then, the proverbial light bulb went on in my mind; the logo looked like a barking dog. This is about as close to Madison Avenue marketing as it gets here!"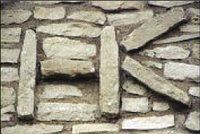 Barking Rocks Winery sits on 4.4 acres of land with 1350 square feet of open space under air and heat. It is a pleasant Texana scene with porches, shade trees, an arbor, a fire pit, and a windmill. A full 80 foot covered porch looks toward the pasture and beyond that is often the venue for the wineries music-filled events.
I have to admit, one of my ulterior motives for this visit was to learn more about this little winery that captured a gold medal in our 2004 Texas' Best Wine Competition for its 2002 Reserve Cabernet Sauvignon (Newsom Vineyard) their first year in commercial operation and in their first major competition. This wine really blew away the judges with its big fruity quality and also captured their votes with its balance and structure. But, the standard response from the judges I got when I told them that the award winning Cabernet was made by "Barking Rocks", they would say…."Barking What!" I remember that after the competition we actually called the winery just to make sure they were a real winery as no one had heard of them.
As we sat in the winery tasting room, Tiberia told me the story about his entry into the Texas wine world. He said "I'm Italian and originally from Upstate New York. My home town up in the Catskill Mountains was more Italian than Little Italy. I had been around wine as long as I can remember giving me my 'first taste'. I would love to say that I brought my grandfathers wine recipe to Texas, but I really didn't."
"I made it to Texas in 1977", says Tiberia. "I started making wines and even planted three acres of grapes. But, I made lots of mistakes….the wrong grapes and the wrong place. I had to walk away from it, but I had gotten my 'second taste'. Finally in 2002, I had the opportunity to start Barking Rocks and even planted a small vineyard here. But back then, getting grapes was a breeze. This is when I got to know grape grower Neil Newsom from the Lubbock area and landed some of his Cabernet grapes for our first Cabernet.
Tiberia admits that things have gotten more complicated in recent years. With the number of Texas wineries topping over 160, there is a shortage of Texas grapes. As he says, "You have to get in line now, but if you can showcase a grower's grapes by making a good showing with a single vineyard designed wine like we did with our 2002 Cabernet, it can help give you some leverage."
It appears that Tiberia's lament about grape availability in Texas illustrates the "growing pains" in the Texas wine industry that are similar to those in California back in the 1960's and early 70's. The majority of Texas wineries are small with a few "Big Boys" as it was back then in California. There is a movement to increase the amount of grapes under cultivation in Texas through a program by the Texas Department of Agriculture (TDA), but it will take time to get the process started as most grape vines do not produce commercially for 3 to 4 years after they are planted.
Tiberia also mentioned what he is trying to accomplish in his wines. "I always try to do the most that the grapes can offer.  When we received the 2002 Cabernet grapes from Neil Newsom, it was obvious that it was going to make a huge wine and we just went with it."
It was interesting listening to Tiberia talk about that wine, as that time, all he had was a little basket press that he rigged on a scaffold. He said that he must have manually filled that press 500 times to make his 2002 Newsom Vineyard Cabernet. He had no pumps or fancy equipment, but also no expectations. As he described, "I just let the grapes deliver all that they could."
Tiberia also recalls less pleasant experiences that had happy endings. He bought some Syrah from a young vineyard. But as he recalled, "After the crush, it just didn't taste like Syrah. We added a little oak to firm it up, but it was still a little flat. Finally, I blended it with some white wine (to juice it up a bit) and, in the end, it made a really nice light-bodied summertime red wine.
When asked what he has learned since starting the winery, Tiberia indicated that Barking Rocks sells more than 90 percent of its wine out of the winery tasting room but he is working to expand his sales base. He has learned that making wine can be a bit more fun that the retail part of the business. But, he says that to be a successful winery, you need to focus on a balance between making and selling wine.
Currently, Barking Rocks sells mostly to people in and around the Dallas-Ft. Worth Metroplex, but Tiberia has some interesting customers from all over the world. One particular customer that stands out is a man from Switzerland that comes in and out of Dallas about 5 to 6 times a year. According to Tiberia, he always finds the time to come by the winery to visit and pick up Barking Rock wines to take home. Tiberia must be doing something right to have this kind of customer loyalty.
When thinking about the changes that are taking place in the Texas wine industry, Tiberia indicated that he has definitely seen an increased awareness of Texas wine. People are searching to find out what the Texas wine and winery scene is all about. One of his comments was very interesting. He said that "Texans are loyal to Texas homegrown products, but in the case of wine, they do not yet know what they are being loyal to. But, they are generally willing to try new types and styles of wine that may give Texas distinction.""
Tiberia really appreciates what TDA is doing to increase the visibility of Texas wines with the consumer. They have advertised on billboards, held events to increase our visibility and created educational resources at Texas Tech and Texas A&M to help grow better Texas grapes and, in turn,  make better Texas wines and maybe even help discover the real 'Texas Terroir'.
Tiberia feels that no small winemaker has the time or energy to do what TDA is doing in these areas. But, he feels that there is still a way to go when it comes to geting acceptance of Texas wines in restaurants. In the future, he would be interested to see what could be done in this area, as well."
In closing, I asked Tiberia what he enjoys most about being in the winery business. He barely had time to think and in a flash he responded, "Relationships. I have made relationships with the people that I have met in conjunction with the winery. It has created a new life for me involving new friendships with customers, growers and even the guy in Missouri that makes my oak barrels."
So, Its time to stop by Barking Rocks Winery to taste a little wine, listen to some music and make a new friend.
Barking Rocks Winery & Vineyard – 1919 Allen Court, Granbury, TX 76048; (817) 579-0007
E-mail: tiberia@barkingrockswine.com
Web site: www.barkingrockswine.com
Sissy Andrews, Tiberia, Owners
Tours, Tastings, Events
Barking Rocks makes small batches of premium wine, handcrafted in an old rock barn located between historic Granbury and Thorp Springs. A native Texan has joined the son of Italian immigrants and they are combining "jeans and genes" to provide Lone Star grapes a path to achieve their highest calling. Stories about the journey can be heard at Barking Rocks. or by appointment or chance.
Feature wines: Reds – Cabernet Sauvignon, Sangiovese, Casena (Red Blend); Whites – Blanc du Bois, Viognier
Ship wine to: AK, AZ, CO, CT, DC, FL, GA, HI, IA, ID, IL, LA, MI, MN, MO, NE, NM, NV, NH, NC, ND, OH, OR, RI, SC, TX, VA, VT, WA, WI, WV, and WY.