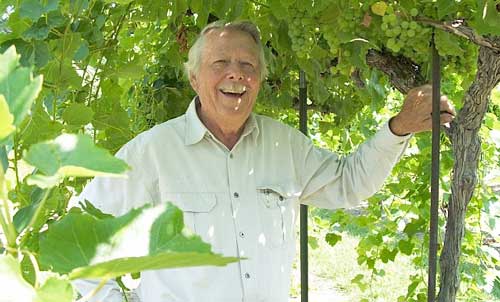 Write Off the Vine: Texas Wine News – July 30, 2010
Video: Brownfield Produces 25 Percent of Texas Wine
Brownfield's town slogan is "A Grape Place to Grow," and there is good reason for it.
With over 600 acres of grapes, Brownfield's red soil has been known to produce 25 percent of the state's wine. The mixture of sunlight and few diseases makes this a great place to grow grapes.
A local grape grower, Dusty Timmons said this area is the hub for grape production. Brownfield grows over 30 grape varieties which produces a multitude of wines ranging from chardonnay to pinot noir. "Terry County would be the epicenter of that earthquake and the high plains would be where you feel the impact of it," says Timmons.
More and video at: http://www.kcbd.com/global/story.asp?s=12879001
— — — — —
Video: CapRock Winery News Conference. Gruet Backs Out; New Auction in Process; The Truth is Out There!
From VintageTexas
Special High Plains Wine Correspondent, Ben Simons from Vinotology.com attended the news conference held at CapRock Winery yesterday. He posted the following video of the event that included an explanation by attorney Max Tarbox that Laurent Gruet, co-owner of Gruet Winery (www.gruetwinery.com) in Albuquerque, New Mexico, has backed out of the purchase of the CapRock Winery (www.caprockwinery.com) in Lubbock, Texas. Tarbox also announced that there will be a new auction by sealed bid to be concluded on August 3, 2010. There will be a judges hearing with Judge Robert Jones on August 4, 2010, to review the auction and bids.
Background, more analysis and video at: https://vintagetexas.com/?p=2037
— — — — —
Fifth among state wine producers? Believe it or not, Texas
By Paul Vigna, The Patriot-News
Just never associated the state of Texas and wine, but that obviously is changing. Rapidly. This courtesy of the latest New York winery association e-letter.
TEXAS is now the nation's fifth largest wine-producing state, and with the amount of State support the industry is receiving, it could grow very quickly and even surpass New York (No. 3 behind California and Washington).  The Texas wine industry generates about $1.35 billion to the state's economy—compared with $3.76 billion that we generate in New York—but the difference is that the State of Texas has dedicated $4.59 million to help support their industry, whereas our budget has been cut by 75% in the past two years to about a fifth of the Texas industry's budget.
To follow Paul, see: http://blog.pennlive.com/wine/index.html
— — — — —
Texas Department of Agriculture Announces $250,000 in Grants to Grow the State's Grape Industry
As a result of the continuing interest in the state's booming wine industry, the Texas Department of Agriculture today announced it is accepting applications for its Wine Grape Investment Grant Program from producers who wish to establish new vineyard operations or expand existing ones by at least five acres. A total of $250,000 is available through this program.
"Texas produces an estimated 2.4 million gallons of wine every year and the industry contributes $1.35 billion annually to the state's economy," Deputy Agriculture Commissioner Drew DeBerry said. "The industry is limited by the availability of grapes and these grants play a key role in sustaining the growth of Texas wine grape production."
Since 2008, TDA has awarded approximately $500,000 in matching program grants to 18 Texas vineyards. Grant recipients matched these awards with their own capital investments totaling $2.8 million. The maximum grant amount that may be awarded to a single vineyard is $25,000.
The Wine Grape Investment Grant Program is housed under TDA's Rural Economic Development Division. Applications will be accepted through Aug. 12, 2010. For program details, producers may visit www.TexasAgriculture.gov and click on Grants/Funding.
More Texas Wine Facts at: http://www.texasagriculture.gov/agr/media/media_render/0,1460,1848_17053_39785_0,00.html
— — — — —
Todd Kliman and Local Wine
On The Wine Curmudgeon – Jeff Siegle
Todd Kliman has been taking a lot of heat for his recent article taking restaurants to task if they serve local food but mostly ignore local wine. I'd repeat some of the comments, but this is a family blog….
Restaurants see wine as a cost to be incurred, not as an opportunity to make money. Given that approach, they tend to carry wines that are easier to sell — national brands….Or they say local wine stinks. To be fair, I think they honestly believe this. I've asked wine buyers for two important Texas restaurants why they didn't carry Texas wine, and you'd have thought I had asked them if they did things at home they didn't want anyone to know about. It turned out, in both cases, that their distaste for regional wine was ignorance. They had not had any, though they had heard a lot about how bad it was. But, over the next several years, an amazing thing happened. One of the wine buyers made an effort, tasted Texas wines, and his list today is more than respectable. He has even done Texas wine dinners.
Read more: http://www.winecurmudgeon.com/my_weblog/2010/07/todd-kliman-and-local-wine.html#ixzz0vAXRiKnL
— — — — —
Video: Grape Stomp at Dry Comal Creek Winery
One of the most fun things to do at a good winery is the grape stomp. At Dry Comal Creek that is what is about to happen. Grape Stomp is Just a Few Weeks Away.
See Video and more at: http://thegrapesaroundtexas.com/2010/07/27/grape-stomp-at-dry-comal-creek/
— — — — —
Legal setback for Out-of-Texas Wine Retailers
They are seeking reciprocal right to make direct shipments to Texas consumers.
See the analysis of the verdict affecting wine lovers that want to make wine purchases from out of state sources and have them shipped to them. Warning: You will need to put your legal hat on, but I recommend that you "cut the chase", go to the bottom and read the conclusions first.
Go to: http://www.leagle.com/unsecure/page.htm?shortname=infco20100722113
— — — — —