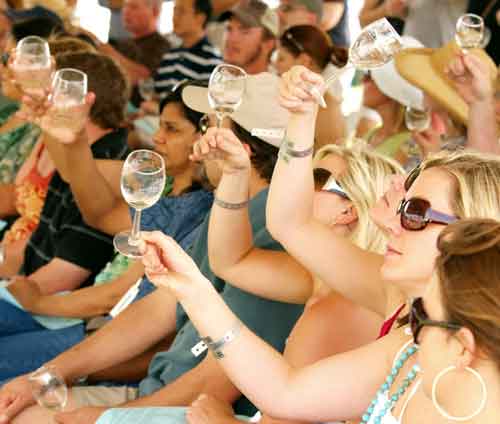 All Texas Wines…All the Time
The Third Annual Austin Wine Festival
By Guest Blogger, Jane A. Nickles
This past weekend – Memorial Day Monday and all – was three days of bliss for me and over 6,500 of my closest, Texas Wine-loving friends.  The occasional clap of thunder, a few mini-floods, and a giant river of mud could not put a dent in the on-going food, wine, music, and festivities at the Austin Wine Festival (www.austinwinefestival.com). I was – for the third year in a row – the Festival's seminar emcee, rockin' the mike under the big-top white tent all three days; preaching wine, food and the pure love of Texas to standing room only crowds eager to learn all they could about Texas Wine and Food.  Thanks to Dr. Russ and this time and space on his awesome blog, I bring you a few of the highlights from The 2009 Austin Wine Festival. 
Saturday's Rain Didn't Cause Any Pain…
Ready, Set, Sip!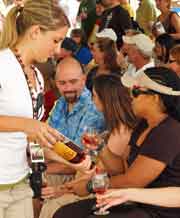 Saturday we started off the festival with a quick "Ready, Set, Sip" wine tasting class under the seminar tent.  A crowd of about 200 eagerly swirled and sniffed and easily picked up on the "Lemon, Lime, Green Apple, and Apricot" aromas in the Chenin Blanc from Three Dudes Winery in San Marcos. I call Chenin Blanc "the always a bridesmaid, never a bride white grape" because not too many people have heard of it.  Once they try it, though, they love Chenin's light, delicate flavors of fruit, flowers, and marzipan; and the Three Dudes version shows the grape's best attributes brilliantly. I taught the crowd about tannin, balance, and full-bodied wines via a tasting of Flat Creek Estate's "Bucking Horse Red" Wine, a blend of Cabernet Sauvignon, Merlot, Syrah, Primitivo, and Sangiovese…a wine I described as "like a Chippendale's dancer…sweaty, leathery, and hot."
Red, White, and 'Cue
Next up Saturday afternoon was a Texas BBQ demonstration by Jay Knepp, General Manager of the Salt Lick BBQ.  Jay taught the crowd all about smokin' and grillin', and then wowed everybody with a demo of how to slice a whole brisket into delectable bite-sized pieces.  Everyone got a taste of brisket, accompanied by the Salt Lick's signature spicy BBQ sauce. I paired Jay's creations with Driftwood Vineyards Dry Merlot Rosé.  This wine I describe as being as "bracingly refreshing as falling – fully clothed, including shoes – into a clear mountain lake."  The fresh red fruitiness of the wine and the wine's palate-cleansing snap, crackle, pop of acidity made this the ideal match.
The Big Dogs Arrive…
The last demo on Saturday featured two Chef Instructors from the Texas Culinary Academy.  Full disclosure – of course these guys are my friends and co-workers but they also rock!  Chef Graham Mitchell, formerly of Fuze and Medizona, and Chef Robert Brady, formerly of Aquarelle; gave a lively demonstration of Chef Graham's Hoisin-Braised Short Ribs with Fresh Horseradish Mashed Potatoes.  We were just about finished when a ten ton bolt of lightning seemed to hit the ground behind us – right behind us.  Realizing I was outside, in the rain, lightening striking, all the while holding onto a piece of live electronic equipment prompted a quick end to the talk, but everyone stayed safe and dry under the tent where, after all, the food and wine was.  I paired Chef Graham's dish with Becker Vineyards Syrah…making a wild-as-Tarzan match of spice, heat, and full-bodied rich flavors. I wine like this, I think, could take out the trash and drag your car out of a ditch…pure macho grit.
Sunday's  Steam Is Now Just a Dream…
Mighty Fine…Texas White Wine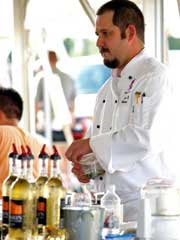 Sunday's festivities all got pushed back an hour due to a noontime downpour, but at 2:00 the gates were open and by 2:30 we had a packed house for our white wine seminar.  I poured three white wines – a Chenin Blanc, a Sauvignon Blanc, and a Viognier – to try to teach the crowd to differentiate between white grape varieties.  I call Sauvignon Blanc "the illicit drug wine – all grass and acid." This probably speaks to my U.C. Berkeley roots a little too clearly but the standout wine of the session, Singing Waters Sauvignon Blanc made in Comfort, Texas; showed the lemon-lime acidity, the fruity flavors, and the herbal "green, green grass" aromas perfectly. 
Wine and Chocolate…What's Not to Love?
Next up under the seminar tent – wine and chocolate…two of my closest friends!  Like all complex relationships, the wine and chocolate match requires  some rules to keep everyone happy.  Let's face it, and no matter what the wine-n-food clichés say, wine and chocolate can be a tough match.  I found some fantastic pairings, though…not a bad way to spend a Sunday under the Seminar Tent.  The perfect mate for a milk chocolate-honey truffle was a sweet white:  Haak Winery's Blanc de Bois White Port.  It is always a pleasure to watch those people that say "I just don't like sweet wines" taste a sweet wine in its best possible light:  paired with sweet food.  It sounds counter-intuitive, I know!  But try it you'll see – the sweetness of the chocolate cut the sweetness in the wine, and everything – wine, food, maybe even the stars and the moon…came into perfect balance.  Behold the power of a perfect wine and food match.  
The Perfect Memorial Day Monday!
A Glass of Texas Red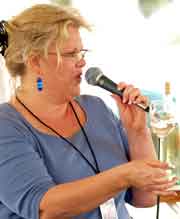 The perfect Memorial Day Monday – a little on the steamy side, but gorgeously sunny – started out with a red wine tasting class – "A Glass of Texas Red."  Several hundred people packed the by now well-used seminar tent as I led them through a tasting of Merlot, Cabernet Sauvignon, and Syrah. 
After reciting "Cherry, Berry, Smoky, Spice" several dozen times to learn about red wine's basic scents, we learned to differentiate each varietal based on aromas, tannin, flavors, and body.  The standout red wine of the day was Red Caboose Winery Merlot 2007 grown and made in Meridian, Texas.  Merlot, I say, is like your cousin in high school – had a bad reputation but really didn't deserve it.  I don't allow Merlot bashing in my house like I don't allow cussing or ugly shoes.  Really people, let's have some class.  Merlot is now being recognized as the Noble Varietal it is…and this Texas version full of the aromas of plum, raspberry, cherry, rosemary and vanilla…shows it off very well.
Festival Wrap-Up
Although I was shackled to the seminar tent, there was a whole world of a wine festival going on around me.  At the other end of the festival, the music pavilion featured nearly continuous, live music from Texas and beyond.  The Modern Day Drifters, The Texas Renegades, and the Band of Heathens were crowd favorites.  New to the Festival this year was the Vintner's Club and Wine Bar, out of the sun and away from the crowds, where the wineries poured their finest wines to the delight of those in the need of some pampering.  Whole Foods featured full meals and wine-loving snacks under the Bistro Tent, and in all over 30 Texas Wineries participated.  Next year, the Austin Wine Festival rides again, May 29 – 31, 2010.  See you there!
::::::::::::::::::::::::::::::::::::::::::::::::::::::::::::::::::
About Miss Jane
Jane A. Nickles, or "Miss Jane" as her students call her, is a Certified Specialist of Wine and has been the wine educator at the Texas Culinary Academy (www.tca.edu) for over 12 years.  Miss Jane is also the author of "WineSpeak 101" (www.winespeak101.com) and is a frequent speaker at wine and food education conferences all over the country.  Last February, after winning a head-to-head, "throw down-style" teaching competition at the Food Educator's Learning Conference in Charleston, Miss Jane was awarded the title of the nation's "Ultimate Culinary Educator".