What Texas Wine Goes with the "Big Apple"
It was a brisk fall evening in Manhattan when we arrived at Trio Restaurant and Wine Bar. I had arrived in the "Big Apple"  the previous day to make sure that all was ready to give New Yorkers what would be likely their first taste of the best wines Texas had to offer.
Trio proprietor Johnny Ivanac and Houstonian Ed Dent (and Wine Society of Texas member) graciously made arrangements to bring a selection of Texas wines from two award winning Texas wineries, Messina Hof Winer and Resort (www.messinahof.com) – Bryan, Texas; Becker Vineyards (www.beckervineyards.com) – Stonewall, Texas, to pair with Trio's exquisite cuisine. The event was well attended and staged in the private and intimate, lower dinning room at Trio.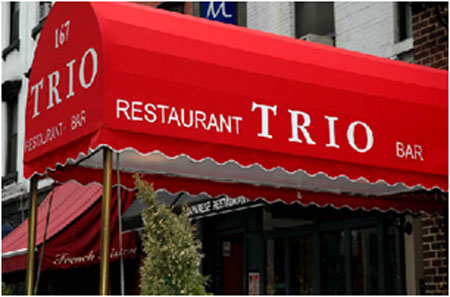 Apprehension ran high but these were trusting people, as they appeared to be more "Texas-curious" eonophiles than experienced Texas wine drinkers when they arrived. To start the event, we decided to keep them in their comfort zone with a taste of Long Island Champagne.
The first course was a cold seafood salad with clams, New Zealand mussels, calamari, octopus and shrimp served with Messina Hof Barrel Reserve Chardonnay.
The salad was followed by Trio's Strukli: handmade ravioli filled with goats milk ricotta, pine nuts, raisins & salt cod, topped with a roasted garlic beure fondue served with Becker Vineyards Reserve Chardonnay.
The main courses included boneless lamb shank over creamy white polenta paired with Messina Hof Private Reserve Merlot, and grilled sirloin medallions crowned with broccoli rabe and gorgonzola cheese paired with Becker Vineyards Cabernet Sauvignon Iconoclast 2001.
Dessert included lemon cheesecake with Becker Vineyards Muscat Canelli and chocolates served with Messina Hof Reserve Papa Paulo Port.
A quick after dinner poll showed that the attendees were from the New York and New Jersey area (one traveling 50 miles specifically for this wine dinner). Some had read about Texas wines previously, but none had tasted Texas wines before….Now that's trust! Several indicated that they didn't even know that Texans made wine, but the event announcement had peaked their interests.
The overwhelming opinion after the dinner was that Texas has some world-class wines that should be able could compete with wines from other better known wine regions. Each wine worked especially well with the food pairing.
The Messina Hof Chardonnay had a fresh crispness that augmented the acidity of the seafood salad while the Chardonnay from Becker had a buttery quality that interlaced with the creamy sauce served over the ravioli.
Further, the soft, round yet well structured Messina Hof Merlot was a wonderful complement with the rich, flavor-infused braised lamb shank, and the Becker Cabernet Sauvignon married well with the grilled sirloin.
By vote of the attendees, the real hit of the night for the non-Texans were the two desert wines. Never had they thought that Texas could provide the highly aromatic and floral Muscat and the rich red Port that were provided with this dinner.
The attendees of this dinner were in full agreement that this Texas wine dinner needs to be held again.