Barking Rocks Winery: The Tasting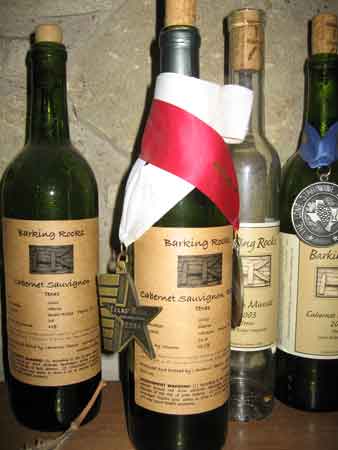 While at the winery, I spied this bottle of the award winning 2002 Barking Rocks, Newsom Vineyard Cabernet Sauvignon still sporting its gold medal. This must have been a omen of good tastes to come.
Tiberia shared with me a bottle of his 2004 Sangiovese made with Newsom Vineyard fruit.
This wine was initially a little shy in the nose after opening, providing hints of smoke, dusty earth and a steely, mineral note. But after being open and sitting for about 20 minutes, the wine released ripe red fruit characteristics including cherry and cranberry carried with the mineral aroma and taste. It also had a medium body and good acidity on the palate that will allow it to pair well with a variety of foods, including grilled chicken, pork chops and ribs, or pasta primavera.
See recipe:
http://www.foodnetwork.com/recipes/giada-de-laurentiis/pasta-primavera-recipe/index.html).
On a final note, this is also a wine for people that say "I don't like red wine". Its medium body, moderate use of oak aging, and refreshing acidity make it a balanced and refreashing wine experience and also make it an extremely food friendly wine.
Stop by and try some of Tiberia and Sissy's wines at Barking Rocks in Granbury, TX. They have a number of wines that can please both the novice and experienced wine drinker. See below….
2004 Cabernet Sauvignon Reserve – A nose of cherry, deep red color, flavors of coffee and burnt caramel with a pleasing texture ($25).
2004 Sangiovese – Bright and intense, this wines nose flirts with red fruits while in the mouth expect smooth smoky and mineral flavors. 2007 Lone Star International Wine Competition medal winner ($20).
2004 Casena – A red blend with 41% cabernet Sauvignon, 41% Merlot and 18% Sangiovese that provides a cherry with delightful oak integration. Named after Tiberia's Grandmother Casena  ($20). 
2005 Blanc du Bois –  A bright, crisp white wine with floral flavors and aromas. Honeysuckle in particular comes to mind. ($15). 
Barking Rocks (NV) Little Red Wine in Hood – A blend of Syrah and Blanc du Bois with a note of rose ($15).
2005 Viognier – This is a huge white wine, powerful aroma profile yet soft in the mouth.  Floral nose and notes of tropical fruits ($17).