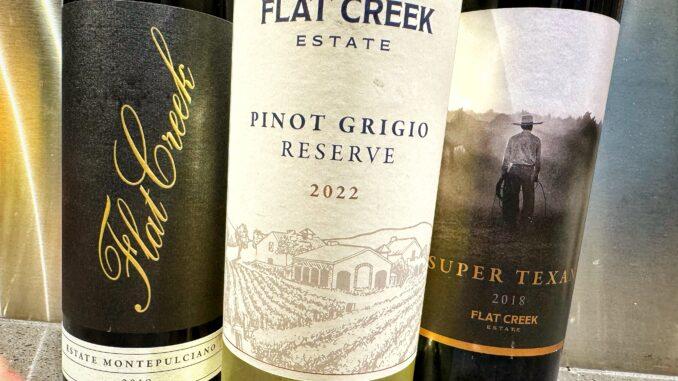 I'd like for you to consider this blog your personal invitation to meet an old friend of mine with a decidedly new look. It is Flat Creek Estate, the winery that through the years has received over 400 awards and accolades for its wines, including multiple Double Gold Medals at the San Francisco International Wine Competition.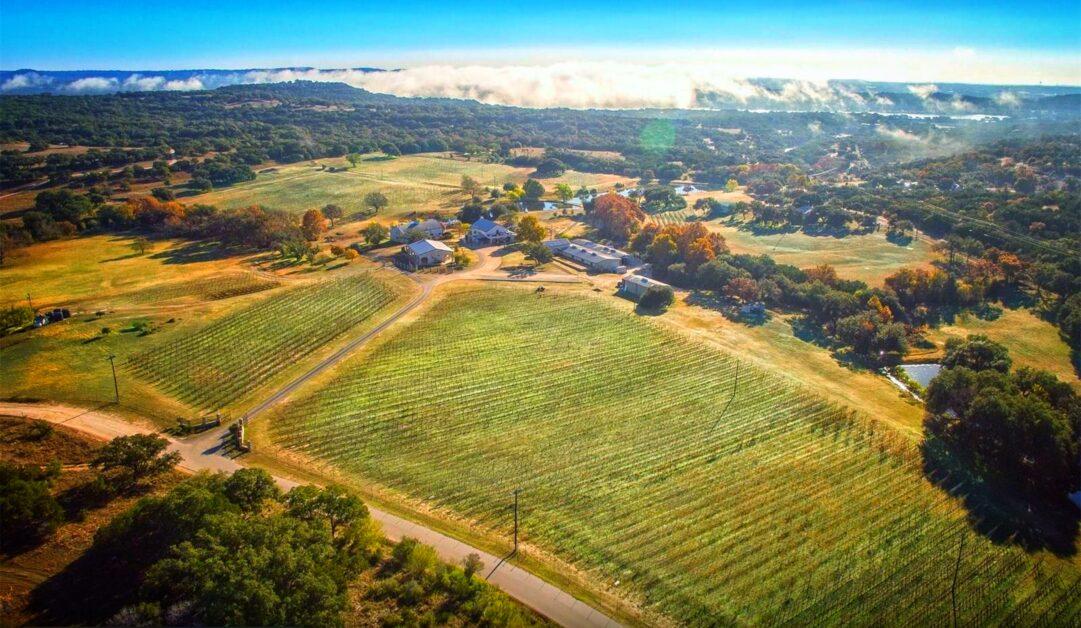 Flat Creek Estate appears custom made for our Texas hill country road trip and tasting stop from literally anywhere in Texas. It is located on an 80-acre estate near the north shore of Lake Travis, not too far from Marble Falls and just 45 minutes from downtown Austin. It has evolved quite a bit with new management since purchased from the original owners. It now contains an elegant tasting room, full-service restaurant – The Bistro at Flat Creek Estate, a covered event pavilion, and a one-of-a-kind, 18-hole disc golf course. With all this, beautiful estate vineyards and winery, too, and nearby B&Bs you've got an all-day or overnight destination for couples, groups, and families.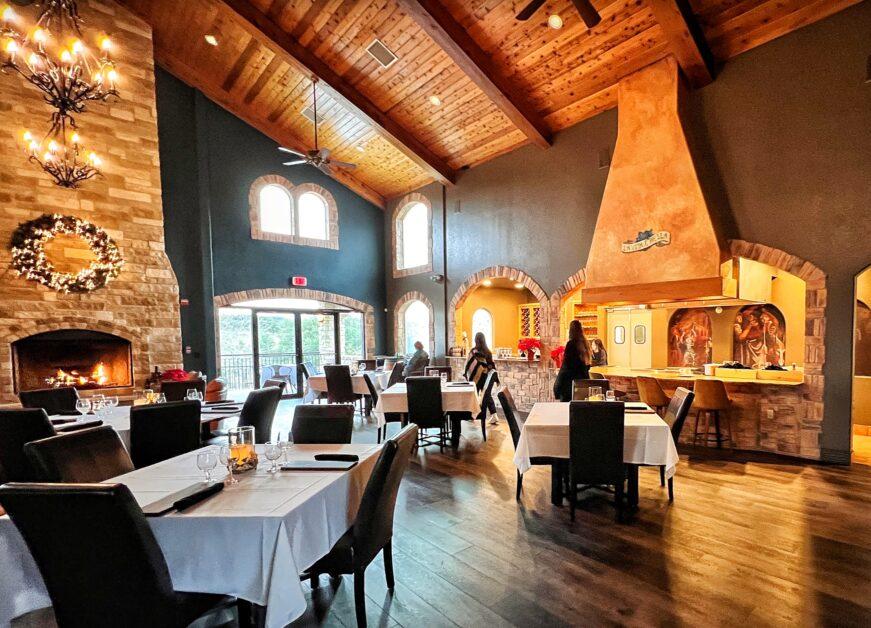 Where It All Started…
The soul of Flat Creek Estate started with maverick founders, Rick and Madelyn Nabor. And, mavericks they were with their beyond-belief vision of an estate vineyard and winery before the hill country wine experience was anywhere near what it is today.
On my first visit to Flat Creek in the 2000s, my group of tasters were crammed into a quaint but very small tasting room that was barely able to hold us along side other winery visitors. But, by the 2010s it was starting to take shape with new construction. What followed to the present day came from visionary developers, Southern hospitality, best-in-class wines, and a modern wine country experience that is best experienced walking vineyard rows, sipping wine, and relaxing in the shade of the warm Texas sun.
The Wines of Flat Creek Estate
The wines of Flat Creek are so good that it is hard to down-select just a few for the purpose of writing this story. In this blog, I present three new wines, one already released and two that will debut very soon, so get your palate ready.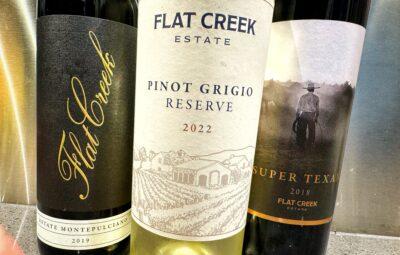 Flat Creek 2022 Reserve Pinot Grigio (Released) – Be prepared to recalibrate your Pinot Grigio palate on this wine. It takes this grape variety to a new level. In many ways, this wine does for Pinot Grigio what New Zealand did for Sauvignon Blanc… different location and climate from the original sometimes results in a game changer.
Where once thin, acidic and singled-noted lemon juice was emitted from your glass of Pinot Grigio, this wine from FCE yields crisp and refreshingly tart layers of white peach, pear and an elegant nuance of Meyer lemon, finishing with a tropical note that I will leave to you to define for yourselves.
Fermented with special yeast to accent exotic and tropical fruit aromatics and leisurely aged in stainless steel tanks for 9 months. Partial malolactic fermentation was used to balance the wine's crisp, lively spirit with a silky creaminess that you will enjoy in this outstanding wine.
Flat Creek 2019 Estate Montepulciano (Coming Soon) – There are some in Texas and others that come here to taste our wines that believe Montepulciano may be one of the best red wines made in the Lone Star State. This wine helps perpetuate this as fact and not myth. Based on my preview tasting, the FCE Estate Montepulciano brings the expression of ripe blackberries and medium-plus tannins on the palate to give the wine both rich, ripe flavor, tannic structure with hints of Italian herbs and roasted hazelnuts melded into it.
Without leaving the estate the Montepulciano grapes underwent stainless steel fermentation bringing its fresh fruit essence with it to be barrel aged for four years in a semi-underground cave. One third was aged in new French oak, imparting richness and structure, while the balance was aged in neutral French oak to arrive at a softened balance between richness, structure, and recognizable characteristics of its Mediterranean heritage.
Flat Creek 2018 SuperTexan (Coming Soon) – The SuperTexan and I go way back. It was one of the wines that I recommended to people new to the Texas wine experience and even featured it in my annual Texas wine picks for the Houston Chronicle. It was a quality Texas wine at a responsible price and (at that time) could be found in Houston wine shops and markets. It is good to renew my acquaintance with this old friend albeit now at the winery. The latest news is the Flat Creek Estate has just entered into an agreement with Southern Glazers Wines and Spirits for distribution of its wines making it very likely that the FCE SuperTexan may grace our state's urban centers again.
The soon to be released 2018 Super Texan builds on this wine's tradition from previous vintages and freely yields its dark cherry and strawberry nuances with smooth tannins and hints of spicy black pepper and clove. This medium-bodied wine contains 80% Flat Creeks estate hill country fruit (the balance from the high plains vineyards) and its composed of 93% Sangiovese, 3% Montepulciano 4% Primitivo. The Super Texan brings together a wine that had roots in Texas's two main soil types: limestone and red sandy loam. After stainless steel fermentation, the wine experienced an extended 60 month aging process, half matured in new French and Hungarian oak barrels, imparting complexity and structure, while the remainder rested and softened in neutral oak.
Meet the Principals at Flat Creek Estate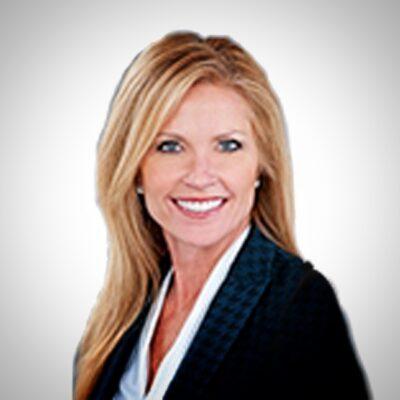 Eva Horton – Owner of Flat Creek Winery – Eva is a leading partner at Post Lake Capital Partners, managing investment sales, private investors and special asset servicing entities. Under Eva's leadership, Flat Creek Estate has successfully emerged as one of the leading wineries in Texas. Condé Nast named Flat Creek one of the four best day trips from Austin, calling the winery "a super Texan winery known for its Super Texan," the vineyard's signature blend. Food & Wine included Flat Creek Estate on their list of the 50 Most Amazing Wine Experiences in America.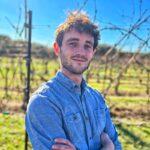 Olivier De Certaines – Flat Creek Estate Winemaker – Olivier is a distinguished winemaker hailing from the picturesque landscapes of France, and now working to leave his indelible mark on the world of Texas winemaking. He brings the total of native French speaker-winemakers in Texas to three, at least as far as I know, that includes Olivier along with Ben Calais and Bénédicte Rhyne. As winemaker at Flat Creek Estate in Marble Falls, Olivier has a passion for creating exceptional wines that reflect the terroir of the Texas Hill Country and the uniqueness of the Flat Creek Estate Vineyards. He uses his skills with blending to craft wines that express the nuances of each grape variety and also the individuality of the wines they make.
Stop By for a Tasting, a Meal, an Event, or a Round of Disc-golf!
Click here to access the Flat Creek Estate website to reserve a tasting, make a dining reservation, or book an event. You can also find Flat Creek on the hill country wine trail at: 24912 Travis Peak trail,Marble Falls, TX 7865, or call 512-267-6310, or inquire about booking events via email at:
reservations@flatcreekestate.com.