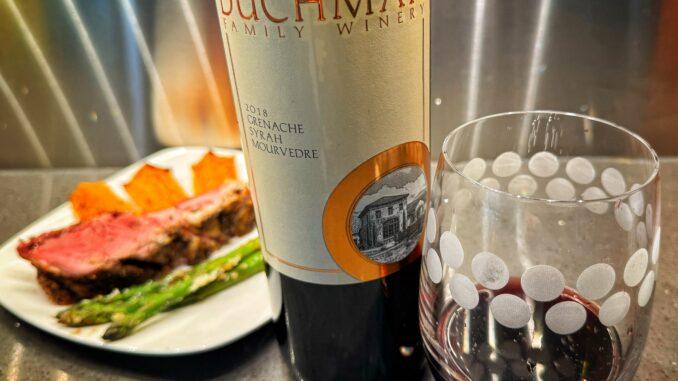 Duchman Family Winery is a consistent and quality player in the Texas fine wine market and one of four partners in the Texas Fine Wine winery group. It is a winery that I often reach out to for their well regarded and awarded wines like Vermentino, Roussanne, Dolcetto, and not to be forgotten, Aglianico. True to winemaker Dave Reilly's intensions, these are all single varietal wines (100% of a single grape variety and 100% Texas) and not a drop of wine blended with another.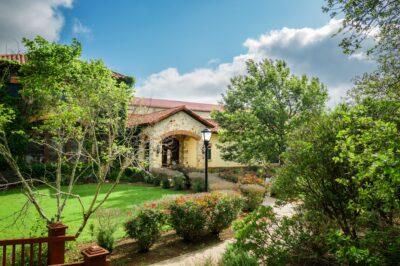 But, on this eve of our first cold front of the Fall season in Houston, I'm reaching out to a different sort of Duchman Family wine with a rack of lamb in hand (or better said, on the cutting board).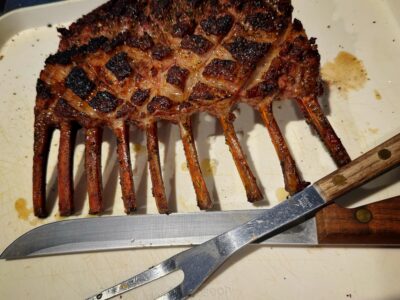 I'm cooking a lamb tonight… Herbs de Provence, garlic, salt and coarse-ground black pepper applied, reverse seared over a wood-fire, and finished with a cast iron pan sear. For lamb cooked in this southern French and Mediterranean way, I need a wine that also brings a southern French flair. What I'm talking about here is the famous three-bend of the southern Rhone River Valley… Grenache, Syrah and Mourvèdre, also known by its initials GSM.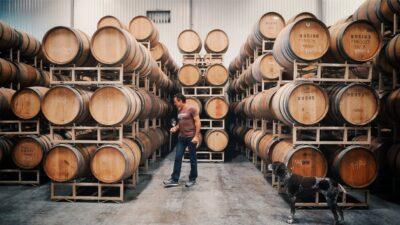 That's right, despite Reilly's penchant for single varietal wines, this one is a blend, and a good one at that. He doesn't make it every year and, in fact, Reilly admits that it is kind a rare for him to make it at all. From my memory, the last vintage of GSM that he made before this one was back in the early 2010s. Reilly also hinted that this might be the last opportunity he has to make a GSM (I personally hope not). So, I suggest that you give this GSM a try.
Duchman Family Winery 2018 GSM, Texas High Plains AVA
The Duchman GSM exudes ripe blackberries that evolve into black cherry and plum as the wine opens up in the glass. The wine also brings hints of black olive, white pepper, dried herbs, and pleasant and well-structured tannins. With this, the wine brings a hearty fruit-forward presence on the nose and palate.
More on Grenache, Syrah, Mourvèdre Blends
The origin of GSM comes from the Rhone Valley of France where vines were first cultivated some time ago, like about 600 BC. Some suggest that the Syrah grape was brought there from Persia by Greek sailing merchants. The southern Rhone sub-region like Texas has variable winters and hot summers with shockingly cold north winds (Le Mistral) that channel down the Rhone River Valley as our north winds (Blue Norther) do along the Rocky Mountains from Canada. Both bring the potential for variable vintages in both locales.
Blended wines make sense to both growers and winemakers in Texas and southern France as they help them accommodate the variable year-to-year vintage conditions. The most famous of the Rhône's blended red wines is Châteauneuf-du-Pape, a blend containing up to 19 varieties of wine grapes, but that usually focuses on mainly three of these varieties – Grenache, Syrah and Mourvèdre – the others being role players mostly filling in the gaps. These GSM wines are known for their bright fruit, interesting aromas of fruit, dried herbs, grippy pepper and somewhat tannic finishes that offer a combination of fruit, power and agability.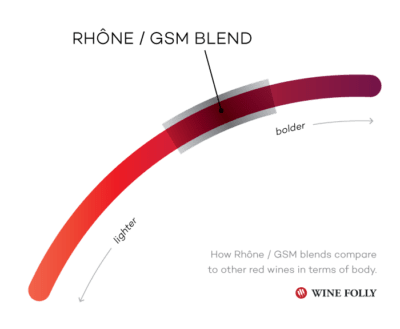 Duchman GSM Brings the Texas High Plains and a Bit of the Southern Rhone to Your Glass
For this GSM, winemaker Duchman Winery's winemaker Reilly worked with the top grape growers of the Texas High Plains AVA in the Texas panhandle. The combination of hot dry days and cool nights in these high plains vineyards at 3000+ ft elevation gives this wine a focus on a balance of fresh fruit, mouth-pleasing acidity and interesting nuances that yield a great sip and also makes the wine extremely food-friendly. Lamb (or any flavorful red meat will do) makes for great wine and food pairing with this GSM. True to its high plains (and southern French) roots, it focuses on pure expression of this classic blend with a flourish of Texas terroir.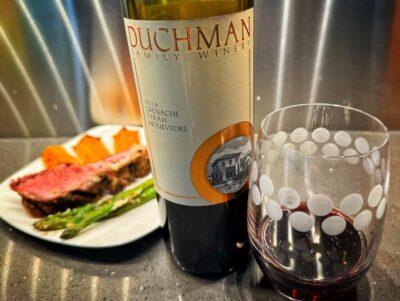 Click here to peruse the Duchman Family Winery website or to purchase their wines online. You can also stop in and visit their Driftwood tasting room: 13308 Ranch to Market Rd 150, Driftwood, TX 78619.
Also, check out other wines from Duchman Family Winery, Bending Branch Winery, Spicewood Vineyards and Pedernales Cellars that are partners in Texas Fine Wine.
Photo credits: Texas Fine Wine unless otherwise noted.