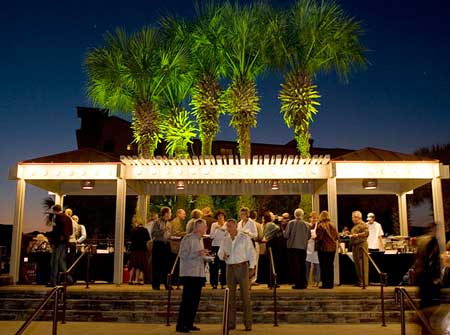 2010 Fall Fest – A Celebration of a Grand Texas Vintage
The 2010 Fall Fest & Texas Wine Auction is committed to bringing the spotlight onto Texas wine and food as well as to two very deserving charities! We hope you will be able to attend the 6th Annual Texas Fall Fest & Wine Auction! It is scheduled to take place this weekend (Friday thru Sunday, October 8 – 10, 2010) – Three Days of Texas Wine, Food & Music. Come celebrate legendary Texas flavors and the completion of the hugely successful 2010 Texas grape harvest, which has been one of the best on record. The principal venue will be in Marble Falls, Texas: Lakeside Pavilion, 307 Buena Vista Drive, Marble Falls, TX 78654.
Come stroll around the Lakeside Pavilion located in Lakeside Park on Lake LBJ in Marble Falls to sip and savor all Texas has to offer. Marble Falls is located in the heart of the Texas Hill Country on Highway 281. Highway Centrally located, it seems that all roads in Texas lead to Marble Falls!
Texas Fall Fest & Texas Wine Auction has a two-fold purpose: to expose the public to the merits and importance of Texas wine and food by spotlighting the best wines, foods, chefs and restaurants in our state and to raise funds for much needed Texas wine research as well as for other worthy healthcare needs.
For more information and online ticket purchase, go to: http://www.texasfallfest.com
— — — — —
Friday, October 8, 2010 – "Sunset on the Lake"at Lakeside Pavilion, Marble Falls
Stroll the sumptuous tables of fabulous fare prepared from the best chefs and restaurants in the Hill Country and beyond. Savor wares of Texas Winemakers as they boost your knowledge of their newest and most delicious wine varieties. Tap your toe or dance the night away on the covered patio to Guitarist, Ron Huntoon. Bid on wine and chef packages, jewelry, art and great packages at our silent auction benefiting the Court Appointed Special Advocates (C.A.S.A) and Texas Wine and Grape Research.
Sip, Savor and Stroll as we host the 4th anuual Chef's Taste-Off". Wes Marshall, wine writer for Austin Chronicle and Dallas Morning News; Randy McCrea, wine columnist for the Williamson County Sun and the Texas Wine Correspondent for Houston's My Table magazine; Jessica DuPuy, Wine Writer and Blogger for Texas Month will award of the delicatable dishes the "BEST of the FEST" award.
6:30 – 9:00 pm; Downtown Marble Falls Lakeside Pavilion on Lake Marble Falls
— — — — —
Saturday, October 9, 2010 – "Trail o' Food " Texas Celebrity Chef Dinner and Auction with The Cowboy Chef Grady Spears!
5:30 p.m. – Begin a Progressive Dinner Stroll down Main Street, stopping at Specialty Shops to browse and enjoy "Street Food" appetizers paired with a delicious choice of Texas Wines. Check In is at La-Ti-Da at 202 Main Street, Marble Falls. Three venues include:
Eve Couture (Fab Couture, Fun Fashions at Great Prices), 206 Main Street
GG Ganache (Outdoor furniture, interior design supplies and gifts), 301 Main Street
La – Ti – Da  (Custom furniture, lighting, rugs, décor, art & gifts), 202 Main Street
Sculpture on Main, sponsored by Uptown Marble Arts Alliance and Produced by local sculpture Dan Pogue and his wife Marti, will be included in the Saturday night activities scheduled for Texas Fall Fest. Sculpture on Main brings over a dozen juried pieces of sculpture to be permanently displayed in and around Main Street for a year. Marble Falls is one of the few cities in Texas with such a program and the pieces displayed have been delighting locals and visitors alike for the past four years.
7:00 p.m. – Convene under the Dinner Tent at Chef Grady Spear's Table, accented by Texas Hill Country Music. To see what Grady is cookin' up for for dinner – click the menu board to the right!
Strolling Appetizer & Wine Reception included with Full Dinner Price – $75 per person; or Strolling Appetizer & Wine Reception is sold separately at $25 per person.
— — — — —
Sunday, October 10, 2010 – "Farm to Market & Wine Fair" at Old Oak Square in Downtown Marble Falls
The Sunday "Farm to Market & Wine Fair", featuring all things locally grown will be an entertaining finale to the spectacular wine and food offered during this weekend's events.  Fair goers will peruse the big tent of vendors presenting for purchase their locally grown/produced olive oils, meats, produce, chocolates, and more,  complimented by the best Texas wines, available by the taste, glass or bottles.
As a special highlight, Raymond Tatum, chef of the recently closed Backstage Steakhouse for nearly three decades will be giving a special 'sneak peak' preview of his new trailer restaurant, Three Little Pigs, selling his famous mouthwatering spicy pulled pork with red curry peanut sauce sandwiches at the Sunday Fair.
2:00 p.m. Wine Educator and CMS Certified Sommelier, Jennifer Beckmann will take us through the educational seminar "The Grape Pioneers: Wine 101 with the Pioneers of the Texas Vine"   Join us for a look at the true pioneers of new world wines! While enjoying four of the finest wines the Lone Star state has to offer, learn the basics of tasting and talking about wine.  We will simplify the nuances of the wine world, and help you to discover, and articulate what it is about Texas wines that you love!  Sommelier Jennifer Beckmann will be discussing:
The form and function of the wine tasting process. decoding the language of wine, From Vine-to-Wine: The unique viticulture history of the Texas terroir, and the winemaking process as both agriculture and art.Wine & Food pairing simplified.
The $15 gate fee includes 10 coupons for tastes at the wineries and a commemorative glass for you to take home!
Old Oak Square, 307 Main Street – Marble Falls
12 noon – 4:00 pm
8:30 p.m. – "Raise your Paddle" for the Live Texas Wine Auction….as you won't want to miss out on the Wine Country Selections and Chefs' Special Offerings!
— — — — —
For tickets see Fall Fest website at:
— — — — —
Texas Wineries
Alamosa Wine Cellars, Bend
Becker Vineyards, Stonewall
Calais Winery, Dallas
Driftwood Estate Winery, Driftwood
Dry Comal Creek Winery, New Braunfels
Duchman Family Winery, Driftwood
Fall Creek Vineyards, Tow
Flat Creek Estate, Marble Falls
Grape Creek Vineyards, Fredericksburg
Haak Vineyards & Winery, Galveston
Landon Winery, McKinney & Greenville
Llano Estacado Winery, Lubbock
Perissos Vineyard & Winery, Burnet
Pleasant Hill Winery, Brenham
Sandstone Cellars, Mason
Spicewood Vineyards, Spicewood
Stone House Vineyards, Spicewood
Texas Hills Vineyard, Johnson City
For list of participating, restaurants go to: http://www.texasfallfest.com