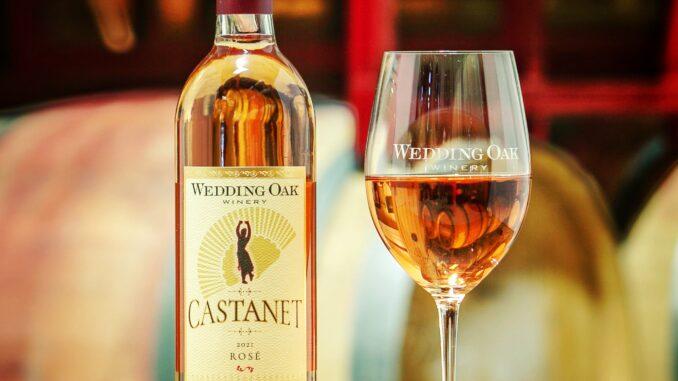 Wedding Oak Winery , in San Saba, Texas, was awarded a double gold medal and a 97-point score for its 2021 Castanet rosé at the 2022 Experience Rosé Wine Competition. Held May 4th – 5th, 2022, the 2022 Experience Rosé Wine Competition, produced by Wine Competitions Management & Production, is unique in that it is exclusively focused on identifying excellence in rosé wine, domestic and international, all styles. It is the largest rosé competition in the U.S.
Now in its fifth year, Experience Rosé was founded to help curious consumers confidently explore the emergent fine wine category of Rosé. The prestigious international wine competition drew hundreds of rosé wine submissions from wineries around the world. Wedding Oak Winery was the only winning winery from Texas. Wines were scored by an expert panel of judges which included winemakers, sommeliers, retail buyers, wine educators, and journalists.
"It is truly an honor for our 2021 Castanet rosé to be recognized as one of the best wines in the world at the 2022 Experience Rosé Wine Competition," says Mike McHenry, managing partner, Wedding Oak Winery. "Our talented winemaker, Seth Urbanek created Castanet in the traditional method using Cinsault grapes from the Texas High Plains. The fruit was harvested at the ideal acidity and ripeness for rosé winemaking, pressed immediately, and cold fermented. The result is a beautiful rosé. Our customers love this wine as much as the judges."
Double Gold Winning 2021 Castanet Rosé
The 2021 Castanet rosé has a lovely pale salmon color with aromas of strawberry shortcake, grapefruit, candied peaches, and flint. It is a delicious wine to enjoy year-round with flavors of tart grapefruit, white peach, and melon with a silky finish. Its bright flavors make it a perfect pairing for summer salads, grilled fish, paella, and chicken tinga tacos. Castanet rosé is available in the Wedding Oak Winery tasting rooms located in Burnet, Fredericksburg, and San Saba, Texas and online. For this rosé, the winemaker used lighter colored red grapes, harvested early for their acidity, and treated the red fruit more like a white wine, making a lovely pale pink rosé.
The judges described this 97-point scoring wine as having, "lovely aroma with papaya character. It's mouth filling. Unusually rich feeling."
Wedding Oak Winery has earned critical acclaim with hundreds of medals from international wine competitions in the past decade. In addition to this honor, recent awards include the Granitique 2019 and the Tempranillo Reserve 2019 Texas Hill Country both earning Gold Medals at the 2022 San Francisco Chronicle International Wine Competition. The Roussanne 2019 was named a Top Texas Wine in the 2021 Vintner's Cup wine competition.