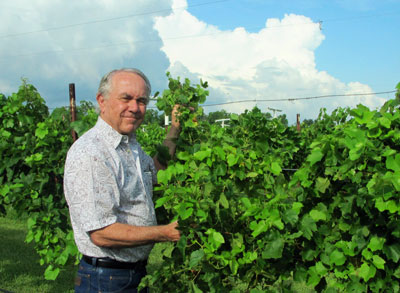 Texas Blanc Du Bois Four Ways in 2013
Haak Vineyards & Winery Blanc Du Bois Scored High at Tasting Panel Magazine
Two Blanc Du Bois wines from Haak Vineyards and Winery (Santa Fe, TX) scored high and was in the company of notable (and mainstream) white wine varieties from notable regions like Marlborough Sauvignon Blanc and Pinot Gris from Oregon's Willamette Valley according to wine ratings from Tasting Panel Magazine: Blue Reviews EXTRA! April 2013 by Anthony Dias Blue. His ratings were:
Sauvignon Blanc and Misc. Whites
Haak Vineyards & Winery 2012 Blanc du Bois, Dry Table Wine, Texas ($14). Score – 88; bright and crisp with dry citrus and fresh, tangy acidity similar to Sauvignon Blanc; silky, smooth and long.
Haak Vineyards Winery 2011 Blanc du Bois Reserve, Palacios Vineyard, Texas ($17). Score – 89; Smooth and fresh with dry, juicy citrus flavors and some hints of oak; fresh, balanced and complex with depth, charm and style.
Lake Chalice 2012 Sauvignon Blanc, The Nest, Marlborough ($15). Score 88; fresh and juicy with bright peach, citrus and grass; clean, racy and nervy with long, herbal notes. TWISTY
Sokol Blosser Winery 2011 Pinot Gris, Willamette Valley ($18). Score – 90; bright, bracing and crisp with racy citrus and aromatics; lovely texture and balance; long, juicy and complete.
Congrats to Raymond Haak for pioneering this hybrid grape for Texas. Raymond and Jerry Watson in Cat Springs took this grape variety under their wing and nurturing it until it now had qualities and scoring ability to compare with other great growing regions and their well-identified wines.
Two Recent Blanc Du Bois Tastings
In the past week, I've had two tastings involving recent vintages of Texas Blanc Du Bois. The first was Lost Oak Winery Blanc Du Bois 2011 (2o12 vintage is now available). The 2011 commanded a silver medal at the2013 San Francisco Chronicle Wine Competition and in my tastings offers a crisp punch of citrus and tropical fruit including Meyer lemon and guava.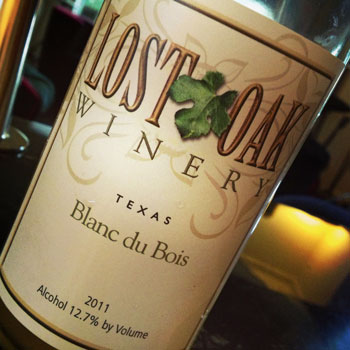 The second Blanc Du Bois tasting was a new offering from the dynamic duo of Bill Blackmon and Chris Brundrett at William Chris Vineyards. It was their 2012 Blanc Du Bois made from grapes grown in Washington County Texas. This wine is soft and friendly with aromas of citrus blossom and fresh and crunchy Bartlett pears on the palate.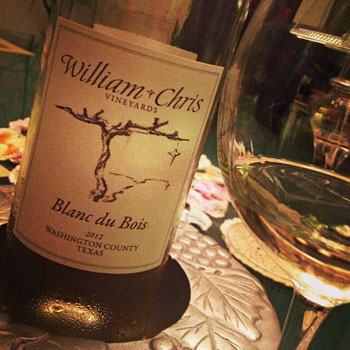 Messina Hof Winery's New Release of Blanc Du Bois
Also, please don't forget the new offering of 2012 Blanc Du Bois from Messina Hof Winery. I tasted this wine around the first of this year and it was a know out too. Click here to link to my review of the Messina Hof Blanc Du Bois. It was memorable both as a first for Messina Hof and as a refreshing Texas quaff accompanying a quiet moment on the deck overlooking the Texas Hill Country.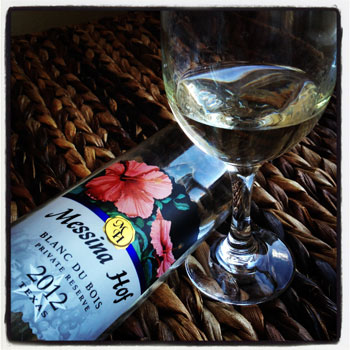 So, there a lot happening is Blanc Du Bois in Texas. It now reaching the point were it can be easy be compared to and judged comparably with mainstream white wines made from classic vinifera, and it's also catching the interest of the larger wineries in the state. Remember, this is closest thing that we have to a quality native-Texas. It might not have been originated here, but it got here as fast as it could. Then, Texans made it into the fine wine that it's become. No place else in the modern wine world can say that about Blanc Du Bois. It's ours, so savor it and enjoy!