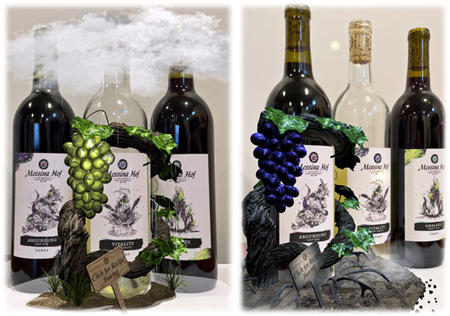 A box showed up at my house, in it were three bottles of wine – two red and one white. At that point, everything looked fairly normal to me, someone that gets wine shipped to him for evaluation and critique. But, once I clicked on the label's QR code and downloaded the Messina Hof Winery augmented reality (AR) application, things were just beginning to get interesting.
When I pointed my phone's camera at the bottles, the image on my screen slowly changed. First, the bottle appears on a plot of ground. Then, a grapevine emerged growing up, around and entwining the bottles. It sprouted leaves and eventually a cluster of grapes while a narrator talked about the wine in the picture. Pretty cool! And, there is a different AR scene and narration for each of the three wines.
The wines in the Messina Hof Harvest Green AR 3-Pack include:
Abounding Dry Red Wine – A dark juicy yet dry red wine featuring notes of earthy blackberry with a pleasant tannic edge, and smooth finish.
Vitality Dry White Wine – Zesty and aromatic white wine with tropical fruit and minerally notes offering just a pleasant hint of sweetness.
Emblaze Sweet Red Wine – A sweet red wine with notes of red plums, great sugar-acid balance with a hint of floral on the nose.
The AR 3-Pack allows the taster to experience the first-ever Texas wines to feature interactive labels of their kind. Not only do they bring to life core themes in the Messina Hof winemaking process – Abounding – Vitality – Emblaze, but the design also reflects the passion, roots, artistry, and farm-to-table elements manifested in the new Messina Hof's Harvest Green Winery & Kitchen, their newest location in Richmond on the western outskirts of Houston.
More than just entertaining, the Messina Hof Augmented Reality Wines also provide easy access to more information on the winery's four locations (Bryan, Fredericksburg, Grapevine, and Richmond, Texas), upcoming winery events, and background on the Bonariggo friendly family approach to wines, and links to more Messina Hof wine information.
My favorite part of the AR labeling and smartphone application is access to Messina Hof archive of food pairing ideas and recipes. Pair with the Messina Hof Vitality White Blend, I received several possible food pairings of which I selected the Messina Hof Chicken Zitrone (complete with recipe) with its chicken, artichoke hearts, mushrooms, peppers, basil, and garlic, lemon butter sauce. What's not to love there?
Check out this video (click here) for more information on the Messina Hof augmented reality wines and smartphone app.