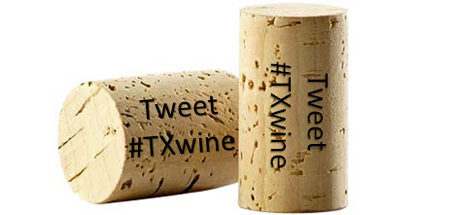 Manifesto: Time for Texas Wineries to Ask Wine Consumers to Tastes & Tweet #TXwine
A few weeks ago, I though about an idea about how to better utilize the Twitter to spread the word about Texas wines.
Some wineries print their names on their corks. But, they also print all sorts of crazy stuff on their corks, too; like the words "Love" and "Peace", or include line drawings of winged angels or it might be tangles of grapevine tendrils. My though was why don't Texas wineries print #TXwine" on their labels. Additionally, they could print a request to their wine consumers, "Like Texas wine? Tweet #TXwine". Such an effort could effectively utilize and could even expand further the network of Texas wine lovers on Twitter, all working to promote the wines from Texas that they love. It could even promote wine quality as a side benefit…as with visibility, comes an even greater need for quality.
Why did I have this idea? See below (for the rest of the story):
While the number of Texas wineries has increased to over 200 wineries across the states and Texas wines are garnering awards at both national and international competitions, Texas wines have been largely ignored by the mainstream wine media. I can rationalize this situation by the fact that Texas, while being the fifth largest wine producing state, it is also the fourth largest wine consuming state. Therefore, not much of our good juice makes it out of the state. Current estimates are that 95% of Texas wine is sold and consumed right here in Texas. This is contrary to the situation in the larger wine producing states (such as California, Washington and Oregon) and all major wine producing regions around the world that depend on an export model for wine sales.
Why does this matter? Well, because Texas wineries do not export their wines to any great degree, consumers across the nation can't easily get Texas wines. Also, Texas wineries don't have large national advertising contracts with major wine publications like the Wine Spectator, Wine Enthusiast, Food & Wine, etc. Therefore, on two counts, there are no incentives for these "journals of mass evaluation" to include Texas wines in their reviews. However, social media like following #TXwine on Twitter, Texas Wine Drinkers Group on Facebook, and the increasing number of   Texas wine blogs available online have filled in the void in the coverage of Texas wines left by the major publications.
Several years ago, the Texas state government had a program to support its fledgling wine industry through the Texas Department of Agriculture's Texas Wine Marketing Program, which has since succumbed to the heavy handed budget cutting in Austin (but hey, since the Texas legislature cut $5 billion from the education budget, can we really complain that they nuked a Texas wine marketing program).
During the time period under the Texas wine marketing assistance program, Texas Twitter events started to pop up which help people to follow and share Texas wine experiences even if some of the people could not easily get the wine. To help these follow and track the tasting action in these Twitter events (like TXwine Twitter Tuesday coming up this March 12th 7-8 pm CT) and more generally the day-to-day Texas wine action, several of us bloggers started using the hashtag #TXwine.
If you're not on Twitter or Tweet regularly, you are probably saying…"What the hell is a hashtag and why do I care!"
Well, over the past 3 or 4 years, a Twitter community has arisen that enjoys and supports the Texas wines they like. These people share their Texas wine experiences and use #TXwine (called a hashtag) to follow, search, tag tweets on Texas wine activities.
The volume of tweeter activity using #TXwine-tagged tweets has steady grown. On an average day, 20-30,000 Tweeter impressions roam about the Twitterverse on Texas wines with #TXwine and incompass about 10,000 followers. On days when there is TXwine Twitter Tasting scheduled (click here for details on the upcoming March 12th event), the activity on #TXwine increases to around 500,000 impressions on Twitter and with 90 to 80,000 followers. The January 2013 TXwine Twitter Tuesday (click here) hit a new record of over 1,000,000 media impressions and 300,000 followers when the event linked people at wine bars around Texas and several at Whole Food Market locations all tasting Texas wines and using #TXwine. In fact, that evening #TXwine was a trending hashtag on Twitter (meaning that it was one of the most active anywhere at the time).
OK, it's your turn…What do you think?