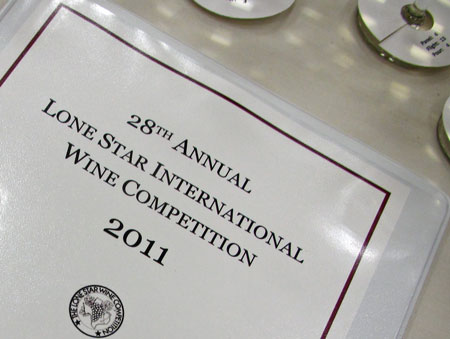 "More Gold Medals than Ever Before": 2011 Lone Star Wine Competitions
At the end of the first day of judging, I saw Michael Zerbach, Co-Chair of the Lone Star International Wine Competition held in Grapevine, Texas, and he had a big smile on his face. I asked him what was up and he said, "More gold medals were awarded this year than ever before in the history of the competition." I was already aware of the increased number of gold medals awarded by my panel and other judges from several other panels made the same observations.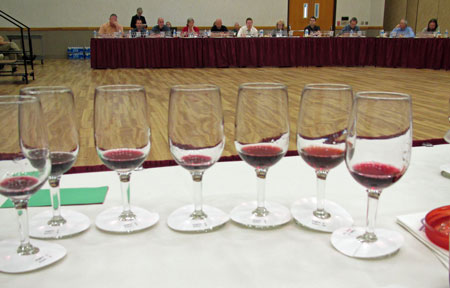 What was the reason for this new high in gold medals? Part of it was more wines were submitted  into the competition. The number of wines submitted this year was over 600. However, Michael didn't think that this that was the only reason for the increase in gold medals and pointed to an increase in quality of the wines, particularly for the Texas wines. We are starting to see the wines from the spectacular 2010 vintage in Texas coming into play, mostly white wines, but some red, too. The year featured a deep cold winter, followed by a slow wet spring warm-up (and no late freeze or early summer hail) and a hot sunny finish up to harvest. The harvest began in July in Galveston and Austin Counties and progressed through October on the Texas High Plains.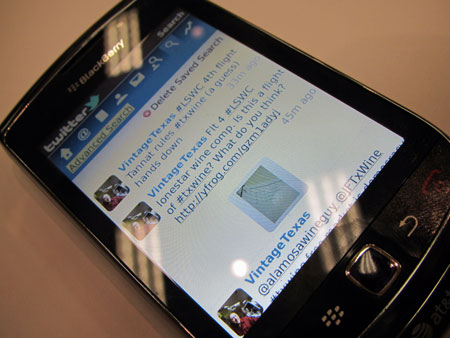 I expect that an official list of award winning wines will be issued in the next few days, but here are the Texas gold medal winners from the preliminary results and the twitter tasting we did after the reveal at noon today (links are to my TwitPics I sent at the tasting)….
Becker Vineyards – Reserve Merlot (Texas)
Bending Branch Vineyards – Picpoul Blanc (Paso Robles) and Tannat (Alta Mesa) (http://yfrog.com/ehmcxhj)
Brennan Vineyards – Cabernet Sauvignon
Circle S Vineyards – Barbera
Dry Comal Creek – 2009 Petite Verdot, White Black Spanish, and "1096" White Port
Duchman Family Winery – Orange Muscat
Fairhaven Vineyards – Chambourcin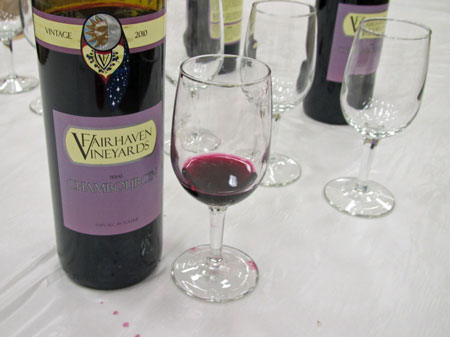 Flat Creek Estate – Syrah and Muscato Blanco
Georgetown Winery – Texas Reserve
Homestead Winery – Chocolate Portejas and Prairie Rose
Kiepersol Estate Winery – Sweet Mengsel
Llano Estacado Winery – Viviano Superiore Rosso (http://yfrog.com/cavcnvj)
McPherson Cellars – Roussanne
Messina Hof Winery & Resport – Reflections of Love, Zinfandel (Bell Brother's Vineyard),  Shiraz Ceder Crest Vineyard, Riesling Father & Son Cuvee (http://yfrog.com/gzpaulxj)
Paris Vineyard – Tempranillo
Pedernales Cellars – Texas GSM
Perissos Vineyard and Winery – Petite Sirah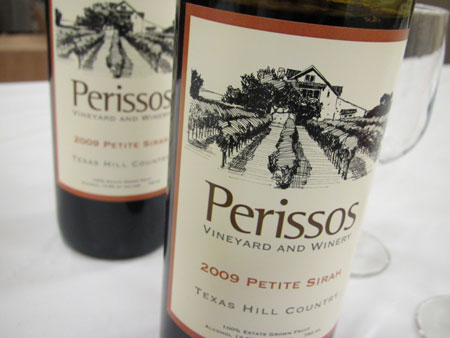 Pilot Knob Vineyard – Viognier
Salado Creek Winery & Vineyard – Frost
San Martino Winery & Vineyards – Sangiovese (http://yfrog.com/h3u21skj)
Singing Water Vineyards – Texas Reserve (Red Blend)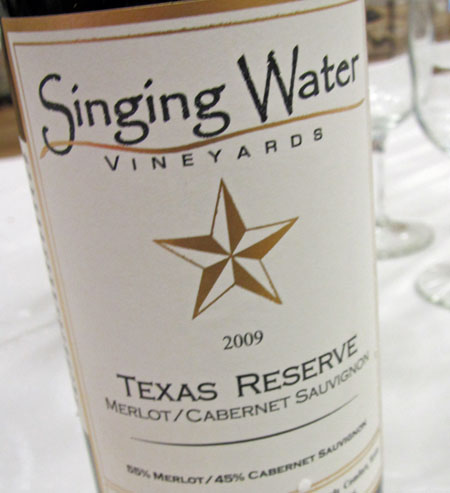 Texas Hills Vineyard – Barbera and Syrah
Texas Legato – Sweet Peggy Sue
Winery on the Gruene – Strawberry Riesling and Peach Chardonnay
Zin Valle Vineyards – Rising Star Brut Sparking Wine
The preliminary results did not confirm Texas appellation. This will likely be confirmed in the official results when released.