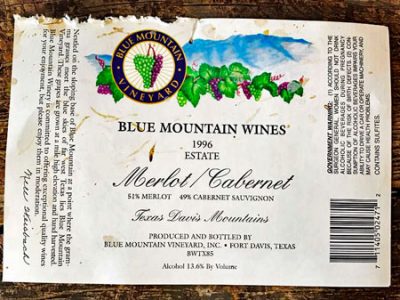 Grand Local Tastes in Dallas's Deep Ellum: Calais Winery
The visit yesterday to Calais Winery, the small-batch, local winery in Dallas's Deep Ellum district, was to sign books (The Wineslinger Chronicles), but the stars of the day were shared with two grand tastes of Texas wines.
Winemaker, Ben Calais, and his business partner, David Hunt, were pouring a new offering from the 2011 vintage with their recently bottled Calais Winery La CuveePrincipale. It's a medium bodied white wine made from with barrel fermentation with a grape called Roussanne, grown in the premium Texas winegrowing region, The Texas High Plains, near Lubbock. If you've tried a Texas Roussanne before, this one begs a try, too. A yellow color in the glass, an herbal aroma on the nose, and a hint of citrus come together with a slick & silky mouthfeel. It's good by itself or as an accompaniment to fish, fowl and (as I found out later that evening), even BBQ ribs.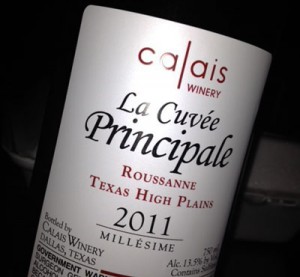 After the crowd thinned out, we got together to taste a couple of wines from my cellar. The first was a taste of Texas wine history; a 2000 Blue Mountain Vineyards Cabernet Sauvignon that was grown on the slope of he Blue Mountain near Fort Davis, Texas. After 12 years, this wine still had more to give with its still purple color, rich body and aromas of dry earth, cedar, liquorice. Equally interesting and pleasurable was the 1998 Beaulieu VIneyards Georges de Latour, Private Reserve Cabernet Sauvignon (Rutherford, California – Napa Valley).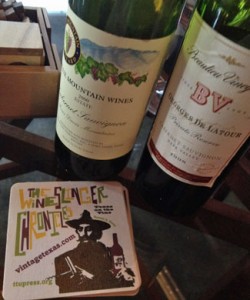 The BV Cab showed an equally dark color with a bit more tannic structure than the Blue Mountain Cab, likely from a longer barrel treatment afford to this California wine. But, both were made for sharing tales on the wine roads of Texas and beyond (if you take into account Ben's French personal and winemaking heritage, and Ben and David's road trip back from California with a load of barrels and a sorting table).
Calais Winery is worth a stop if you are in the urban Dallas landscape, or if you want to make a special trip to Deep Ellum. You won't be disappointed.
— — — — —
Calais Winery, 3000 Commerce Street, Dallas, Texas, 75226, +1 214-453-2548