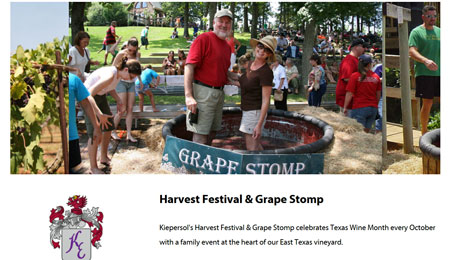 Russ Kane, The Texas Wineslinger, at Kiepersol Estate Harvest Festival Scholar's Tent – Tomorrow Sat. October 19th
Kiepersol's 2013 Harvest Festival & Grape Stomp celebrates October as Texas Wine Month with a family event at the heart of their East Texas vineyard near Tyler, Texas.
Adult activities include:
Scholars tent – visiting speakers get you 'in the know' on the latest wine trends, how-to's and must haves on the Texas wine scene
Sangria & Wine by the Glass
Russ Kane will be appearing at the Kiepersol Harvest Festival in the Scholar's Tent between 2:00 and 3:30 pm tomorrow (Saturday, October 19, 2013) for two presentations titled:
"Secrets of the Wine Trail"
"Real Cowboys Drink Syrah – A Tasting".
During this period, he will also be selling autographed and personalized copies of his best-selling book, The Wineslinger Chronicles: Texas on the Vine. Russ's book has had critical acclaim in Texas, nationally and internationally. International wine luminary Oz Clarke said:
"Doc Russ is the kind of guy who can mix blues, barbecue, and Barbera in a truly Texan way, and as he writes I can smell the mesquite smoke, hear the wailing guitar and chew the High Plains ripe red fruit."
The festival's other family activities will run all day and include:
Grape Stomping
Painting Stomping Shirts with Your Feet
Live Music
The KE Corkscrew 5K Fun Run
Guided Winery Trolley Tours  – Order Tickets Here
Cork Art Activity for Kids
Artisan Vendors & Visiting Wineries
Festival Food brought to you by Ted Camel Foods
Join other Texas wine lovers at the 2013 Kiepersol Harvest Festival. Saturday activities and schedule are show below. We hope to see you there. The weather is beautiful and the wine will be wonderful.
More information on tickets, parking and location for the 2013 Kiepersol Harvest Festival is available online at: http://kiepersol.com/festival/
Visit Kiepersol Estates sister event at Bushman's featuring the Vietnam Wall Traveling Tribute.