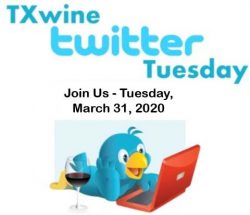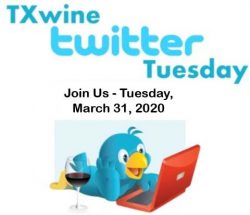 Photo credit: www.txwinelover.com
#TXWine Twitter Tuesday – 3/31/20 7-8 pm – Show us your Texas Viognier, Roussanne and/or Tempranillo and Support Texas Wineries
Again, Howdy Texas wine friends!
#TXWine Twitter Tuesday will continue this coming Tuesday, March 31th at 7-8 pm. The focus on March 31st will be wines made from three well known Texas grape varieties: Viognier, Roussanne and Tempranillo. Please join us on Twitter and share what's in your glass and rally our Texas wineries through these troubling times.
This past Tuesday, based on an analysis of our Twitter feed we had over one million Twitter impressions, which was quite impressive. We particularly want to say thanks to our Dallas Twitter delegation Michelle Williams @Fiery01Red, Terry Hill @friscokid49, and Melanie Ofenloch @dallaswinechick. Houston Chronicle wine columnist Dale Robertson @SportyWineGuy was also able to join us. We ask them to join us again on March 31st.
IMPORTANT: To join our Twitter wine tasting, log into your Twitter account, follow the #TXWine hashtag and share one of your favorite Texas wines and, if you can, try some Texas Viognier, Roussanne and Tempranillo. You can also post a photo or share a special #TXwine moment.
To support our Texas wineries – pick up wine from your local retailer, order directly from Texas wineries (many have free or reduced-price shipping) or open your wine cooler. Then, join us online. Also, please share with us any ideas you have for future #TXwine Twitter Tuesdays!
We might be self-isolating, but we want to stay in touch with our growing Texas wine family. Follow our #TXwine hashtag and lead tweeters: Russ Kane (me) @VintageTexas, Denise Clarke @DeniseClarkeTX, Jeff Cope @TXwinelover, Matt McGinnis @MattMcGinnis, and our abovementioned friends.
Here are a few additional suggestions:
If you are new to Twitter, here's how you participate: just sign up for a free Twitter account at twitter.com. You can also use a Twitter chat website like http://www.tchat.io/rooms/txwine. No registration is required; you can login using your Twitter account info. The hashtag #TXwine will automatically be added. If you are using another platform for tweeting, make sure you add #TXwine to your tweets. Another way to follow the Twitter action is on your browser with TweetDeck.
++++++
If you are also involved with social media on Instagram and care to expand the event's reach, you can cross-post some of your tweets and pics on Instagram