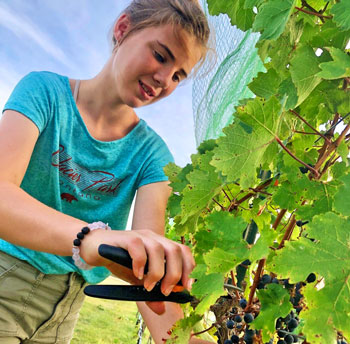 Update on the 2019 Texas Wine Grape Harvest 
Harvest updates from the Texas FineWine Group (Bending Branch Winery, Brennan Vineyards, Duchman Family Winery, Pedernales Cellars, and Spicewood Vineyards) are given below. Most of this information pertains to the Texas Hill Country harvest, but I must admit… it's looking pretty good right now. More information on the Texas High Plains harvesting will be forthcoming.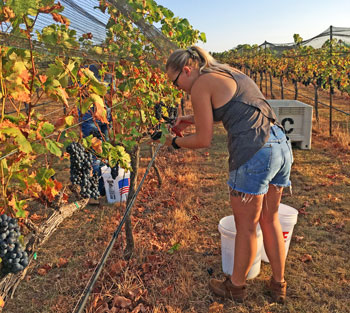 Pedernales Cellars (Stonewall), Julie Kuhlken
We have harvested our estate Tempranillo and a few other blocks from our Kuhlken Vineyards as well as Tempranillo from the Si Como Ni vineyard in the Hill Country. At the end of this week, we will harvest Merlot and Cabernet Sauvignon from Block Zero, the oldest section of the vineyard. We have also received some Orange Muscat from Dusty Evans in West Texas.
In general, we are several weeks behind normal because of the cooler weather in the late spring and early summer. The hot dry weather we are getting now will accelerate harvest, however, so things might start moving faster. Across the board, the yields are good. We had a lot of rain during the spring and did not have to irrigate until late in the growing season. Though there was some hail here and there in the High Plains, it did not have a substantial impact on any of the blocks we have contracted there. The Viognier from the High Plains will probably start coming in next week.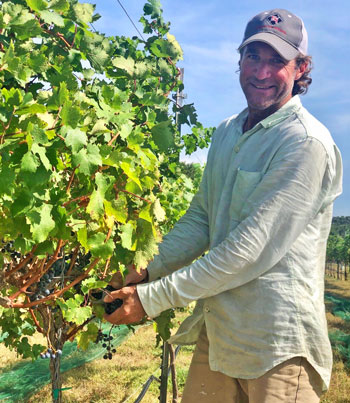 Duchman Family Winery (Driftwood), Dave Reilly
We have finished harvesting the Hog Heaven Vineyard, our first in the Hill Country, bringing in Mourvèdre, Cabernet Sauvignon and Sangiovese. Next up, we will harvest this week Tempranillo from the Salt Lick Vineyards and by the end of the month, we will harvest Sangiovese from Reddy Vineyards in the High Plains.
In early September, we should bring in Dolcetto, Viognier, and Trebbiano from Bingham Family Vineyards and Roussanne from Oswald Vineyard. The last to come in will be the Montepulciano and Aglianico from Oswald Vineyard-probably around the end of September or early October.
So far, the Hill Country fruit is really pretty – small, concentrated fruit with nice flavor. We are glad we have most of the Hill Country fruit harvested because the intense heat can shut down growth, making it hard to get the fruit to mature. In the High Plains, we have the opposite issue. We have harvested fruit as late as October 23, when it is cooler, cloudier and also challenging to get the grapes to full ripeness. But this is Texas. If it wasn't challenging, they wouldn't call it farming.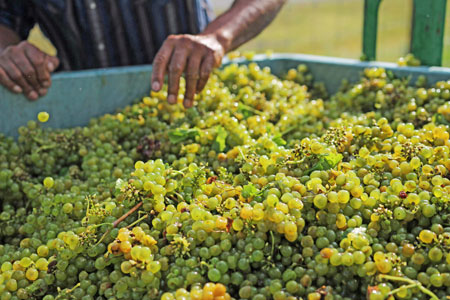 Brennan Vineyards (Comanche), Todd Webster
The 2019 harvest for Brennan Vineyards started a few weeks later than normal. Unusually cool temperatures during the growing season prolonged the start of harvest in our Comanche County vineyards. We have just begun harvest with our early ripening white grape Viognier. So far, our crop estimates have been spot on and grape quality has been high on all our Viognier blocks.
In the coming weeks, we expect to harvest our Semillon, Muscat of Alexandria, and possibly even Nero d'Avola. In general, grapes are coming in with high Brix and fantastic acids that we attribute to the cooler weather throughout the growing season. All signs point to a great Texas wine vintage. As for our High Plains fruit, we are expecting overall beautiful crops out of Malvasia Bianca, Roussanne, Cabernet Sauvignon, Carménère, Gracianco, Alicante Bouchet, and Montepulciano.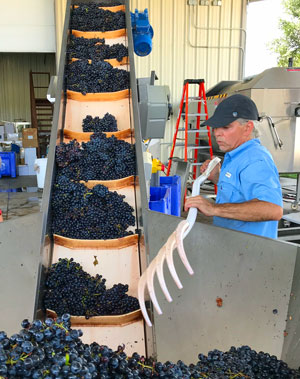 Bending Branch Winery (Comfort), Robert Young, M.D.
Bending Branch Winery has harvested most of its grapes from the Texas Hill Country AVA, and central Texas. We received outstanding Tannat and Picpoul Blanc from Lost Pirogue Vineyards in Center Point, about eight miles from Bending Branch Winery. The fruit flavors and chemistries of both varietals were amazing.
Thus far, all the fruit has been high quality with yields varying by vineyard but mostly increased from last year. We have also processed Malbec, Tempranillo, Barbera, Mourvèdre, Petit Verdot, Syrah, Montepulciano, and Grenache for the red varietals, and Viognier and Pinot Grigio for whites. Bending Branch Winery is expecting grapes from the Texas High Plains vineyards by end of August.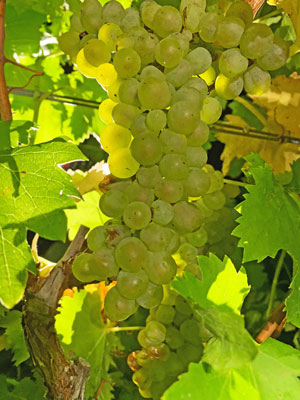 Spicewood Vineyards (Spicewood), Ron Yates
We have harvested our estate Sauvignon Blanc, Tempranillo and Syrah – fruit quality looks great. We will pick Merlot this week and from all signs, this will be one of our better crops ever.
The High Plains has seen a somewhat uneven harvest – with some fruit like Tempranillo, Vermentino and Albariño speeding right along, while others like Mourvèdre and Grenache are not through veraison yet. I don't expect High Plains harvest to get underway before the end of next week.