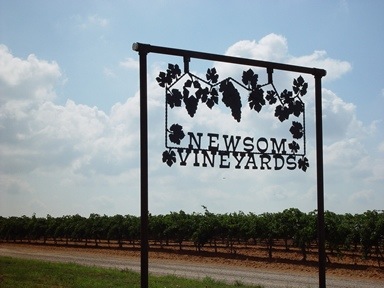 Newsom Vineyards Texas Grape Day 2012
Texas Growers, Wineries, Wine Aficionados, Consumers….
Newsom Grape Day is scheduled for the 27th of April and will be held at Neal's barn. For those of you that don't know where that is. Go to Google Maps and find Plains, TX. Head north to the intersection of Texas 214 & Farm to Market Road 2196, Plains, Yoakum, Texas 79355 click on "satellite view" and head east until you find the Newsom home and big white barn. Alternatively, just go to: http://newsomvineyards.com and get the details for the location.
This year the slate of speakers will be highlighted by Dr. Andy Walker. Dr. Walker is considered to be one of the foremost experts on rootstocks and has developed a line of nematode resistant rootstocks. Dr. Walker will be touring several vineyards in the region prior to Newsom Grape Day as well.
Other speakers at this year's event include Dr. Richard Becker, Roy Mitchell, Lou Bright and Mike Sipowicz. I am very excited about this slate of speakers and look forward to seeing everyone there! Also, don't forget the star party on Friday night as well! This is always a great event and this year is possibly one of the best Neal has ever put together!
If you are interested in renting a booth please contact Neal at 806-456-7885 or neal@newsomvineyards.com and don't forget to bring your checkbook for the silent auction. As always the proceeds will go to the Hoss Newsom Scholarship.
Now to the tour. One change from past years is that the High Plains Vineyard Tour that has typically been on the day before Newsom's event will be held on the day after it this year. The tour will be on the 28th of April and will start at the Mallet Center in Levelland, Tx. This year the tour will include a box lunch and a post tour Gala! The Gala is set to include a wine tasting, live music, a three course meal and a silent auction. It is going to be something that you will not want to miss! This year you will need to have a ticket (FREE) for the Gala. To reserve your ticket you can contact Steve Newsom at 806-638-6962 or email admin@highplainswinegrowers.org.
Info on previous Newsom Grape Day festivities can be found at:
Vineyard Tour in Terry County: https://vintagetexas.com/?p=1618
New Texas Wine Lexicon: https://vintagetexas.com/?p=1621
As always, if you have any questions please don't hesitate to give a call to:
Dusty Timmons
High Plains and West Texas Viticulture Advisor
Texas AgriLife Extension
(806)787-5110
mdtimmons@ag.tamu.edu