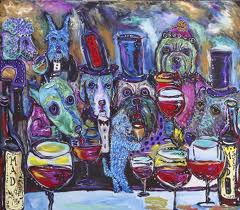 April TXwine Twitter Tuesday  Moved to Wednesday on Local Wine – April 4, 2012!
Denise Clarke (@DeniseFraser), Jeff Cope (@TXwinelover) and I (@VintageTexas) hope you can join us for the next TXWine Twitter Tuesday chat – but again it will be on Wednesday, April 4th at 8 p.m. CT. We have changed to Wednesday for February so that we can combine forces with @winecompass for a Twitter Tasting on local wine for a #WineChat. So,  on April 4th grab a bottle of #localwine and join Dezel from MyVineSpot for a #Drinklocal discussion … special guests will include DrinkLocalWine.com and many other locapours (including #TXwine – selection is up to you).
#WineChat is a twitter tasting held every Wednesday at 9PM ET (8PM CT).
Our contribution on April 4th will be to bring Texas wines into the tasting and conversation. So, we need support from all of the Texas wine tweeters out there. Please pop open a bottle of your favorite Texas wine, fire up your PC/Mac/Smartphone, and join us on #WineChat. We also plan to have a few Texas wineries on the chat to respond to questions. It will be interesting to compare Texas experiences with from the Other46 (or 47) local wine states.
Since we will be joining WineChat, please remember to use the Twitter hashtag #WineChat but please also use #TXwine when commenting about Texas wines. 
NOTE: If you're new to Twitter, here's how you participate:  just sign up for a free Twitter account at www.twitter.com. To make it easy to follow and participate in the WineChat discussion, go to the Tweetchat room: http://tweetchat.com/room/WineChat. No registration is required; you can login using your Twitter account.
In the Tweetchat room, participants are invited to follow tweets, add comments, and share thoughts as the participants taste and discuss the wines. If using TweetDeck or another Twitter application, participants should use the hashtags #WineChat and #TXwine with their Tweets.
We want to hear about what's happening in your corner of the local wine world. Cheers!