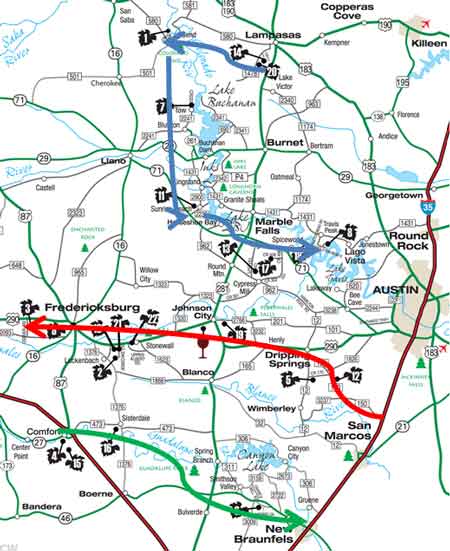 VintageTexas Tasting Route for the Hill Country Holiday Wine Trail
Dec. 5-7, 2008
This is my weekend for field wine blogging. I willl participate in the Hill Country Wineries, 2008 Holiday Wine Trail. For more information, see my previous blog posting at:
https://vintagetexas.com/?p=151  
The Holiday Wine Trail event will be held Dec 5-7 & 12-14 & 19-21. I will run the trail Friday, December 5 through Sunday, December 7, tasting, talking and taking in the Texas Terroir. As shown in the accompanying figure, I have planned three sub-trails, one for each of the three days: Red – Friday, Blue – Saturday and Green Sunday.
I hope to be able to link up on the trail with you.
I want to share your tasting, panoramic and personal experiences with other VintageTexas.com readers, some of which regularly log-in from faraway places like Denmark, Japan and Brazil (even a faraway place called California, but they have to stay undercover out there). I even have a group of Texas expats in the Middle East (where they cannot buy wine) that use VintageTexas.com to do virtual tastings based on my reviews and comments from readers, and then have a discussion on merits of some of Texas finest wines versus other wines from around the world.
In addition to field blogging, I will use my Twitter account to post short snippets about where I am, who I have met and what I have seen and tasted. You can select to follow my Twitter account by going to:
http://twitter.com/VintageTexas  
So, if you are on the trail, just visiting certain wineries in the Texas Hill Country or want to do a "virtual tasting", please following the blog or make contact with me either virtually or in person. Those of you not on the trail, please provide your comments to the blog postings using the comments function at the top and bottom of each blog post.
I hope to have a stimulating and different web-enabled Texas wine experience.
P.S. I will also be reading my email periodically at russ@vintagetexas.com  
+++++++++++++++
A list of the wineries that I intend to visit is given below with reference numbers to the trail map above.
1 – Alamosa Wine Cellars • (325) 628-3313
677 CR 430, Bend, TX 76824
Hours: Fri-Sat 10-5; Sun 12-5; or by appt
3 miles west of Bend on Hwy 580 between Lampasas and San Saba. Sangiovese, Viognier, Tempranillo and Syrah. We specialize in Mediterranean style wines made exclusively with Texas grapes. Specialty wines include Texas Port, Orange Muscat and Texas Sherry. Gift shop, gourmet items, picnic area and veranda. Complimentary tasting. www.alamosawinecellars.com
2 – Becker Vineyards • (830) 644-2681
464 Becker Farms Rd, Stonewall, TX 78671
Hours: Mon-Thu 10-5; Fri-Sat 10-6; Sun 12-6
Featured in Wine Spectator, starred on The Fine Living Channel, and served at The White House, these hand crafted award-winning Bordeaux, Burgundian, and Rhone-styled wines are enjoyed with fine cuisine or casual fare. Events, Tastings, Tours, Picnic Areas, Reception Hall, and B&B available. www.beckervineyards.com
3 – Chisholm Trail Winery • (830) 990-CORK
2367 Usener Rd., Fredericksburg, TX 78624
Hours: Thu-Mon 12-6
Nine miles west of Fredericksburg on Hwy 290 west, 2.4 miles south on Usener Road. Relaxed country setting featuring premium Estate Bottled wines. www.chisholmtrailwinery.com
4 – Comfort Cellars Winery • (830) 995-3274
723 Front Street, Comfort, TX 78013
hours: Thur-Sat 11-6 Sun-Mon 12-5 Tues-Wed 12-6
723 Front Street (also known as Hwy 27). I-10 exit 523 to business 87, 1 mile to Jct. Hwy 27 to Stop sign. Take a right hand turn at the stop sign and then an immediate left hand turn into the winery parking lot. Fine wines and unique wines like Jalapeño and Peach. Gift shop featuring Bubble Comfort Corner handmade soaps and wine related items. www.comfortcellars.com
5 – Driftwood Vineyards • (512) 858-9667
4001 Elder Hill Road CR 170, Driftwood, TX 78619
Hours: Mon-Sun 10-6
Located 6 miles S of Hwy 290 on Ranch Road 12 between Dripping Springs & Wimberley. Mediterranean style wines. Breathtaking hilltop view overlooking the vineyard. Giftshop, tastings, picnic area and covered deck. Weddings & private parties welcome! www.driftwoodvineyards.com
6 – Dry Comal Creek Vineyards • (830) 885-4121
1741 Herbelin Rd., New Braunfels, TX 78132
Hours: Mon-Sun 12-5
6.6 miles west of New Braunfels off Hwy 46 west (at 1741 Herbelin Rd). Featuring unique and different Texas Style Wines. Only 20 minutes from Loop 1604 via IH35 or Hwy 28. www.drycomalcreek.com
7 – Fall Creek Vineyards • (325) 379-5361
1820 CR 222, Tow, TX 78672
Hours: Mon-Fri 11-4; Sat 11-5; Sun 12-4
Fall Creek Vineyards, established in 1975, is the oldest vineyard & winery operation in the Hill Country and founder of the region. Fall Creek Vineyards is at the forefront of the Texas wine industry in demand and accolades for its award-winning wines. Located on the northwest shores of Lake Buchanan, boat cruises are available to magnificent Fall Creek Falls lake – level permitting. Tasting, tours, picnic facilities with light fare for sale and gift shop offered daily. www.fcv.com
8 – Flat Creek Estate • (512) 267-6310
24912 Singleton Bend Street, Marble Falls, TX 78654
Hours: Tue-Fri 12-5; Sat 10-5; Sun 12-5
Experience Old-World charm throughout our 80-acre Estate. Visit the home of "Super Texan" sangiovese. Taste handcrafted Texas wines from Texas grapes – labels include Flat Creek Estate & Travis Peak Select. Located 6 miles west of Lago Vista (20 miles east of Marble Falls) on FM 1431. South on Singleton Bend 2.5 miles to Singleton Bend East. Left 1 mile to vineyards. www.flatcreekestate.com
9 – Fredericksburg Winery • (830) 990-8747
247 West Main Street, Fredericksburg, TX 78624
Hours: Mon-Thurs 10-5:30; Fri-Sat 10-7:30; Sun 12-5:30
Named one of the top three producers in Texas by USA Today – Fredericksburg Winery is owned and operated by the Switzer family. We make a complete spectrum of red and white wines – dry, semi-dry, medium sweet, and sweet and even one-step further late harvest desserts. Wait two-steps further – port and sherry! Come do "Wine 101 (WHP)" and get the real scoop. New wine club – "The Flight Club." Hours may vary. www.fbgwinery.com
10 – Grape Creek Vineyards • (830) 644-2710
10587 East Highway 290, Fredericksburg, TX 78624
Hours: Mon-Fri. 10-5 Sat. 10-6 Sun 11-5
On Highway 290, 9 miles East of Fredericksburg and 3 miles West of Stonewall. At Grape Creek Vineyards, our passion is to produce premium quality wine from the best selection of grapes. Come enjoy our wines and experience "Tuscany in Texas" at our new Italian Villa tasting room, event center and romantic oasis overlooking the vineyards!One of the oldest Hill Country wineries with a B&B available. www.grapecreek.com
11 – Lost Creek Vineyard • (325) 388-3753
1129 RR 2233, Sunrise Beach, TX 78643
Hours: Tues-Thurs 11-5 Fri Sat 11-6 and Sun 12-5
Visit our gorgeous new tasting room and charming amphitheater nestled in the picturesque Lost Creek Vineyard. (Visit our web site for directions). Lost Creek Johnson City, 302 E. Main St., (Hwy. 290) Johnson City, TX Hours: Thursday – Saturday 11:00-5:00, Sunday 12:00-5:00 Come by and enjoy a fun & intimate wine tasting with our knowledgeable staff where you are sure to become a fan of Lost Creek wines. Owner and Winemaker David Brinkman has a passion to create the finest wines possible. David's wines have been awarded over 40 medals, both local and international. www.lostcreekvineyard.com
12 – Mandola Estate Winery • (512) 858-1470
13308 FM 150 West, Driftwood, TX 78619
Hours: Tues.-Fri. 12 – 9 Sat.11-9 Sun. 11-8
Producing fine Texas wines from traditional Italian grape varieties in a beautiful Hill Country setting, just 25 miles from downtown Austin. In the Italian, way we combine innovative equipment and techniques with traditional methods to produce uniquely Texas wines with an Italian sense of style. If you share our love of Italian wines, or if you are just looking for a fun outing, join us. Located on FM 150, 2.3 miles south of the intersection of FM 1826 and FM 150. www.mandolawines.com
13 – McReynolds Winery • (830) 825-3544
706 Shovel Mountain Road, Cypress Mill, TX 78633
Hours: Fri-Sat 10-6; Sun 12-6; or by appt.
Award-winning, hand crafted, premium Texas table wines. We are halfway between Marble Falls and Johnson City. From Austin, 25 miles West of Bee Cave (via Hamilton Pool Rd/ RR 3238) or from Round Mountain 6 miles east on RR 962 to Shovel Mountain Rd (Blanco Co Rd 304). North on Shovel Mtn Rd 1/2 mile to winery. Picnic facilities available. www.mcreynoldswines.com
14 – Pillar Bluff Vineyards • (512) 556-4078
300 Burnet County Road 111, Lampasas, TX 76550
Hours: Fri-Sat 10-5; Sun 12:30-5
From Hwy. 183/281 take 580 west 8 blocks to Farm Road 147. Turn left off 580 West and stay on 1478 for 5 miles. At the Burnet County Line turn left onto County Rd 111. The winery is the first building on the right. We specialize in French varietals. Private tastings by appointment. www.pillarbluff.com
15 – Singing Water Vineyards • 830-995-2246
316 Mill Dam, Comfort, TX 78013
Hours: 12 to 5 p.m. every Fri. Sat. Sun.
You will enjoy a visit to this scenic Hill Country vineyard and winery located up in the hills just south of Comfort on the banks of Bruins Creek. The tasting room, a rebuilt 100 year old Hill Country barn, greets you as you drive up to the winery. Park in the shade or tie your horse up to the old recycled wagon tailgate/sign out in front – and make yourself at home. A tour and tasting in this relaxed country atmosphere is sure to lower your stress level! Bring your picnic lunch and relax on the winery porch with a glass of Singing Water wine. www.singingwatervineyards.com
16 – Sister Creek Vineyards • (830) 324-6704
1142 Sisterdale Road, Sisterdale, TX 78006
Hours: Mon-Fri 10-5 Sat 10-6 and Sun 12-6
12 miles north of Boerne on scenic FM 1376. Award winning, barrel-aged European-style wines made in an 1885 cotton gin. Wines include Cabernet Sauvignon Blends, Chardonnay, Merlot, Pinot Noir and Muscat Canelli. www.sistercreekvineyards.com
17 – Spicewood Vineyards • (830) 693-5328
1419 Burnet CR 409, Spicewood, TX 78669
Hours: Wed-Sat 10-5 and Sun 12-5
Home of award-winning 100% estate handcrafted wines from our vineyard. Hwy 71 go south 7/10 mile on CR 408, then west 1.5 miles on CR 409. Tasting room, gallery, and gift shop. Picnic on our veranda. Winemaker tours and tastings. Special event facilities available. www.spicewoodvineyards.com
18 – Stone House Vineyard • (512) 264-3630
24350 Haynie Flat Rd., Spicewood, TX 78669
Hours: Thurs-Sun 12-5; or by appt.
Beautiful setting on Lake Travis surrounded by vineyards producing award-winning wines, 35 minutes from Austin. The winery is constructed of massive limestone blocks making it functional as well as a building of artistic architectural merit. Located off Hwy 71 west, turn onto Paleface Ranch Road, 3 miles t-junction, right onto Haynie Flat Road. www.stonehousevineyard.com
19 – Texas Hills Vineyard • (830) 868-2321
878 RR 2766, Johnson City, TX 78636
Hours: Mon-Thurs 10-5 Fri-Sat 10-6 Sun 12-5
Home of the "Kick Butt Cab" and other Italian-styled "Wines to Share With Friends," Located 1 mile east of Johnson City on RR 2766 (road to Pedernales Falls State Park). Wines include Pinot Grigio, Sangiovese, Orange Moscato, Merlot, Syrah and more. Enjoy a picnic on the patio overlooking the vineyard. Locally made artisan cheeses and crackers available in the tasting room. Tasting room and gift shop. www.texashillsvineyard.com
20 – Texas Legato Winery • (512) 556-9600
2935 Highway 1478, Lampasas, TX 76550
Hours: Fri – Sat 10 – 6; Sun 12 – 5
In Lampasas, Texas and from the intersection of Highway 183 and highway 580 W, turn west on Hwy 580 W, go 8 blocks to Hwy 1478 ( aka Howe Street), turn left (south) on Howe and go 4.3 miles and turn left into the winery, just west of Pillar Bluff Vineyard. We age our wines in a combination of French and American Oak barrels, giving our wines the best of both, hints of vanilla and cherry from the American Oak and the smoothness from the French Oak barrels. Due to the limited quantity of wine in the 2006 vintage, our scheduled hours will coincide with the wine trail weekends and hours. We are open by appointment if you are passing through Lampasas on a trip through the Hill Country. www.texaslegato.com
21 – Torre di Pietra Vineyards • (830) 644-2829
10915 E. US Hwy 290, Fredericksburg, TX 78624
Hours: 11:00 a.m. to 6:00 p.m. Daily
Torre di Pietra, quality wines, live music, and unique gifts in a romantic setting. Come enjoy our patios, vineyard and tasting room. Located 10 miles east of Fredericksburg, Texas on US Hwy 290. We use traditional wine making methods to produce our fruit forward style. Our wines include varietals: Sangiovese, Primitivo, Malbec, Cabernet Sauvignon, Moscato and popular blends: Red Flirt and Classico. www.texashillcountrywine.com
22 – Woodrose Winery • (830) 644-2539
662 Woodrose Lane, Stonewall, TX 78671
Hours: Mon. – Fri. 11am-6pm Sat.11am-7pm Sun.12-6pm
Woodrose Winery is located on the south side of Hwy 290 just west of Stonewall or 14 miles east of Fredericksburg. Turn south off of Hwy 290 onto Woodrose Lane. We invite you to visit us at Woodrose Winery for restaurant style tastings where we bring the wine to you at your table. The new 3,000 square foot multi level deck is perfect to sit down with a glass of wine, cheese plate and enjoy our charming, laid back atmosphere under the oak trees. www.woodrosewinery.com
For more information on The Hill Country Wineries go to: