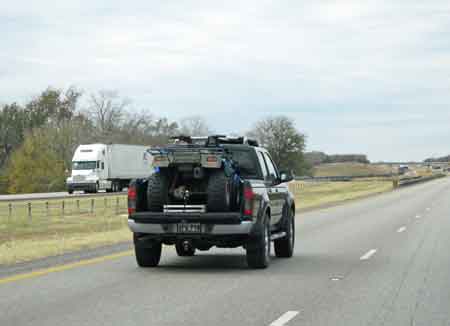 Texas Hill Country Holiday Wine Trail – Day 1
I left Houston this morning to tour the Texas Hill Country Holiday Wine Trail(http://www.texaswinetrail.com) .  The tour requires a two and a half hour drive due west of Houston on I-10. But it is worth it as this region is likely the most picturesque parcel of Texas land I know.
While driving, I got to thinking…..Going west on I-10 out of Houston is like having my own time machine. As I drive towards San Antonio I am actually going back in time. Really! I just did it. Starting in Houston and by the time you are around San Antonio you are surrounded by limestone outcroppings that date to the Cretaceous Period some 60 to 140 million years ago. They were once sea bottom deposits that were thrust upward about 10 million years ago. The scenic, eroded edges of this high central Texas plateau are what we know as the Texas Hill Country. This attraction to limestone also helps to explain some of the attributes of this region that result in premium wines and why we are starting to refer to this region by a new name – The Texas Wine Country.
Heading out of Houston, it was cold… based on Houston standards, anyway. The sky was overcast with a steely blue-gray color, what Texans commonly call a "Blue Norther". The only colors to be had were the reds, oranges and yellows exuded along the countryside by the non-native tallow trees. The hawks were flying in the fields to hunt their prey and the buzzards were having a road side venison feast. The path to the Texas Hill Country also included the weekly swarms of Texas deer hunters with their ATVs and green and white Coleman coolers in the back of their trucks. Periodically, pieces of failed retreads rest by the side of the road looking like burnt Fritos as I pass by.
By the time I got to Schulenburg, a man on the radio said that on this date in history, Utah cast the deciding vote to repeal the 18th amendment this eliminating prohibition of alcoholic beverages in the USA. Imagine, if that didn't happen, I would be looking for something else to do today.
Mandola Winery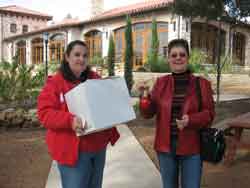 At Luling, I headed off I-10 toward San Marcos and then west to my first stop of today's trail trail, Mandola Winery in Driftwood, Texas. This winery is the creation of Damien Mandola of Houston and national restaurant fame. Its magnificent Tuscan-style tasting room and trattoria restaurant were perfectly placed at the leading edge of this beautiful region of rolling hills and limestone cliffs.
Upon walking up to the Mandola Winery, I met two ladies, obviously very happy with their wine purchase and their gift of a Christmas ornament for participating in the Holiday Wine Trail. Each winery on the trial has its own unique ornament.
Upon entering the winery, it was obvious that it not only had all the best accoutrements, but a superb selection of wines – all Texas grown and nearly all Italian varietals. The list featured white wines (Vermentino and Viognier) and several red wines (Montepulciano, Dolcetto, Primitivo, and Syrah, all priced in the range of $19 to $26. Personally, my faves were Mandola's Vermentino – light, crisp and citrusy, and the Montepulciano – red, full bodied and awaiting a plate of spaghetti and marinara sauce.
Driftwood Vineyard
After departing, I drove only a few miles farther to visit an old friend, Gary Elliott at his winery – Driftwood Vineyards. He has one of the most interesting wineries layouts. The tasting room is perched on a limestone cliff overlooking his neat-as-a-pin, estate vineyard about 80 feet below. I got to talking with Gary and we tasted his complete selection of wines, some of which were just being released this weekend. The Driftwood Cuvee Blanc is a blend of four varietals – Chardonnay, Viognier, Muscat and Chenin Blanc, and provided lively Fuji apple and pear nuances. Driftwood also makes a Dry Rosé that could accompany a light lunch and also be a good sip on the deck on a warm Texas night. Best of all were his Lone Star Cabernet Sauvignon and Longhorn Red Blend (of Cabernet and Syrah). In both cases, we tasted the 2005 and 2006 (just released) side by side. The new 2006's were darker and more intense wines capable of showing well alongside a variety of grilled meats, sausages and game.
Texas Hills Vineyard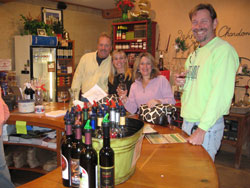 Back on the road to Rt. 290 and on to Johnson City, home of the world famous Whittington's Jerky (Yes – there is such a thing s fresh jerky!) and Texas Hills Vineyards – Gary and Kathy Gilstrap's estate winery on the outskirts of town. I had just visited them about three weeks ago and was bowled over by their new 2007 Rousanne (white Rhone-style wine) and Toro de Tejas (Tempranillo-Cabernet blend). On this stop, I could not help but give them another taste. Wow….They were both still good! I also tried the Pinot Grigio (light, crisp and full of lemon zest) made with all Texas Hill Country grapes. After stepping on Brutus' the wine dog's tail (with a resounding retort from Brutus), I finished with a taste of Texas Hills 2004 Cabernet Sauvignon which is a steal at $15.
Woodrose Winery
At this point, the sun was getting low in the sky and I was on the home stretch leading to our little cottage near Fredericksburg. Continuing on down Rt. 290, I stopped in at Woodrose Winery and asked Chris Brundrett in the tasting room what were his favorite wines. Within a second, he recommended the 2007 Woodrose estate Cabernet Sauvignon (rich dark berries and soft tannins) and the 2005 Merlot (a thick and chewy red with a good tannic bite that screams for a thick rare steak).
Becker Vineyards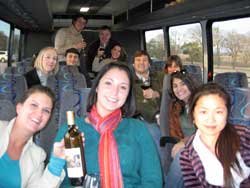 Not far away were Becker Vineyards and Torre di Pietra Winery. These are both old acquaintances to me. Becker Vineyards for their perennial high quality and breadth of their wine offerings, which is not a simple task and Torre di Pietra for the fun destination and interesting adaptation of Mediterranean varietal wines and blends.
At Becker, I ran into a group touring on a bus from R & R Tours (www.rrlimobus.com) . They seemed to be having far too much fun on the wine trail, but this is a good way to do it. Once inside the tasting room, Nichole poured me a taste of their new 2008 Pinot Grigio  having mineral, floral and lemon drop qualities and the 2007 Grenache (red raspberries and toasted oak) from Drew Tallent's vineyard.
Torre di Pietra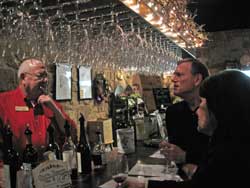 The close of the day came at Torre di Pietra. I tasted through several wines in the tasting room with a couple from Beaumont, Texas, visiting their daughter in Austin. They had visited wineries in California before, but this was the first time in Texas. The wines tasted at Torre di Pietra included their Claret – a fruit-forward style red wine, Sangiovese – dry red wine with cherry and cola nut notes, and a red wine with an herbal nose made from the Portuguese varietal Touriga Nacional. My pick of the bunch was the Sangiovese – a medium-bodied, food-friendly red wine. One side benefit of this tasting was that the couple from Beaumont was able to help me remember the name of a well known Gulf Coast seafood restaurant in Beaumont – Sartins: http://www.sartins.com.
Well, it has been a long, but rewarding day. The last stop was at HEB to pick up the steak, some veggies and a bottle of Becker Iconoclast Cabernet Sauvignon ($9 – a bargin) to be prepared in my mountain top cottage just a bit south of Fredericksburg.
Good night and sleep tight! See you bright and early to hit the road again, but this time up in Lampasa for Day 2 of the Texas Hill Country Holiday Wine Trail.
I love the smell of Cabernet in the Morning!
P.S. Keep tabs on my Day 2 progress in the comments section below.