Guest Blog: Help Us Understand Wine Blogs
As posted on Tom Wark's Fermentation:
The Daily Wine Blog (http://fermentation.typepad.com/)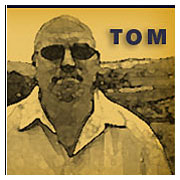 Tom Wark's Blog has reached the monumental status of having reached its 4th Anniversary in a media where most blogs go unclaimed after a few months. It addresses head-on the main issues of wines, the wine industry and wine consumers. I started my blogging activities after reading Tom's blog for a number of months earlier this year and I highly recommend his blog. In his December 1st blog posting, he brings up very important questions and a research study of blogs being conducted. This study hopes to answer these questions and needs your (the blog reader's) input. These are fundemental questions for the blogophere similar to what we as humans ask…Where are we from, why are we here and where are we going? This subject relates to Texas wines in a big way since, for the most part, I have found that Texas wines are on under the radar of the national wine media. Consequently, Vintage Texas, which provides readers Texas wine news, views and describes the "sense of place" of Texas wines, has grown and continues to grow by leaps and bounds. We need your input to this study. Please read on…..
Help Us Understand Wine Blogs
by Tom Wark (December 1, 2008)
What makes a wine blog credible? What gives a wine blog an authoritative voice? Does it matter? Can it be measured?
These questions and other similar to them have been bandied about the wine industry of late in a variety of forums. I think the issues are under greater scrutiny for a number of reasons, not the least of which are 1) the fact that there are more wine bloggers than ever and the issue of credibility and authority is one way of dividing them up, 2) the fact that more members of the wine industry feel forced to better understand wine blogging and, again, the issue of credibility and authority is one way of doing that and 3) these questions arise only when a maturing process gets underway and I think we are seeing that in the wine blogosphere.
But, this issue of what makes for a credible and authoritative blog has never been studied thoroughly in an academic fashion.
Now it is and if you are a regular reader of wine blogs your input is currently be sought by one person researching wine blogs and what they mean to their readers.
Tracy Rickman is a PhD candidate at Auburn University carrying out a research project on the nature and extent of credibility and authority of wine blogs. She would like to speak with you if you are a regular reader of blogs.
She's likely going to want to ask you questions about your experience with wine blogs. She's likely going to want to urge you to give her honest assessments of your relationship with wine blogs.
PLEASE HELP HER! My sense is that her's could be a fascinating and important study of this new medium.
If you are willing to take part in her research project EMAIL HER and let her know you'd be willing to talk to her at: rickmta@auburn.edu