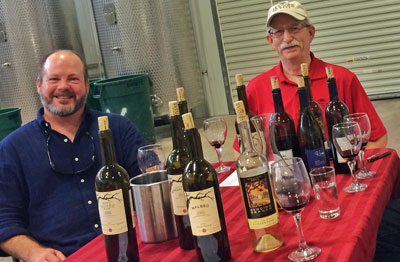 Bending Branch Winery: Where Bob and John Bring a "Dash of Flash" to the Wine Tasting: New Wine Releases
After driving past the cool waters of the Guadalupe River and arriving at Bending Branch Winery in Comfort, Bending Branch owner and winemaker Bob Young chauffeured us to the winery building. He used his new and nearly "street legal" electric shuttle car. In the cool of Bending Branch Winery, three flights of wines were set up for us to taste.
Quite surprising to me was, while Bending Branch Winery made their reputation on dark red Tannat wines, we were four wines into the tasting and all of the limited release 2014 wines tasted in the first flight were whites: Estate Cuvee Blanc white blend; Roussanne, Hoover Valley Vineyard; Viognier, Riven Rock Vineyard; and, Single Barrel Blanc, Hall Ranch Vineyards.
Bending Branch viticulturist and winemaker John Rivenburgh explained, "While out with some of my hill country winemaking buddies, they joked with me…'John, you're getting really good making red wines. Too bad you can't make white wines.' I wanted to show them, I really could do whites, too."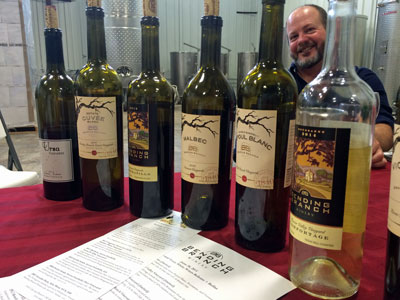 While I'm sure this was said in jest, their estate vineyard combined with a good 2014 vintage and new sources of hill country grapes complied so that John and Bob could have some really fine whites to show:
2014 Cuvee Blanc is all stainless steel fermented from their estate grown, organic grapes: approximately 60% Picpoul Blanc, 20% Roussanne and 20% Vermentino. It's a palate pleaser yielding Picpoul's crisp acidity and lemon-orange citrus notes carried with Roussanne's classic smooth silky mouthfeel.
2014 Roussanne, Hoover Valley Vineyard is 100% varietal. This Chardonnay lover's Texas white wine is made with a 50-50 blend of stainless and oak aged Roussanne with a touch of lees left in during aging in oak. My notes say, "great body, richness and depth of flavor, but bringing a crisp finish where lemon citrus and tea notes prevail." It is the first Texas version of Bending Branch's "Comfortage" (a twist on the Rhone Valley appellation name – Hermitage) that in prior years was made from California fruit.
John said, "This wine shows what another big reliable vineyard resource in the Hill Country can do. It's a real game changer for us. Reed William's Hoover Valley Vineyard is one of the most professional operations in the hill country. He is growing Malbec and Roussanne for us with more varieties to come in the future."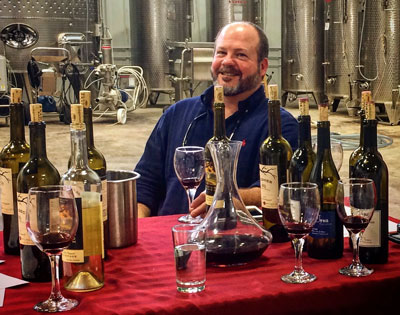 2014 Viognier Riven Rock Vineyard, made from grapes harvested just down the road from Bending Branch, shows apricot fruit notes combined with essences of honeysuckle and white flowers. My notes say, "An fresh, enlightening wine!"
2014 Single Barrel Blanc, Hall Ranch Vineyard (Picpoul Blanc from Paso Robles), as Bob Young best describes it, "There is nothing else like it. John thought I was crazy." See below for details…
Bob grew up in Kentucky, and, I guess, Bourbon and 'The Derby" are just in his blood. He and John made this white wine by aging it in retired Papi Van Winkle bourbon barrels. The wine exudes pineapple, vanilla and caramel and a bright, piercing acidity that cuts through all these rich qualities. But, wait, there's more. Bending Branch sparkles this wine in a keg and combines it with agave syrup and mint to make by-the-glass Mint Juleps at the their winery's Kentucky Derby Day celebration.
From the white flight, we moved on to Bending Branches July 2015 releases of three Newsom Vineyards, Texas high plains appellation, red wines. The unique combination of the Newsom family's high altitude growing and Bob's and John's cutting edge fermentation science produced three wines that were, like the white wines, genuine palate-pleasures.
2012 Tempranillo has aromatics that literally jump out of the glass with red berries, cinnamon and cedar notes that caused my exclamation "classic Rioja Alta body and characteristics". According the John, "It was the combination of batches, one conventionally fermented Newsom fruit that give the aromatics and a second fermented after cyro-maceration (freezing) that brings out the flavors in the middle and finish of the wine."
2012 Malbec…this is not just simply a clone of another Argentine Malbec wine. The Newsom vineyard fruit showed unique floral scents of violet and rose, black fruit flavors and aromatic graphitic notes of wet slate that later evolved into chocolate and nutty characteristic during the tasting.
2012 Cabernet Sauvignon…The understatement is, this is also a special wine.It shows black cherry combine with black current notes with the wine's medium plus body, red-dirt minerally undertones and cedar aromatics. John described this wine as being derived from 50% natural fermentation and about 50% from cyro-maceration.
Then, Bob admitted there was also a "dash of flash" as in "Flash Détente" in this wine. He was referring to Bending Branch's new grape processing machine (also called a Biothermal Cooler, or BTC) that uses heat, vacuum and flash cooling to completely macerate the skins to extract their hidden flavors and aromatics. It is only one of five BTC units in the United States and the only one not in California. John added that they signed the contract to get their BTC unit just in time… before California's Gallo Wines could get it.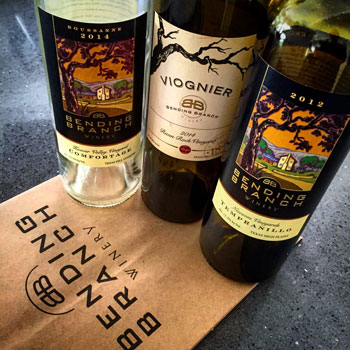 This 2012 Cabernet wine combines one of Texas's oldest Cabernet vineyards cultivated by the Newsom family for over 25 years with Bob and John's new fermentation wizardry at Bending Branch Winery. In 2013, the San Francisco International Wine Competition honored this same collaboration (for a Cabernet from the classic 2010 Texas vintage) with the first SFO Double Gold medal for a Texas Cabernet.
When asked what it was like at the Double Gold table in 2013 after the results were given out, John said, "Not knowing where we were from, writers came by to taste our 2010 Newsom Cabernet. They where saying, 'Wow! This has got to be one of those "nouveau" California cabs everyone is talking about. Is it from Paso Robles? When we told them it was from the Texas high plains, then they said, 'Well, it's OK.' But, as the tasting proceeded, we ended up with a large group standing around tasting and just loving our Newsom Cabernet. We were the shining star from Texas that day. Neal Newsom was there, too. And, he was really loving showing all the California cab people what could be produced from his Texas fruit."
We finished the tasting with a selection of two wines from several  Ursa Wines, a California Sierra Foot Hills brand started by Greg Stokes. Greg has been a consultant for Bending Branch for eight vintages. Both Bob and John readily admitted that Greg helped them sharpen their winemaking skills and over the years they have become close friends. And, they are a now business associates following the acquisition of Ursa Wines by Bending Branch.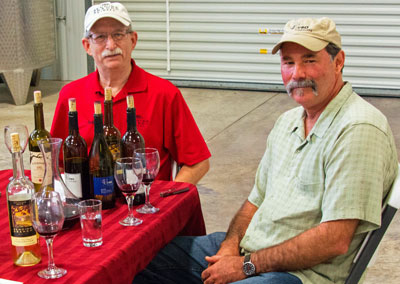 It was a great way to finish our Sunday afternoon tasting by getting an introduction to Ursa's wines while tasting with and meeting Greg, as well.
The two Ursa wine tasted were the 2013 Barbera, Sierra Foothills, Terra Di Alba Vineyard and 2010 Syrah-Petit Sirah blend, Sierra Foothills. Both were deep, well extracted wines with rich berry characteristics with the Syrah-Sirah also showing its tannic muscle. There are a selection of five Ursa wines (including Viognier and a Port-style wine) now available for tasting and purchase from the Bending Branch tasting room in downtown Comfort Texas.
It is always a new experience tasting with Bob and John at Bending Branch Winery. They are always ready to enlighten me with a new wine, tour of a new winery building, discussion about planting new vineyard acreage or an innovative fermentation technique, and now the acquisition of a new winery, to boot.
Stop by Bending Branch Winery. Get a taste of something "enlightening". Then, relax and enjoy!