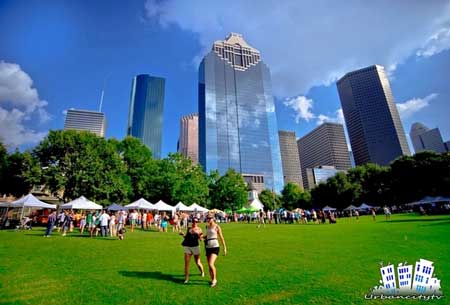 2011 Houston Wine Fest's Almost Here: September 24-25, 2011
The Houston Wine Fest is a yearly, two-day festival dedicated to the great wine and delectable food pairings. The Houston Wine Fest is held in the heart of downtown Houston at Sam Houston Park. We welcome wine enthusiasts from all over the world to taste and celebrate a broad selection of wines, fantastic food and enjoy on-going entertainment. The Houston Wine Fest brings wine, culture and intellect together for an enjoyable experience for everyone, from the novice to the culinary connoisseur.
The Houston Wine Fest is not simply about wine. Each year we bring national performers to the Houston stage and we introduce new artists from Houston and surrounding areas to our vast audience. Beyond the music, the Houston Wine Fest gives local businesses an opportunity to expand their customer base through sponsorship and participation in event activities. Vendors are given the opportunity to create relationships with new customers, while guests are offered a diverse market full of unique wares, both wine and non-wine related. The goal is to generate longstanding relationships between guests,  musicians, sponsors and vendors.
To experience the Houston Wine Fest is to experience a weekend full of eclectic flavors, diverse people and tons of fun!
Texas Wineries
The first priority is to expose the ever growing Texas Wine industry. There are a large number of wineries throughout the state of Texas and the festival is making every effort to highlight them in America's 4th largest city. Texas wines have been flowing since the early days of the Texas fronteer and it's a piece of Texas history we (as Texans) should be proud of. At the Houston Wine Fest, you'll experience the best wines that Texas has to offer. You won't be disappointed. See list of participating Texas wineries:
| | | |
| --- | --- | --- |
| Bernhardt Winery | Plantersville, TX | bernhardtwinery.com |
| Braman Winery | Refugio, TX | bramanwine.com |
| Calais Winery | Dallas, TX | calaiswinery.com |
| Caldwell Family Winery & Vineyards | Houston, TX | caldwellfamilywine.com |
| Cork This! Winery | Montgomery, TX | corkthiswinery.com |
| D'Vine Wine of Kemah | Kemah, TX | kemah.dvinewineusa.com |
| Enoch's Stomp Vineyard and Winery | Harleton, TX | enochsstomp.com |
| Flat Creek Estate | Marble Falls, TX | flatcreekestate.com |
| Grape Creek Vineyards | Fredersickburg, TX | grapecreek.com |
| Haak Winery | Santa Fe, TX | haakwine.com |
| Landon Winery | McKinney, TX | landonwinery.com |
| Los Pinos Ranch Vineyards | Pittsburgh, TX | lospinosranchvineyards.com |
| Pleasant Hill Winery | Brenham, TX | pleasanthillwinery.com |
| Red Road Vineyard & Winery | Naple, TX | redroadvineyard.com |
| Retreat Hill Winery & Vineyard | Navasota, TX | retreathill.com |
| Rohan Meadery | La Grange, TX | rohanmeadery.com |
| Saddlehorn Winery | Burton, TX | saddlehornwinery.com |
| Sunset Winery | Burleson, TX | sunsetwinery.com |
| Texas Legato | Lampasas, TX | texaslegato.com |
| Texas Star Winery | Richards, TX | texasstarwinery.com |
| The Nice Winery | Houston, TX | thenicewinery.com |
Tourism
The Houston Wine Fest encourages tourism, which creates an awesome opportunity to expose all of the great things we love as Houstonians. Tell your friends and family from around the country to join you at the Houston Wine Fest. It's worth the trip…and the sip! visithoustontexas.com
Downtown
One of Houston's biggest attractions is Downtown. It is an ever-growing area with exciting places to see and activities to experience. This is why the Houston Wine Fest is held in beautiful Sam Houston Park: to expose the hard work of the City, as Downtown is continuously evolving. To learn more about Downtown Houston feel free to visit: downtownhouston.org
More information is available online at: http://www.houstonwinefest.com/ and tickets available at: http://www.houstonwinefest.com/#Tickets