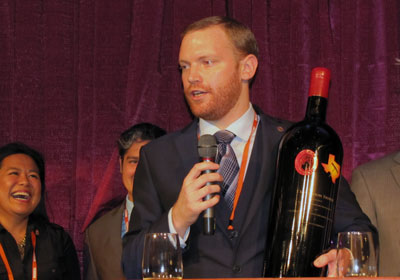 FLASH: Nathan Fausti of Olive & June Named 2015 Best Sommelier at Texsom
2015 (11th Annual) TEXSOM Best Sommelier Competition Presented by Texas Monthly
TEXSOM co-founders and Master Sommeliers Drew Hendricks and James Tidwell last night announced at the Wine & Food Foundation of Texas Grand Tasting that Nathan Fausti of Olive & June in Austin, Texas, is the 2015 TEXSOM Best Sommelier. The 2015 TEXSOM Best Sommelier Competition, presented by Texas Monthly, takes place during TEXSOM, the most prominent and influential wine education conference in the United States, held annually at the Four Seasons Resort and Club Dallas at Las Colinas in Irving, Texas.
Fausti topped a strong field of 23 other competitors in a rigorous three-part wine examination involving service, blind tasting and theory. An elite panel of Master Sommelier and Master of Wine judges named Fausti the 2015 TEXSOM Best Sommelier at a ceremony on Monday evening.  The competition is a key part of TEXSOM. To participate, candidates must be a current resident of Arkansas, Louisiana, Oklahoma, New Mexico, or Texas and must not have passed the Court of Master Sommeliers' Advanced Sommelier Examination. Previously, only Texas sommeliers were allowed to apply for the competition.
In addition to being honored with the title "2015 TEXSOM Best Sommelier," Fausti received a scholarship of $2,500 from the Guild of Sommeliers Education Foundation to be used for a Court of Master Sommeliers certification program. David Donalson of Goody Goody Liquor in Dallas, Texas was the second runner up and will receive a $1,500 scholarship, and the 3rd place winner Luis La Torre of Spec's Fine Wines in Dallas, Texas will receive a $1,000 scholarship.
Nathan Fausti is the 11th winner of the TEXSOM Best Sommelier Competition to be honored with the TEXSOM T.V. Munson Trophy. The trophy is named after Thomas Volney Munson (1843–1913) often called the "Grape Man of Texas". He was a horticulturalist and grape hybridizer who collected, categorized and bred Native American grapes. Munson's greatest achievement to the world of wine was providing the French and European vineyards with phylloxera-resistant root stock from wild Texas grapes. This allowed vineyards across Europe to recover from the devastating blight of the 1800s. France later presented Munson the Chevalier du Merite Agricole of the French Legion of Honor.
Nathan, congrats!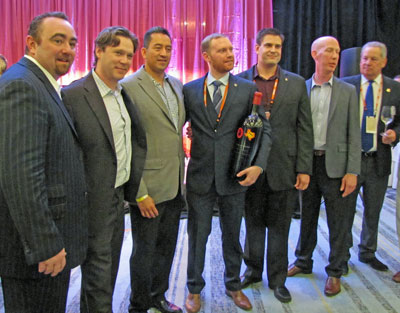 ABOUT TEXSOM
Founded in 2005, TEXSOM was started by Master Sommeliers James Tidwell and Drew Hendricks to help promote professional wine service standards, outline paths for further wine education and certification, and raise public awareness about the professional standards and certifications for sommeliers. Today, the conference draws a total of 1,000 attendees, of whom 700 are sommeliers, retailers and wine buyers.