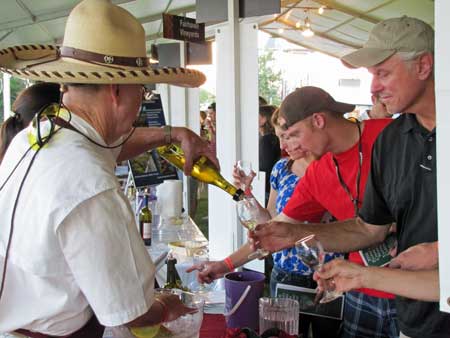 Ten Things I Learned at the 2010 GrapeFest: People's Choice Texas Wine Competition
I was optimistic when I opened my front door Thursday morning in Houston and entered my car for the drive up to Grapevine, Texas. The air had a hint of coolness brought by lower-than-summertime humidity. Sounds crazy, but this is actually how a Houstonian senses the onset of Fall. Four plus hours later, I exited my car in Historic Grapevine Texas just a stone's throw north of the DFW airport.
Here are the ten things I learned attending the 2010 Grapefest (www.grapevinetexasusa.com):
1. It's Not Yet Fall in Texas. When I arrived in Grapevine in early afternon, it was hot…summertime hot! On the near-treeless midway along Grapevine's Main Street, I was baking in the afternoon sun. Thank goodness that the GrapeFest People's Choice Competition of Texas wines was not scheduled until the evening and was under a pavilion with fans and misters going full blast.
2. Nothing Stops Texans from Drinking Texas Wine. While being shown around the festival venue, several of the festival workers mentioned a situation that occurred during the 2008 GrapeFest. It was the same weekend that Hurricane Ike whirled into the Houston – Galveston area on the coast in the early morning hours with 90 to 110 mile per hour winds. The fury of Ike went northward with the eye-wall of the storm literally riding its way up I-45 and it came into the Dallas-Fort Worth Metroplex later in the day. It came time for the opening of the 2008 GrapeFest People's Choice Competition and there were still fifty mile per hour winds in Grapevine, but they had 250 participants in line awaiting the tasting. So, the organizers made a smart choice and went ahead with the event.
3. GrapeFest People's Choice Participants Take This Event Seriously. Many wine festivals have people's choice events and frankly, I have not been impressed with many of them. Oftentimes, the participants barely know if they are tasting white or red wine let alone left to judge the tannic structure of a good Cabernet or the interplay of fruit and acidity of a fine white wine. However, at the People's Choice judging, the organizers produced a fine booklet which contained tasting notes for all of the wines with a cross reference of wines by winery, varietal and competition category. The judging sheets were like the answer sheets used for SAT tests. They are scanned and the votes tallied with the aid of a computer. Also, the participant tasters seemed to be working hard at the task at hand. At the end of the first session, I saw many who were lingering in the competition venue as they pondered and even engaged in boisterous commentary with others on subtle points of the wines before marking and casting their ballots.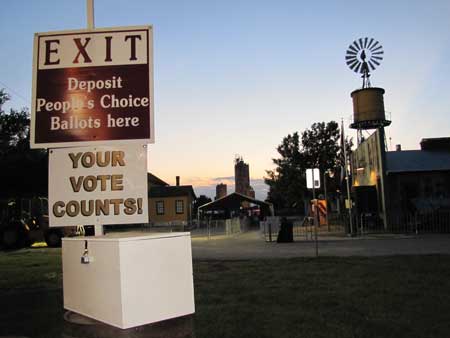 4. Texas Tempranillo was Here in a Big Way. If you've read my blog over the past week or two, you've noticed the large number of wineries in Texas that are now producing a Tempranillo using Texas-grown grapes. It seems to have exploded, literally over night. In previous years, there have been two or maybe three true Texas Tempranillos and a few more that were based on fruit brought in from other winegrowing regions. The number of Texas wineries now producing wines made from Texas-grown Tempranillo in 2010 is up to at least twenty-four. In the wines offered at the GrapeFest People's Choice competition, I personally sampled about twelve or more (frankly, I lost count). These wines were good with dark ripe fruit qualities and were made in a variety of styles including the classic style with a goodly amount of new American Oak. Some had  a softer style made with French oak, while some had no oak at all (interestingly good), some were blended with Texas' own grape, Lenoir, and one as even made into a rich Port-style wine. Tempranillo seemed to be everywhere in Texas, now. Most notable were the Tempranillo and a Tempranillo-Lenoir blend from Red Caboose (www.redcaboosewinery.com), Toro de Tejas Tempranillo from Texas Hills Vineyard (www.texashillsvineyard.com) and those from other interesting newcomers like Paris Vineyard (www.parisvineyards.com), Texoma Winery (www.texomawinery.com), and Grayson Hills (www.graysonhillswinery.com).
5. Texas Wine-Tasting is a Multi-Ethnic and Multi-Racial Endeavor. It was enlightening to say the least to see the mix of people partaking in and critically evaluating some of Texas' good juice. I remember back in the 1980's, wine drinking was something skewed toward old white people. Well, in Texas, and in other states too, I am glad to see that it's a truly a a multi-ethnic and multi-racial endeavor undertaken by a good sampling of African-Americans, Hispanics and Asians. Honestly, my sampling at GrapeFest was a non-scientific sampling and it didn't involve the expert data analysis of a think tank full of Ph.D.'s., but I believe that my observations were true and correct. This is one of the reasons why wine has become a beverage of choice for the vast majority of people.
6. Blanc Du Bois has also Gone Mainstream in Texas. There were lots of good examples of well made Blanc Du Bois wines present at GrapeFest. Some were dry and semi-sweet, some were made in stainless steel tanks while at least one was oak aged. Blanc Du Bois has gone mainstream across this state. It has all the fine qualities of the classic grapes with one big difference: It can be grown anywhere in Texas from Galveston to Fredericksburg to Texarkansas, where many of the classic grapes suffer badly. I feel confident to say that there is now more Blanc Du Bois grown and made into wine in Texas than anywhere else on the planet. Texans….drink it up. Try Haak Vineyards (www.haakwine.com) six different styles or those from Tara Vineyards (www.tarawinery.com).
7. Texas Viognier is So Ever-Lovin' Gooood! I know, I've said it before. But, there were several good ones at the People's Choice competition. On top of the heap was Brennan Vineyards (www.brennanvineyards.com) Viognier. This wine is excellent with food and yields a great expression of fruit, crisp acidity and a lush, wonderful finish.
8. Blended Wines are for Texas. Mark my word, or better yet, the words from Greg Bruni the executive winemaker at Llano Estacado, the best wines made in warm winegrowing regions are produce with a blend of grapes. Llano Estacado poured their dynamic,  yin-yang duo consisting of Viviano – a red blended wine made with Cabernet Sauvignon and Sangiovese, and Viviana – a white wine made from an aromatic blend of Riesling, Gewürztraminer, and Viognier. If you ever wondered if American's (and especially Texans) could love a grape with an umlaut in its name, here is how its done; as a blend. I tasted them both at GrapeFest and they did not disappoint. Neither did Mark Hyman, their top-dog executive, who energetically manned their tasting booth.
9. Brazilians Know How to Party. Take it from me, someone who has been to Rio de Janeiro more times than just about any other city in the world, Brazilians know how to party! The same went for those that came to the People's Choice competition at GrapeFest. I ran into two at the Red Caboose booth and had a great conversation about wine, travels in Brazil, and about the great Italian restaurants in Rio. Well, later on that evening, I found their group around a table reserved for voting, but they had it filled up with all sorts of foods so that they could pair them with the Texas wines. Party on….GrapeFest IS an international event.
10. Texas Wine Tasting Can Be Exhausting. I stayed for both evening tasting sessions. They included a total of four hours, but I was only able to partake in 40 percent of the over 120 Texas wines listed in the GrapeFest People's Choice wine competition tasting booklet. While I thought that 50 wines was a presentable showing of my wine tasting skills, I found other attendees who also stayed for both sessions and they tasted nearly 80 and 100 wines. Now, that's what I call power tasting worthy of the moniker, Texas Taster! At the end of the two sessions in the warm, humid Texas evening, I was sweaty and physically whipped. It was like tasting wine while running a marathon (something that I did previously in about the same amount of time).
I can see why GrapeFest in Grapevine, Texas, as they advertise, is "ONE OF THE TOP 100 EVENTS IN THE U.S.A & CANADA". They don't do anything small. They were expecting nearly a quarter million people to attend this years four-day event. Luckily, I got in and out on the new open day, a Thursday where the attendance was much lighter than it will be for the remainder of the event.
I mainly participated in the People's Choice Competition of Texas Wine, only one of GrapeFest's many events that also included a Champagne tasting, an international wine tasting featuring wines from Canada, Mexico and around the world, and a wine bar on the midway for those that were less particular (or critical) as to what they were consuming. What else? Well, there was frankly more than I could take-in in the span of a single day. I finished the evening, stopping by a midway concession where I was able to find something more substantial than a corn dog and a coke or a funnel cake. I blew my twenty ticket allocation and got a great grilled beef tenderloin sandwich and a wonderfully quenching glass of fresh squeezed lemonade.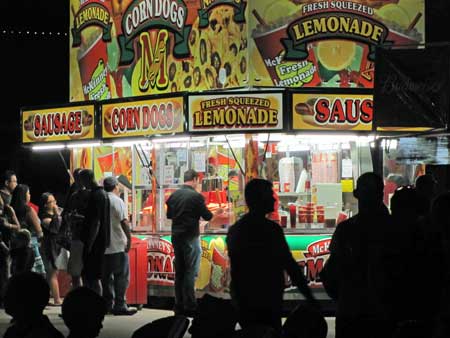 You're probably asking, what was the big news…the wines that won the competition. Well, I can't tell you yet. There were two more days of tasting to go. The votes will be computer tallied and the winners announced on Sunday evening. Once I get the results, I will shoot them to you via the blog.
— — — — —
UPDATE: 2010 GrapeFest People's Choice (Texas) Wine Classic at:
https://vintagetexas.com/?p=2433