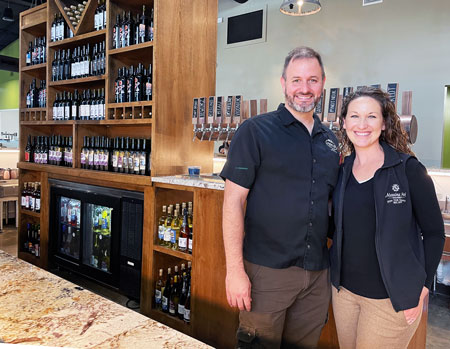 As National Wine Day approaches on May 25th, I visited with Messina Hof owners Paul Mitchell and Karen Bonarrigo at Messina Hof's new Harvest Green Winery and Kitchen. As I mentioned in my previous blog (click here), the onsite restaurant with its vineyard cuisine menu, the famous Bonarrigo family hospitality, and plans for growth at this location are impressive.
After the tour, Karen shared a few summertime wine selections and food pairing suggestions while Paul provided his winemaker thoughts and memories from the production of these wines.
Messina Hof Private Reserve Blanc Du Bois 2018 (Texas)
My take on this wine is that it is dry with crisp flavors of lemon with tropical fruit and floral notes. Karen said, "Our Blanc Du Bois, while a white wine with lots of floral notes and beautiful lemon citrus acidity, also has a little more body than many of our white wines. It reminds me of some Italian white wines. It has a little more weight on the palate." Her pairings for Blanc Du Bois included a wide range of cuisine, but most of all, she feels it goes best "with anything made with cream or especially goat cheese" from crostini's to cheesy seafood and poultry dishes.
Blanc Du Bois is a special wine grape, one that was developed for growing in warm, humid regions like the Texas Gulf Coast and on up into East Texas where these grapes derive. This wine is a blend of 88% Blanc Du Bois and 12% Chenin Blanc and is low in alcohol at 11.6%, a factor that makes it both food and warm-weather-friendly. Paul said, "Blanc Du Bois is very versatile and I've made it in many styles, but I keep coming back to this one. Going forward, I'm excited that we are going to work with Blanc Du Bois from our own Harvest Green vineyard, and then we will see what happens."
I found this dry Riesling refreshingly crisp and vibrant with aromas of citrus blossom and honeyed lemon with stony minerally notes. Paul said, "When I rejoined the winery, my thinking was that unoaked white wines needed to be consumed very young. Since then, I've tasted some old European Rieslings and learned that wines like dry Riesling actually develop and gain in complexity with bottle age. Texas Rieslings, like our 2017 Dry Riesling, have staying power and seem to just keep getting better and better with age."
The delicate acidity, low alcohol (12%) and texture make this Riesling a versatile wine to pair with summertime fare like light seafood fish, chicken and seafood salads. However, as Karen pointed out, "Our Riesling can also handle Asian dishes with exotic spices, and salty-smoky charcuterie. We also have a pork chop with fig agrodolce (sweet/sour) sauce on our Harvest Green menu, and this Riesling pairs with it really well."
Messina Hof Grenache Dry Rosé 2020, Artist Series, Lahey Vineyards (Texas High Plains)
This 100% Grenache Dry Rosé (12% alcohol) is a light-bodied wine inspired by the French rosé wines of Provence with elements of white peach, strawberry, and fresh roses. According to Paul, it is comprised of about 90% early harvested Grenache with a small portion of Saignée, juice from the later-harvested Grenache used in their GSM red blend to get the precise salmon pink color he wanted. Karen said, "Obviously, this also a go-to wine to have with charcuterie, but I love it with garlicky Shrimp Scampi and even lobster, or nicely herbed pork loin."
When we were nearly finished, I tasted a new Messina Hof wine, their "Blushing Angel" and, for obvious reasons, I knew that I had to include it in these Messina Hof summer wine suggestions.
Messina Hof Blushing Angle Heavenly Sweet Rosé NV (Texas)
Messina Hof's Blushing Angel Rose (12% alcohol) is a takeoff from their highly popular Angel Riesling with the addition of what Paul admits was a small allocation of Petit Verdot red wine to the Riesling-based blend to bring out a vibrant rosy burst color along with fresh strawberry flavors. The sweetness of this rose makes it a dessert all its own simply sipped over ice while relaxing by the pool on a warm summer afternoon, but even better when paired with raspberry/strawberry and cream cakes or pastries.