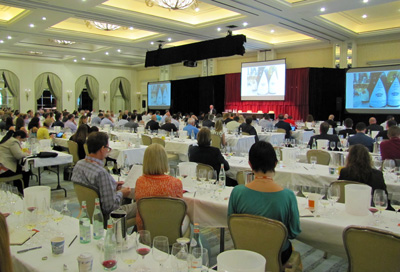 Four Takeaways from 2015 TEXSOM
Looking back to my first Texsom in 2008, I've attended a majority of the TEXSOM conferences over its past eleven years. As I recall, the first one I attended barely broke an attendance of around 200 people. The vast majority were local sommeliers (barely enough to fill a hotel ballroom). They were bolstered by a moderate-sized group of wine aficionados who attended the TEXSOM grand tasting. But, one thing's been clear during this time, the driver for this event has been the vision of TEXSOM founders and Master Sommeliers James Tidwell and Drew Hendricks to create a unique event for career-minded beverage professionals.
This year's TEXSOM  (held August 8-10) was a "grown-up" version of James's and Drew's early conferences now having six simultaneous breakout sessions each morning and afternoon over the two-day period. This year, it brought to the Four Seasons Resort Dallas (Las Colinas) over 1000 attendees including nearly a third of all Certified Master Sommeliers residing in the United States.
The reality of TEXSOM is that there is really no other wine and beverage educational event operating at the same caliber. Its attributes includes:
Extensive guided tastings and panel presentations lead by MS, MW and international wine luminaries
Sommeliers, wine professionals and volunteers in attendance now come from over 18 states.
The 11th annual Best Sommelier competition has now expanded beyond Texas to include surrounding states with (I presume) expansion in sight to reach all of America's coasts.
Associated educational courses and certification examinations from both the Court of Master Sommeliers Americas and the UK-based Wine & Spirits Education Trust.
I have four major takeaways from the 2015 TEXSOM that I want to share with you.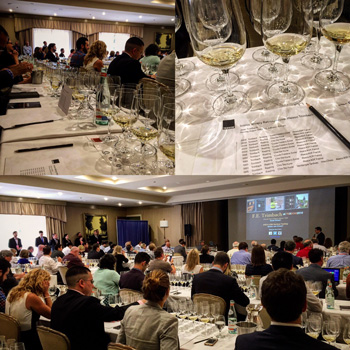 #1 – As a Taster, I Have the Opportunity to Learn from the World's Best
It was an honor to sit, taste and learn from the best and most knowledgeable professionals in the beverage industry. This year my personal track was:
Variety Focus: The Lineage of the Pinot Family with Josh Raynolds
Old World Versus New World: Still Relevant? With Devon Broglie MS, Joseph Spellman MS
Variety Focus: Carignan with Greg Harrington MS, Dilek Caner MW, W. Scott Harper MS CWE, Larry O'Brien MS, Guy Stout MS CWE
Tasting Focus: Distinguishing Winemaking Choices with Matthew Citriglia MS, Geoff Kruth MS

Iconic Winery Retrospective: Maison Trimbach with Jean Trimbach
The place at the table for the Trimbach tasting was hard to get. I got mine…one of the last three seats in the room, but it was well worth it to partake in this tasting experience. The tasting was lead by Jean Trimbach, the current generation of the famous family from the Alsatian winery (The Trimbach wine industry presence traces back to the 1600s). We were presented with 12 vintages of Trimach Riesling covering the period 1976 to 2009; going back 40 years. The wines were defined primarily by Rieslings zippy acidity, clean minerally character and the "sense of place" and the instincts of the winemaker gained over the generations. Whoever says, "White wines don't age", obviously didn't attend this session or has never tasted premium Riesling wines.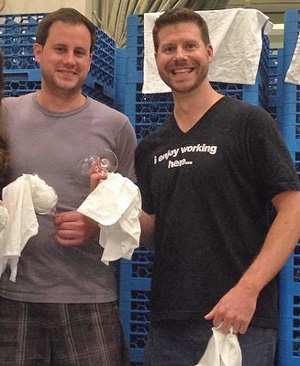 #2 – The Importance of What Goes on in the Backroom
Frankly speaking, this was something that I really did not realize until I had conversations with Advanced Sommeliers David Keck, Bill Elsey and James Watkins who were part of the Houston delegation at TEXSOM. They see this conference and it's core spirit of education and volunteerism as a major part of the draw. They renew friendships, make new business relationships, and provide their personal assistance to help this meeting run smoothly and at a top-notched level. They also learn from working side-by-side with their peers and industry luminaries; this is a part of TEXSOM that goes well beyond mere book learning. These guys worked with fellow volunteers to polish over 12,000 wine glasses, setting up and monitoring seminar rooms, organizing and properly serving hundreds of wines in thousands of glasses.
The trio of Keck, Elsey and Watkins each gave me a story of irreplaceable learning experiences. They included simply sharing peer-to-peer know-hows to the tricky business of opening, decanting and servicing of the classic old vintage wines. Each talked of deep understandings of historic establishments such as Chateau Musar and Chappellet Winery gained at TEXSOM including the experience of meeting and having discussions with the iconic winery owners and winemakers that created their most memorable wines.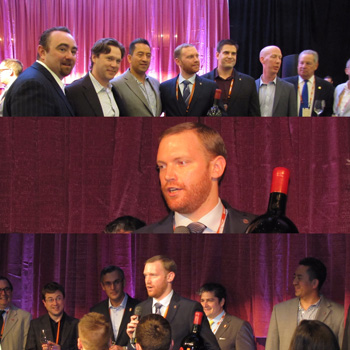 #3 – Sommelier Competitors Hone Their Skills for Advancement
While being friends to the point of being an extended family, the sommeliers that attend Texsom also compete tooth-and-nail (or perhaps better stated with palate-and-glass). The TEXSOM sommelier competition is a training ground for those that want to advance up the ladder to the sought-after title of Master Sommelier. It is a high speed, mini-version of the three-tier proficiency tests in wine theory, blind tasting and service that they will have to take and successfully pass before they can add the coveted initials "MS" to their name. All those that compete, confirm the value of the competition in getting them well directed both technically and mentally as they decide to advance toward Master Sommelier.
At Monday night's Grand Tasting, this year's TEXSOM T.V. Munson Award for Best Sommelier was bestowed on Austin sommelier Nathan Fausti of Olive & June. The applause and cheers coming from his peers and especially from those that competed against him in the sommelier competition was the only things that surpassed the look of surprise, happiness and maybe relief on Nathan's face as he climbed to the podium to address the grand tasting crowd.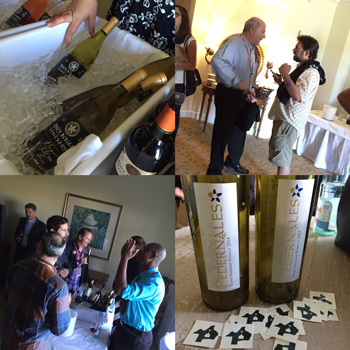 #4 – TEXSOM is a Wine Event in Texas, but It's not a Texas Wine Event: This is a Good Thing
From the looks of the many sommelier attendees that have chosen to wear their best Cowboy attire, there is no doubt that TEXSOM is a wine event held in Texas. However, it is now so much more. Tidwell's and Hendrick's vision has taken this conference national and, in some regards, even international in scale and scope. As a combo of wine education and sommelier competition, it's mission and draw is unique. It is now to the point where it has attracted sommeliers and wine professionals from all over the United States. As such, it does not aim to gratuitously feature wines from its home state of Texas. However, it DOES serve as a stage for highlighting the pinnacle the Texas wine industry and Texas wines have now achieved.
Every few years, a Texas wine panel is assembled at TEXSOM. Nonetheless, it is much more common for Texas wines at TEXSOM to comfortably share the spotlight with wines from some of the world's greatest wine regions. Often this comes when a wine seminar focuses on grape varieties that have proven to do well in Texas; examples being tastings based on Viognier (a white grape that originates from the French Rhone Valley) or Tempranillo (a noble red grape from Spain) or, as this year, in tastings organized around wines made from the heat-loving red grape, Carignan. In this seminar, five panelists certified as either MS or MW including Houston Master Sommelier Guy Stout swirled, sniffed and expounded on this grape's virtues and wine qualities. The wines (all varietal Carignan or dominated blends) were from Texas High Plains, Contra Costa and Somona Country California, Maule Valley of Chile, Languedoc region of France, and Priorat region of Spain.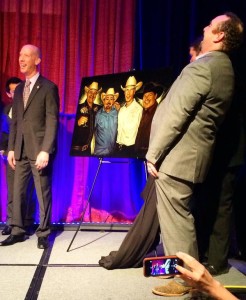 A consortium of four Texas winery jointly promoted under the Texas Fine Wine moniker (Bending Branch Winery, Brennan Vineyards, Duchman Family Winery, and Pedernales Cellars) showed well in a dedicated hospitality suite this past Sunday evening. This suite proved again this year to be a gathering place for sommeliers and wine aficionados from around the state and nation. Featured was an interesting mix of wine types and styles that mostly reflected the increasing "Mediterranean Flavor" that is taking over the Texas wine industry and producing gold and double gold medal award at international competitions. These included Bending Branch Tannat and Tempranillo, Duchman Aglianico and Vermentino Brennan Vineyards Mourvèdre Rosé and Tempranillo, and Pedernales Viognier and Tempranillo.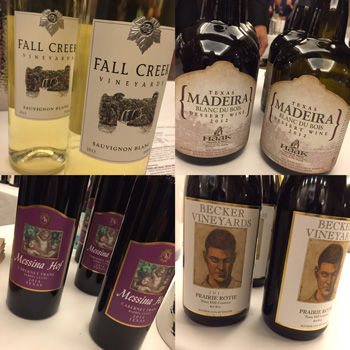 The Grand Tasting provided to be another venue for still more Texas wineries to strut their stuff. Texas wines poured came from Becker Vineyards, Bending Branch, Flat Creek Estate, Hye Meadow Winery, Llano Estacado Winery, McPherson Cellars, Messina Hof Winery, Pontotoc Vineyard, Brennan Vineyards, Duchman Family Winery, Pedernales Cellars, William Chris Wines, Spicewood Vineyards, and Lewis Wines.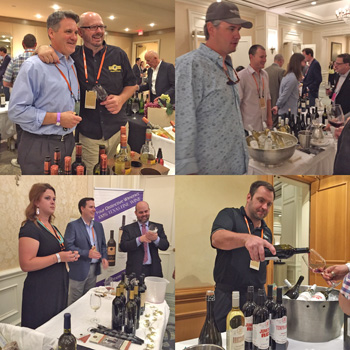 — — — — —
VT Comment: Next year's TEXSOM conference cannot come to soon and will be a tasting opportunity not to be missed. It will be a chance to taste, learn and go up another rung or two on the ladder of wine knowledge, yet again.