Sneak Peek of Messina Hof Winery 2015 at Vic & Anthony's
Paul Mitchell Bonarrigo, the seventh generation winemaker in the Bonarrigo family, addressed the assemblage at Vic & Anthony's Steak House in Houston to taste and savor the wines from Messina Hof Winery and Resort. With Paul Mitchell were his family: father and mother, Paul and Merrill, who started their family winery in Bryan, TX, in the 1970s, and his wife Karen.
During a break in the tasting, Paul Mitchell highlighted a few of Messina Hof's long list of accomplishments, including:
Most awarded winery in Texas with over 200 competition medals in just the past three years and over 150 gold medal wining wines.
From 1983 to 2015, the annual case production of Messina Hof Winery increased from 550 to over 70,000 cases.
Being the fourth modern era winery established in Texas, Messina Hof now has three locations including the Messina Hof Winery and Resort (Bryan), Messina Hof Hill Country (Fredericksburg) and Messina Hof Grapevine.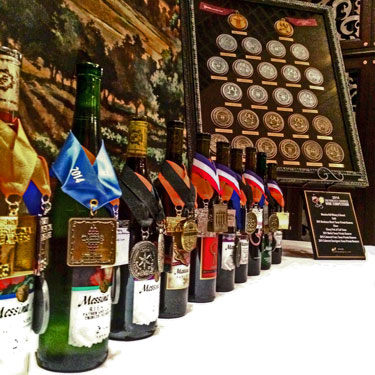 He said, "During the last few years, there has been a lot of investments in Texas vineyards that have accumulated more than 2000 new acres of vines. Many growers on the high plains are converting from cotton to grapes. I want to specifically acknowledge Bill and Gail Day (Houston area residents) who planted their Buena Suerte Vineyards near Lubbock. Their vineyard has provided the Viognier, Tempranillo and Sangiovese that are in the wines you enjoying tonight."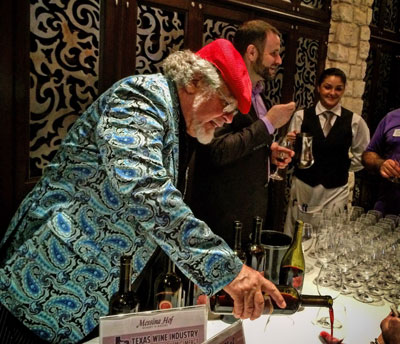 The Messina Hof wines compiled for tasting that evening included (with tasting notes):
Blanc Du Bois Private Reserve – From Blanc Du Bois grapes from the Grandview Vineyard in Richard, TX, it offers a dry, crisp and light-bodied characteristics supplemented by citrus and floral notes.
Viognier Private Reserve – From Viognier grapes grown at Bill and Gail Day's Buena Suerte Vineyard on the Texas High Plains near Lubbock, this wine brings delicate nuances of peach, apricot and ginger.
Riesling (Father and Son Cuvee, Tribute to Heritage) – A continual semi-sweet favorite, it shows the best of this unexpected northern European grape in Texas with a touch of Muscat for honeyed lemon and floral honeysuckle notes.
Pinot Noir Private Reserve – Another surprise for Texas wine drinkers, a well-structured wine bringing its red fruit and medium-bodied presence in the glass.
GSM (Grenache, Syrah, Mourvèdre) – Simply a delight, this wine brings a mélange of red and black fruit, bacon smoke and black olive characteristics. Blend percentages vary yearly with what the harvest brings.
Sangiovese Artist Series – This Italian staple complements a range of foods (pasta & red sauce, grilled meats and game) with its red tart cherry, moderate tannins and dusty dry finish
Tempranillo – This wine with the heritage of Spain in its lineage is now grown and produced in Texas. Tempranillo is rapidly gaining the reputation of the "National Red Grape of Texas". This wine, grown on the Texas high plains, provides depth of dark fruit, crisp acidity on the palate and nuances of leather and vanilla on the nose.
Papa Paulo Port Private Double Barrel Reserve – No tasting of Messina Hof wines would be complete without this wine that uses Black Spanish grapes that are naturally fermented to 18.5% alcohol and not fortified with brandy. This wine, a perpetual gold medal winner and enjoyed where ever it goes, brings a smooth delight to desserts with matching chocolate and red-berry characteristics.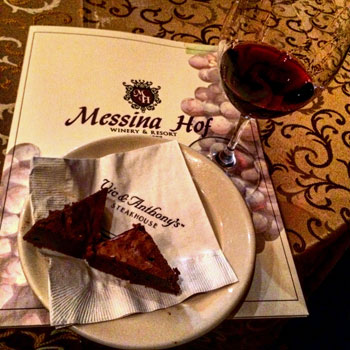 Paul Mitchell also said, "Messina Hof is behind getting wines into the marketplace that are 100% Texas. We are growing and contracting fruit from all over the state including here in the Houston area (Blanc Du Bois, Black Spanish) and in the high plains near Lubbock. In Bryan, we are about to start harvesting our Black Spanish grapes used in our Port wines and invite everyone to come up and join us in the harvest celebration."