Dear Lord, We Could Use a Little Rain and Please Keep the Frost Away
Entry 1 – The Start of the Texas High Plains Vineyard Planting Tour
Arriving back in Houston late last Wednesday, I had just enough time to empty and repack my suitcase, check up on the weather in Lubbock, and catch a short night's sleep. I'd be leaving the following morning on a tour of the Texas High Plains vineyards. This trek was arranged by the Texas Department of Agriculture to highlight the new grapevine plantings in ten Texas vineyards facilitated by $250,000 in rural economic development grants [For more information, see: http://www.winesandvines.com/template.cfm?section=news&content=58363].
The goal of the new grape plantings is to add over a hundred acres of badly needed new wine grapes to help relieve the grape shortage in Texas. This shortage resulted from the recent spike in the number of Texas wineries, which now totals over 170, combined with decreased vineyard production from late spring freezes, hail and damaging rain during harvest the past several years.
The Lubbock weather warning of cold, windy and snowy conditions was not only personally chilling, a harbinger of possible freeze damage to bud laden vines. No doubt this late wintry blast would be met with trepidation by the High Plains growers that I was about to visit.
Early Wake-Up Call
Thursday morning came way too early. It was nearly an hour before my alarm was set to ring when my dog jumped in bed to announce his needs.   Thus motivated, I made an early arrival to the airport and downed my hot java [jet fuel for my sleepy brain, I thought] and thus began my trek to Lubbock. One more check of the weather from my PC in the terminal showed more clearly the potential dire weather situation predicted for later in the weekend. My upcoming vineyard tour might have been better billed as the "Grit and Gumption" tour as this late blast of winter weather would again test the tenacity of the Texas growers.
While coming in for our landing in Lubbock, it was obvious that my day-early departure for the tour had beaten the bad weather with the sky crystal clear and bright. From my high perch, the land around Lubbock was a patchwork of spring activity; irrigated circles, squares and a variety of other parallel-o-graphic shapes highlighting plowed red soil, green winter wheat and rye, and ginger remnants of previously harvested grain sorghum.  The few trees, houses and barns on the rural outskirts of Lubbock appeared to be tacking down corners of the remnants of countryside as if waiting to be sewn together on a giant quiltmaker's rack.
A Quick Stop at Kim McPherson's Winery
My first stop in Lubbock was with winemaker Kim McPherson who has a unique perspective on the Texas wine industry being that his father is Dr. Clinton McPherson, also known simply as "Doc". Doc was a Texas Tech University professor in the 1970's and one of the prime movers with a crazy passion to grow grapes and make wine in Texas. He along with Dr. Roy Mitchell started the modern Texas wine movement from a basement laboratory in the university and eventually partnered with Robert Reed in the first start-up Texas winery of modern time – Llano Estacado Winery.
I will recount most of my time spent with Kim in a separate blog post, but we did have a chance to talk in his winery (McPherson Cellars – www.mcphersoncellars.com) and over lunch at his wife Sylvana's La Diosa Wine Cellars (Tapas Bar and Bistro – www.ladiosacellars.com). Kim and his brother grew up with their father's passion for making Texas wines; a passion as present in the McPherson house as if it were another sibling. Both McPherson brothers spent time in California studying and making wine. Both know the look and feel of a mainstream wine industry. Consequently, Kim has some strong feelings that, in short, pointed out one of the reasons why I was here in the first place. Simply put in Kim's no nonsense fashion…."Texas needs more home-grown grapes!" Our plan for the weekend tour was to get an up close look at some of the new Texas vineyards and meet the families making an investment of time, toil and money in wine grape growing under the Texas sun.
On to the Newsom B&B: A Gray Haze in the Sky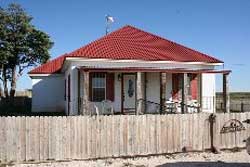 Longtime local grape grower, Neal Newsom, picked me up from McPherson's winery. Our plan was to meet with several of the High Plains' long time growers at the B&B run by Neal's mother and sister (http://www.newsomvineyards.com/bb.htm) in Plains, Texas, located southeast of Lubbock and close to the New Mexico border. While riding in his truck, we stopped for diesel and took note of the weather building on the horizon. At that point, it looked like a mere harmless haze….diffuse and gray. We discussed the possible prognosis that seemed to boil down to just two possibilities – Cold, dry and windy, or cold, wet and snowy with subfreezing temperatures already a given. If Neal had a choice, it would be for the front to be wet so that the moisture could provide some degree of protection for the tender new vegetation on his grape vines. The only remaining questions were how low the subfreezing temperatures would go and for how long they would persist.
When the growers started gathering for our dinner the concern for the next two days weather was visibly on their minds. Their anxiety was heightened by the unseasonably warm weather that had preceded the coming incursion of cold temperatures.  Each grower seemed to have down by memory the extent of new growth and the bud exposure on each row of their vines. You might expect that the Texas could have this type of problem due to its pioneering status among wine producing regions. However, it was just last year that California's premier wine regions experienced one of their worst spring cold spells. The devastating frost of 2008 killed grapevine buds all along the Northern California Coast region, including those in the reputable counties of Napa, Sonoma and Mendocino. I reckon that the fear of freeze just about goes with the territory of the grape grower no matter where they are.
— — — — —
The full story from his blog will be published in an upcoming book by Russ Kane. Stay tuned for details as the publications date gets closer.