Texas Watermelon Thump, Cheese Clump, Chef Smash & Damn Good Wine at William Chris Vineyard
Last Saturday evening I felt like High Society (or I should say, Hye Society) when I showed up at William Chris Vineyards on the Route 290 Wine Road in Hye, Texas. Winery friends, Hill Country foodies and media were joined by winery owners and hosts Bill Blackman and Chris Burndrett along with Texas wine luminaries Alphonse and Martha Dotson (Wines of Dotson & Cervantes), Cliff and Betty Bingham (Bingham Family Vineyards), and Bobby Champion from the Texas Ag Department (ex-Texas wine marketing coordinator). We were all in attendance under the sheltering arms of the winery's large, old oaks and surrounded by new plantings of Malbec, Petit Verdot and Tannat.
What were the festivities?
Well, it was the first Summer Saturday night celebration at William Chris Vineyards.
What did it entail?
A long list of things…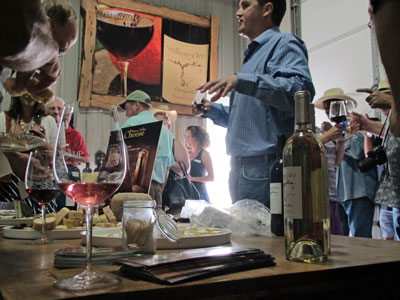 After a celebratory Luling Watermelon thump (and slurp)under their 400 year old oak tree, a cheese clump (tasting) with Mark Kuehl of Brazos Valley Cheese Company, and what else, a mighty fine wine tasting. Then, Bill and Chris told their story in their oak grove, after which they unleashed four chefs who competed in a head-to-head smash for the title of Chef Thump King. The four Texas Hill Country chefs included: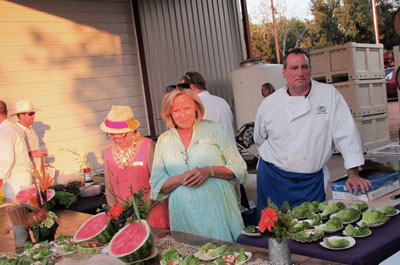 Shane Stark – Kenichi; Ben "Chili" Huselton – The Paggi House; Carol Huntsberger – Quality Seafood; Joseph Bannister – Rose Hill Manor. More after the jump!
These chefs prepared two rounds of appetizers with the "not so secret ingredient"…Luling watermelon. The creations were, if anything beyond delicious, they were creative, and included watermelon/chili pepper sorbet, watermelon and shrimp ceviche (Wow!), and watermelon/goat cheese salad. While the chefs were working hard to please our palates, we tasting the William Chris refreshing Current. It's a refreshing "pink wine", a blend of Chenin Blanc and DBS (Docetto, Barbara & Sangiovese) made for warm breezy Hill Country nights and, as we found out, for pairing with creative cuisines, too.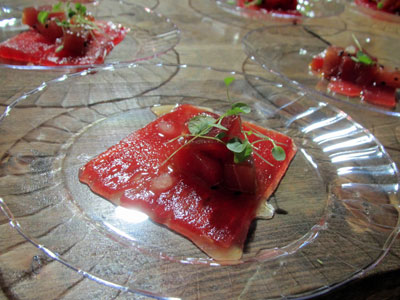 On the second round of the chef competition, we dined on watermelon carpaccio with sesame and raw tuna (my personal fave), duck breast on quiona salad, a bouillabaisse and duck "ham". While dining on these creations, we tasting the William Chris 2011 (Washington County) Blanc Du Bois, again, making a wonderful match.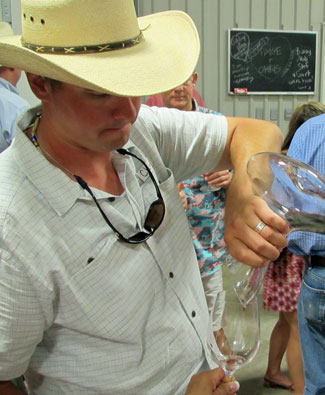 Then, Bill and Chris gave us a group tasting of the latest vintage of their specialty red blend, Enchante. When I said tasting, I didn't mean just opening a bottle and pouring tastes. It was a tasting of a red wine blend that hadn't been constructed yet, laying in separate barrels awaiting blending. This unusual tasting involved barrel samples of each of the component red wines used to make the upcoming Enchante blend. It was a rare treat to be both inside the barrel (in a way) and also inside the head of the winemaker. This was definitely something you don't get to experience at most winery get-togethers. There was more, but I will save that for later.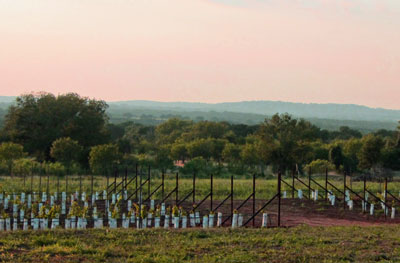 All-in-all a wonderful William Chris Vineyards start to the summer of 2012 and what's looking to be a stellar Texas wine growing and winemaking season, as well.
P.S. For more information on the chef winners and to looking at our smiling faces, go to the William Chris Vineyards Facebook Page: click here.
— — — — —
10352 US Highway 290, Hye, TX 78635; Phone: (830) 998-7654
William Chris Vineyards focuses on eco-friendly, Texas grown, premium wines. Come enjoy a tasting in our century old farm house/tasting room in Hye, TX. We also boast the most beautiful oak grove in Texas leading up to a cemetery which dates back through the 1800's. Just about an hour away from Austin and San Antonio, we are the first winery on US Highway 290 from Austin or North San Antonio. We welcome you to make an appointment for a private tasting or visit us Thursday through Sunday 12-6. Gourmet picnic lunches are available, as well as cheese plates.
Mon-Wed 10am-5pm; Thu-Sat 10am-6pm; Sun noon-5pm
— — — — —
Check out the Wine Trails: