Playing "Small Ball" at Napa Valley Vintner's Collective

In November, I had the pleasure to attend the introductory class day for the Master of Wine first year program. The full day session was held at the offices of Constellation Wines in St. Helena, California in the heart of Napa Valley.
The day after the introductory class, I had a free morning before returning of Oakland for my return flight to Houston that afternoon. As I returned to my hotel room the prior evening, I was thinking that there must be small, family-run wineries out here, but how do I find and visit them in the short amount of time I had remaining in this truly wonderful part of the modern wine world.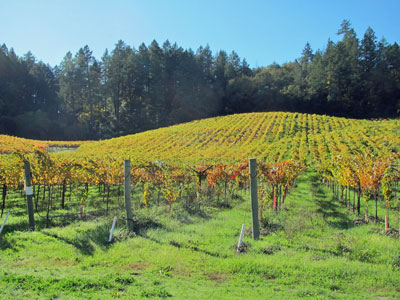 The evening sun was low and cast its buttery late-autumn glow against the rows of vines with leaves in complementary yellow, orange and red colors. As I drove north to Calistoga for dinner and lodging I stopped my car occasionally to inspect vines awaiting the onset of winter's sleep, looking for nodes and dormant buds that will bring next year's wines.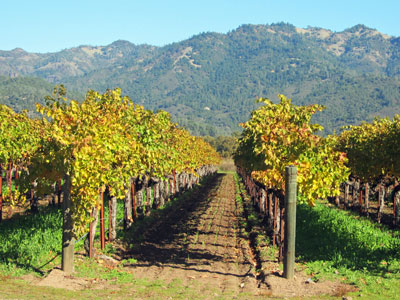 Upon arrive at the Calistoga Inn, I laid down a tweet asking for suggestions on how to locate and visit the vintners who play "small ball" Napa. Small ball is a contrast to a style sometimes called the "big inning", where batters focus more on drawing walks or getting extra-base hits and home runs. The term small ball has also been applied to a basketball strategy whereby the coach courts a team of smaller players with speed to out run and gun a larger slower team.
Well, before I was sitting at the bar long enough to order a glass of Chardonnay, the responses came back from friends and acquaintances that I barely knew except by their Twitter names, all giving me names of their fave small California winery – Napa or not. Within 20 minutes, now halfway down on my glass of Chardonnay, my Twitter session already had several candidate small ball wineries in play. Then, came the most interesting response of the bunch asking me if I had been to the Vintners Collective in downtown Napa, California.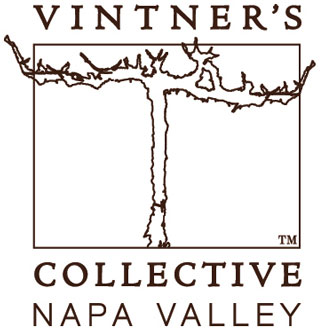 The Vintner's Collective is the first of it's kind in city-centre Napa, a multi-winery tasting room that is home to twenty of the most experienced and talented winemakers in the Valley, but alas, all small ball players. These are definitely not your Hall  of Fame home run hitters like Mondavi or Jackson (not Reggie) who have made their names and built the reputation of the Napa wine industry on a "big inning" strategy with national distribution and case production in the millions. The Collective is comprised of smaller and mostly family run vineyard and winery enterprises with little of no distribution around the United States. They have been successful make small lots of wine that connect with small vineyard sites – this is what I call small ball in the league dominated by steroid laden monster wineries.
The man behind Vintner's Collective is Garret Murphy who dreamed of creating a place where wine lovers could taste the wines of some of the best winemakers in Napa Valley, and where smaller wineries without their own tasting room could showcase their wines and introduce them to consumers. The location for Vintner's Collective in the landmark Pfeiffer building. The Peiffer building is the oldest stone building in Napa. The sandstone building, now completely renovated, was once home to the Barth Brewery in 1875, and the Stone Saloon and brothel in the 1890's. It became the Sam Key Laundry during Prohibition, and remained so for over 40 years. In 1976, the Andrews Meat Co. and Deli made it's home in the Pfeiffer Building, until the business closed in 1999.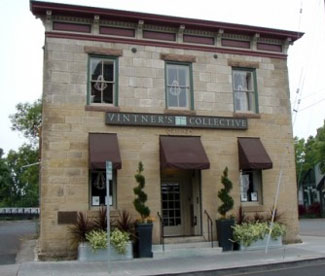 I thought that this just might work and found that it was on my path back to Oakland. When I arrive, the stone facade speaks of early Napa times when it was a frontier (a wine frontier) and a day before the big corporate world that rules the Napa Valley wine industry today. It is a fitting site for what I call Napa's small ball wineries to play. They are small family run operations, some old and some new, but all providing a flair for making wines of distinction and many are wines that highlight the bad word of corporate winemaking – Terroir. There are twenty wineries in all: Ancien Wines, Buoncristiani Family Winery, Chiarello Family Vineyards, Clark-Claudon, D Cubed Cellars, Gemella Wines, Hestan Vineyards, JC Cellars, Lamborn Family Vineyards, Longfellow, Melka Wines, Mi Sueno Winery, Parallel Wines, Phelan Vineyard, Richard Perry, Showket Vineyards, and Vinoce Vineyards.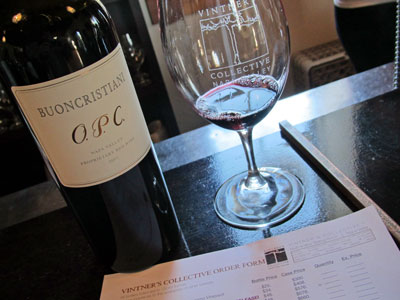 This is a place where you could spend and hour or a day. I only had a hour, but came home with two bottles; just what my checked luggage could hold.  One was the Hestan Vineyards 2009 Chardonnay, a rich lusciously silky wine ensconced in French oak and malolactic fermentation. The other was Buoncristiani Family Winery OPC, a red blended wine made from small blocks of Cabernet Sauvignon, Syrah, Merlot and Malbec.
Please put this place on your list of must-see (and taste) experiences for your next trip to Napa. Experience the different (small ball) side of Napa Valley. In many regards, it seem more like a page from our own Texas wine experience.