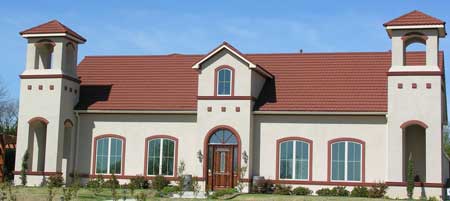 North Texas Road Trip – Entry 2; San Martino Winery 
I'm back on the road heading from Tyler Texas, northwest to Rockwall on the eastern outskirts of Dallas. The air is clear and crisp and the sun is in full bloom, typical of what follows a Canadian cold front into Texas. The flare for city names in East Texas is quite evident from the road signs I saw on my path with towns named: Cut and Shoot, Gunbarrel City and Frognot. 
 

Rockwall's identity has always been closely linked to its geology. In 1851, settlers discovered a rock wall of very large proportions buried beneath the town site. Its brick-like structure and cementaceous joints caused some to conjecture that the wall was man made by an ancient civilization. However, the debate still continues with others believing the wall to be a natural phenomenon. The alternative theory is that it was caused by weathering of sandstones formed along the Balcones Fault that defined the ancient Texas shoreline million years ago. The resolution of this controversy may never be reached. See more on U-Tube at: http://www.youtube.com/watch?v=dL-w8B7ExZE
Most noticeable as I approach the Rockwall area was the band of black soil that first attracted settlers to this region of Texaswhose for its agricultural productivity for cotton, grain crops and vegetables. Grapes, however, are not like other crops and usually prefer leaner, sandy soils for best results. According to records, early attempts at grape growing in Rockwall came in the 1870s and reached its height in the 1910s before a precipitous decline during prohibition. But, Rockwall is now entering a "new age" of wine production.
In 2004, the San Martino Winery and Vineyard was started by Emilio and Maria Ramos (www.sanmartinowinery.com – Rockwall, Texas). As I parked my car near the entrance, the winery evoked an aura of a true Spanish hacienda with its stucco-and-tile architecture.
I was greeted by Maria Ramos and given a tour of the facilities that included the tasting room, winemaking area, barrel room, event facility and patio. When we sat down and tasted, Maria said, "San Martino is really a boutique winery specializing in wines based on those from Emilio's ancestral Spain. His family comes from Galicia on Spain's Atlantic coast known for winemaking."
We tasted several wines including the San Martino Cabernet Sauvignon, and several red blends including Mediterranean varietals such as Grenache and the true powerhouse red grape of Spain – Tempranillo. In Texas, these grape varieties have been getting high marks for their ability to handle the sun and heat while producing ripe fruit that can be made into fine wines. Based on our tasting, I can attest that the wines at San Martino are big, bold, and full-flavored. Furthermore, Emilio appears to have a knack for blending red wines and uses a Spanish-inspired liberal use of oak aging to enhance the structure and longevity of his wines. The various San Martino red wines and blended wines that I tasted each exhibited the added distinctions conveyed by the various barrel treatments.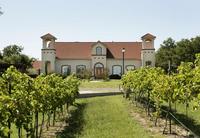 Maria continued saying, "We may not be the largest winery in Texas, but our sights are set high on quality. The winery has been growing faster than we expected. However, Emilio and I are working hard not to grow too fast. One limitation is presently the shortage of wine grapes in Texas. But, we are working with growers in several regions of Texas to make the best wines possible for our customers."
San Martino winery has one estate vineyard in Rockwall that produces Blanc Du Bois, a white wine, hybrid grape. Plans are for this vineyard to be expanded in the near future. San Martino also uses grapes grown in the Texas High Plains region, which is the main source for its Cabernet Sauvignon, Sangiovese, and Tempranillo. The Ramos's are hoping that they will also soon be growing Albarino, a white-wine grape renowned in Spanish Galacia. The Syrah and Merlot come from several vineyard sites in the Texas Hill Country with the minor blending varietals Mourvedre, Petite Verdot and additional grape varieties coming from other sources in and outside the state, as available.
Maria and I enjoyed tasting and talking the afternoon away in the winery's sun-filled tasting room. Alas, we realized that the time had passed too quickly and it was too late to attend the Union des Grands Crus de Bordeaux Tasting that afternoon at The Frontiers of Flight Museum in Dallas that we had independently planned.
Oh well….. I had a delightful afternoon spent at the Spanish-infused San Martino Winery in Rockwall. We finished with a taste of a huge wine, San Martino – Ramos 2005 Owner's Private Reserve Cabernet Sauvignon featuring 100% Texas High Plains Cabernet Sauvignon. This was a fitting and full-bodied finish to my tasting and travels for the first day. I paused a moment and reflected….The poor folks in Dallas were drinking French wine without a clue of what they were missing from this great, full-flavored Texas juice.
+++++++++++++++++++++++++++++
Tomorrow: Lone Star Wines at the Fort Wroth Stockyards & Winery for the Jet Set: La Bodega Winery at DFW