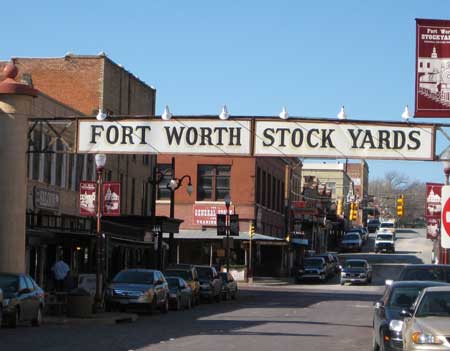 North Texas Road Trip – Entry 3; Lone Star Wines at the Fort Worth Stockyards
Day two started  on a clear, crispy  morning in Dallas with patches of the frozen, slippery stuff marking my path to the car.
The first stop was to visit old friends and allies of Texas wine consumers – Chesley and Michelle Sanders who are the proprietors of Lone Star Wines (www.stockyardsstation.com/Lone-Star-Wines/) located in the Fort Worth Stock Yard, a citadel of Texas history in the tradition of the Texas cattle drives. Michelle talked me into the wine shop via mobile phone as I walked the Stockyards. I can definitely describe my olfactory experience in the Stockyards using the wine tasting term that is affectionately used to decribe the "old world" aspect of wines – Barnyard!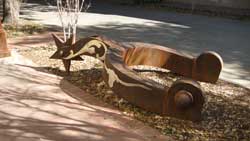 Chesley is a well-rounded man….a Texan, a Fort Worth fireman, a fellow Texas wine aficionado and owner of a wine shop that he says "has the largest selection of Texas wines in the whole darn Universe". As you can tell, Chesley also has a way with words. Several years ago, this cowboy poet captured in words some of what I believe are the most reflective and poignant aspects of the Texas wine experience.
According to Chesley…..
"Texas wine is the chill of a blue norther tempered by the fire of the summer sun, the fierceness of a spring thunderstorm calmed by an endless sky full of countless stars, and the stick of a prickly pear cactus soothed by a bluebonnet's kiss."
This description gives you the feeling like you are on the trail with your trusty horse and bedroll. You are camped down for the night and are savoring a full-bodied Texas Cabernet around the camp fire with your fellow ranch hands.  Hello, Martha…..this place is definitely NOT California wine country, but is its own brand of wine experience!
My visit to Lone Star Wines was a wonderful opportunity to renew old friendships after our nearly three year hiatus. However, I could not leave without getting a few of Chesley's well-based wine recommendations, coming from the man that has likely evaluated more Texas wines than any other person in the whole Universe.
Chesley's picks include:
Big Red Wine: Llano Estacado Viviano: A Cabernet/Sangiovese blend (www.llanowine.com)
White Wine: McPherson Cellars Viognier (www.mcphersoncellars.com)
Sweet Wine: Sister Creek Muscat Canelli (www.sistercreekvineyards.com)