"Proud to Drink Texas"… A Discussion with Mark Hyman, President and COO at Llano Estacado Winey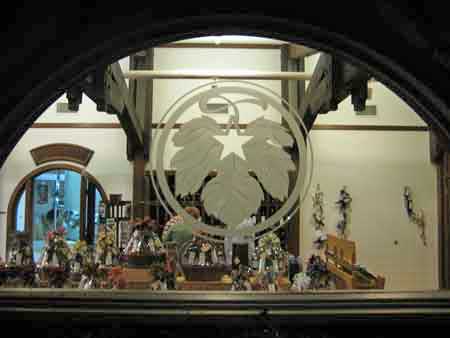 Let's rewind about twenty-plus years, back to 1986. This was the year that the 1984 Llano Estacado Chardonnay won a double gold medal in the San Francisco Fair Wine Competition. It was the first national award given to a Texas winery. As recalled by the executive director of the wine competition, "This double gold brought real attention to Llano Estacado in the American wine media. The NBC affiliate in Midland, Texas, even sent out a reporter to cover the awards ceremony."
Certainly, gold medals can make a big splash for a young winery. Actually, only a few wineries end up becoming real stars in the highly competitive marketplace like Llano Estacado.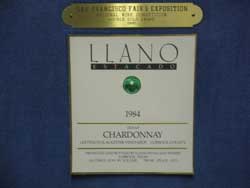 In my recent discussion with Mark Hyman, President and COO of Llano Estacado Winery, he admitted that their 1986 double gold medal made a real mark for Llano on the American wine scene. But, as Hyman describes, "It has been our steady step-by-step growth and commitment to the fabulous potential of Texas wines that has made Llano Estacado what it is today."
Llano Estacado is the largest premium winery in the state of Texas. They are currently at 140,000 cases per year. Llano Estacado has its sights set for 200,000 cases within the next five years, and an ongoing winery expansion project to show for it.
But, Hyman was equally quick to emphasize that Llano Estacado is only one of the larger and fairly successful wineries within the State of Texas in an expanding group that today includes over 160 wineries.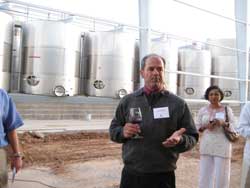 He recalled our previous meeting at his winery back in early October of this year during a media tour to the Lubbock area arranged by the Texas Department of Agriculture. The overall theme of the event was to showcase the wineries in the Texas High Plains growing area (called American Viticulture Area or AVA). Even more importantly, it highlighted the grape growers that are working hard to fill the demand from wineries for Texas-grown grapes. According to Hyman, "We have a dire need for more Texas vineyards to be started and more Texas grapes grown to sustain the rapidly increasing Texas wine industry." 
Hyman also shared some of his knowledge and insights with me during a recent conversation. It was especially enlightening and somewhat surprising to find out how competitive Texas wines have become in the marketplace.
According to Hyman, "Product quality and price point in the marketplace are of key importance and they set the ground bed for our growth. As Llano Estacado has grown, VP Winemaker Greg Bruni and I have been committed to making improvements year after year. This is the step-by-step process that has brought us to where we are today. Our work along with that at other similarly-committed Texas wineries is helping to put the mark on Texas as the next premium wine producing region in the United States."
Examples of the success of their efforts are found in the presence of Texas brands in the market place. Right now, Texas is the fifth largest wine producing state and about 95 percent of Texas wine is consumed within the state. This may sound like Texas wines have only limited distribution. But, keep in mind that Texas is one of the largest markets in the nation for premium wine sales.
Furthermore, if we look at the placement of Llano Estacado in the Texas wine marketplace, in sales in Texas it comes out right up among some very well known wineries that we often refer to as the "heavy hitters" in the industry. These include Robert Mondavi, Beringer and Sterling Vintners. Texas has its heavy hitter list, too. The Texas wineries that have made it into the top one hundred wine brands sold in Texas include Llano Estacado, Becker Vineyards (Stonewall, TX), Fall Creek (Tow, TX) and Messina Hof (Bryan, TX). If we include wine in 1.5 liter bottles we can also include Texas' largest winery – Ste. Genevieve (Fort Stockton, TX).
I asked Hyman, what has contributed to the growth of Llano Estacado. He responded in his typical rapid-fire manner typical of someone that is fully engaged in his business. He summarized it in four points:
"First, we produce consistent, high quality wines at all price points.  We have something for everybody.
 
Secondly, we work festivals all around the state. We meet, talk up, and taste both current and hopefully future consumers in doing so.
 
Third, we hire our own people to do in store tastings where people are actually making buying decisions to build product awareness. Our people know our wines better than outside staffing agencies.
Fourth, we have built a network of experienced sales people that know how to work with our wholesale distributors. Most of them come with distributor experience."
But, Hyman also wanted to make sure that I understood that this formula is actually quite simple and emphasized that the success of Llano Estacado has proven that it can be done in Texas.
He said "This all goes back to our mission statement at Llano Estacado …. 'to take the role as the industry leader and to embody the fabulous potential of Texas wines'. This mission began with 1,300 cases of wine released in 1977. Today, Llano Estacado is the largest premium winery in the state of Texas, producing wines of world class quality, and taking the lead in introducing not just Texans, but the entire world, to the great wines made in Texas."

Hyman credits much of the vision at Llano Estacado to Walter Haimann who arrived at Llano Estacado in 1985. He was a former President of Seagram Distillers Company and helped steer the winery on the path to be an industry leader.
I questioned Hyman about his statement about introducing the "entire world" to Texas wines. In response, he mentioned that while this was in their mission statement, he stressed that a winery has to be ready to invest and support wholesale distribution on a state, then regional, then finally national level before attempting this monumental task. Otherwise it turns out to be more of a "niche marketing endeavor" that is difficult to sustain. The Australian wineries have penetrated many new markets in recent years (including the United States) but many of the emerging wineries have found it difficult to maintain their distribution network internationally and have seen some slippage in sales.
There is no doubt that Hyman likes selling within the State of Texas, too. He said that "There is definitely brand loyalty from Texas consumers to Texas wineries. Hyman made a reference to the support Texans give to other well made consumer food products such as Blue Bell ice cream and Shiner Bock beer. Texans love and support well made Texas products.
I also asked Hyman about Texas wines in restaurants where they have largely been MIA. Again, he says that it takes a sustained effort which is part of the overall business plan at Llano Estacado. He also acknowledged the efforts of other Texas wineries to increase the number of their wines on restaurant wine lists. He particularly emphasized the work of Becker Vineyards, Fall Creek, and Messina Hof Winery. He is also appreciative of the efforts of the Texas Department of Agriculture and their "Restaurant Round-Up that was held in October of this year. It helped encourage restaurants to feature Texas wines and food products together under the TDA "Go Texan Program"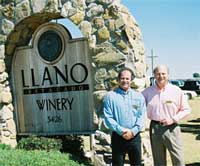 Hyman is an unabashed cheerleader in the Texas wine community and wants to see other wineries help in building a strong and vibrant Texas wine industry. In this capacity, he has addressed the members of the Texas Wine and Grape Growers Association (TWGGA) with seminars to help them think about the steps necessary to start working with wholesale distributors. There are certain steps to this process, and it begins with each winery's "plan."
Hyman said "Many wineries make the mistake that happens both here and around the country… that once you're lined up with a wholesale distributor, that your sales end of the business is done.  You can now go back to making wine and running your tasting room.  That's a fallacy.  You're only as good as the time you can spend "working together" with your wholesaler in the marketplace to achieve mutual gain.  The wholesale distributor is your sales "partner," and if you're not ready to support your efforts with people working in conjunction with them, you're not ready for a wholesale distributor.
In closing, I asked Hyman what he felt that consumers wanted and expected from Llano Estacado. His response was again fast and straight to the point.
He said, "They want good wines from Llano Estacado. But what is a good wine?  A good wine is a well made wine that sells.  Some people want dry wines and some want sweet wines. Most importantly, they want our Llano Estacado Chardonnay to be of the same caliber as Kendall Jackson's Chardonnay, the Llano Cabernet Sauvignon to be on par with that of Mondavi, and our Llano Blush to be comparable to Beringer. Most importantly, what I want is for our consumers to know that they can be proud to drink Texas."
———————-
For more information on the complete selection of wines from Llano Estacado Winery, go to:
For information on the Texas Department of Agriculture's Go Texan Program, go to:
http://www.gotexan.org/gt/jumppage/0,1486,1670_0_0_0,00.html