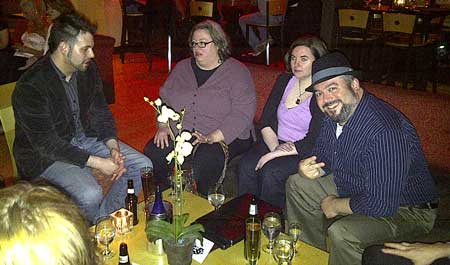 Five Things I learned from the Twitterverse at DrinkLocalWine.com Conference
… or why I think Mike Wangbickler gave me the finger!
LocalWineEvents.com 2011 Missouri Twitter Taste-off (Emcees: Russ Kane, VintageTexas, and Eric V. Orange, LocalWineEvents.com)
As I kicked off the Twitter Taste off, I thought it would be cool to rattle off a few of the names of the native American and French-American hybrid grapes involved in the competition. I'll admit that for many of them, it was the first time, I'd tasting them let alone try to pronounce their names.
Being from Texas, my foreign name pronunciation typically defaults to Spanish. So, in this case, I launched out at the top of my lungs with "VIGNOLES" that came out as "Vig-nol-les". I was quickly corrected by the protesting local wine tasters that I should've used the French pronunciation "Vee-nyo-le".
In short order, another new wine name "Marechal Foch" was on the verge of leaving my lips. However, I realized that again I really didn't know how to pronounce it. It looked like German to me. No sooner did I yell out ""Marechal FOCK" than I began getting returns on Twitter along with live comments indicating that I AGAIN should've defaulted to French pronunciation, not German, to say: "mah-reh-shal FOHSH". So much for my split second decision making abilities. From now on, I am going to default to French pronunciations, no matter where or when call on to say weird and wonderful names of hybrid grapes.
Nevertheless, it was a grand Twitter Taste-Off. There were lots of great short descriptions of the wines, which were right on target as I followed the tasted behind them and broadcast the ensemblage of taste-off tweets on the big screen behind me.
Andrew Stover (chiefwino) said, "@jowler creek Liking the Vignoles. Bright. Tropical. Mango. Apricot. Wet stone. Am I on a beach in Puerto Rico or in Missouri? #dlwmo"
Gil Kulers (WineKulers) said, "Buck Mtn. Marechal Foch: aroma: lots of violets, blueberry, fox in a good way, tobacco, bitter chocolate. taste: blueberry, #dlwmo"
Jay Bileti (JayBV1973) said, "Montelle Cynthiana – Spicy, yeasty nose; round, rich berry flavors; sweet sensation, crisp finish. Nice. #dlwmo"
Lesson #1: The 140 word limit on Twitter is a great way to obtain the vital essence of a wine's character without getting getting in the deep weeds of flowery prose normally associated with wine tasting notes.
— — — —
Creating a buzz: How regional wine can grab the public's attention, Moderator: Michael Wangbickler, Balzac Communications. Panelists: Joe Pollack, St. Louis Eats and Drinks; Gil Kulers, Atlanta Journal-Constitution; Kyle Harsha, Harsha Wines; Andrew Stover, chiefwino.com]
From Dave McIntyre (DMwine) "Joe Pollack hits the key: As #MOWINE quality improves, acceptance will follow. #DLWMO"
Lesson #2: It's the same here in Texas and in any emerging wine producing region. Quality is job #1. Everything else needs to follow this lead.
— — — — —
Social Media for Wineries 2.0 Presentation
Rick Rockwell and I held a Friday afternoon session on "Social Media and Marketing for Wineries" It covered the gambit of online activities from blogs and tweets to Facebook and Foursquare, tracking eyeballs and impressions, and media management to web strategy.
From VintageTexas I said, "Putting final touches on to our social networking presentation for Missouri Wineries only a few minutes away #MOwine #DLWMO
Lesson #3a: With modern electronic media, you can make changes up to the last minute. Why…because you CAN make changes up to the last minute.
From Jeff Siegel (wine_curmudgeon) I got the comment: "Russ Kane @VintageTexas says wine critics won't matter #DLWMO.. maybe I can go back to newspaper business"
Lesson #3b: Very funny. What I meant was wine writing via social medianeeds to be as personal as a note from a friend. In the modern wine world, people will believe their friends more than they will experts like Robert Parker [i.e. Who is Robert Parker anyway?
— — — — —
Drinklocalwine.com Winemaker Dinner at Annie Gunns Restaurant
Restaurateur and Missouri wine aficionado Glenn Baggett laid out an exceptionalyl well planned presentation of locavore meets locapour. There were locally raised meat and produce on the plate (but the shrimp and oyster were not likely Mississippi River appellation) side-by-side with locally produced wines including Norton, Vignoles, Vidal Blanc and more). Not a vinifera in the bunch! All wines were made from Missouri-grown native American and French-American hybrids.
I broadcast a tweet from my dinner table (VintageTexas) that said, "I've been assured that I can't overdose on [native-Am or] hybrid wine; if I do I can give universal sign and they will bring IV of CA Cabernet #dlwmo"
Lesson #4: In the words of DrinkLocalWine.com conference organizer, Jeff Siegel, "We Don't Need No Stickin' Vinifera!"
— — — — —
Missouri's Norton – The Lair of the Feral Cat
We finished the evening after dinner back at the hotel, tasting a host of wines from Missouri, Texas, Virginia and other local wine venues. One of the wines was a Missouri-produced 2001 Norton. That's right with ten years of bottle age. We've all heard (and used) a complete line of common wine descriptors that define the mature characteristics of fine old Cabernets and Merlots and even Syrah that included leather, cigar box, cedar, forest floor, wild game, etc. However, this fine old-aged Norton had some else lurking in its dark antediluvian character.
At first we were all stumped by the dusty, somewhat dank, furry quality of this 10 year old wine.
Finally, I saw the following tweet from Dave McIntyre that quoted conference attendee, Todd Kliman of the Washingtonian and author of the recently published THE WILD VINE…
"#Dlwmo @toddkliman says there's a feral cat in every bottle of Norton."
That was the descriptor that had eluded us in our attempts to describe the aged character of the Norton wine…."Feral Cat". And, after ten years, it was finally beginning to emerge from its lair.
I remember saying out loud, "Spot on Todd", and quickly retweeted his comment. I immediately started to get comments back on Twitter from my Texas followers:
Jim Johnson that Alamosa Cellars (alamosawineguy) tweeted back at me: "Feral cat? Is that the opposite of mousy? Is it a good thing? #DLWMO #txwine"
Then, I followed up with (VintageTexas): "12:10 am saying goodnite with a bottle of 2001 Norton with a scent of "feral cat?" Or at least that is the mass opinion at #dlwmo #mowine"
At little later as I was nearly in bed, Don Pullum (akashicvineyard) said, "If someone slips you a Norton, stroke the furry wall and go to sleep. #GOTEXAN"
Lesson $5: The world waits in anticipation for new wine descriptors, particularly if they conjure up weird and wonderful visuals of small furry animals.