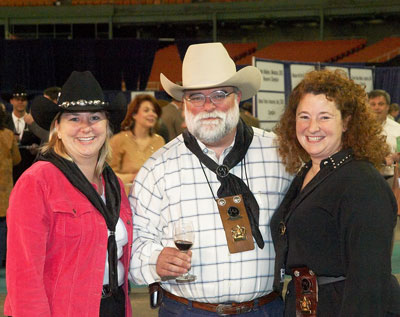 Multitasking: Doc Russ, Texas Wineslinger Will Present #TXwines in the Champion Wine Garden
On Tuesday, March 6 – Texas Trails, 6 – 7 p.m. and again at 7:30 – 8:30 p.m. me (Doc Russ, Texas Wineslinger) will present and discuss a flight of award winning Texas wines from the 2012 Houston Rodeo and Livestock Show International Wine Competition. The seminars will be held at the Champion Wine Garden at Carruth Plaza on the rodeo grounds (This will leave me a half hour to do some social network multitasking by participating in the TXwine Twitter Tuesday event at 7 pm the same evening. See: Big Red Wines of Texas).
If you are in Houston or planning to be in the area come on in to the Houston Livestock Show and Rodeo Rodeo Uncorked Champions Wine Garden, stop by and enjoy some Texas wine. We will be tasting award winning Texas wines, and I will present them and provide a few selected readings about the people, history and terroir of Texas wine country from my book, The Wineslinger Chronicles available online and at Amazon.com and Barnes & Noble stores.
Taste award-winning wines from the 2012 Rodeo Uncorked! International Wine Competition. The Rodeo Wine Garden is a great place to relax, take in the scenery, all while savoring some of the best wines from around the world and Texas too. The wine seminars offer a range of presentations from finding the gems from the Texas wine trail to picking out the perfect dessert wine to choosing a pairing for barbecue. The wine seminars will have you on your way to becoming a wine connoisseur.
In tomorrow evening's seminars (March 6th), I will present five wines, including:
# 820 McPherson Cellars Sangiovese, Texas, 2009 Texas Class Champion, Silver Medal. A wine offering dark, black cherry with a hint of licorice and avery smooth, silky texture to it.
#925 Messina Hof Cedar Crest Vineyard Cabernet Franc, Texoma, 2009 Reserve Class Champion, Silver Medal. This is a unique wine from a unique vineyard on the banks of the Red River on Texas's northern "coast". It's a big red wine, a perfect complement for beef and other red meats.
#950 Kiepersol Estates Stainless Cabernet Sauvignon, Texas, 2010. A bold fruit-driven Cabernet Sauvignon offering black fruits and plums, made in the style of the big South American red wines.
#R12  Messina Hof Solera, Texas, 2004, Top Texas Wine. This Solera Texas Sherry was made tom estate grown Lenoir grapes then slowly oxidized in barrel, baked in the Texas sun for three months yielding vanilla and creamy almond flavors augmented by cherry and chocolate undertones.
NOTE: There will also be a fifth mystery wine in the seminar to titillate your palate.
A map of the Rodeo grounds is available at:
http://www.rodeohouston.com/guest-services/maps/2012/ReliantParkBIGMap.pdf
The Rodeo Uncorked Championship Wine Garden location is indicated as "13" on the map (right next to location marker "8").
More details and ticket prices for this and other Houston Livestock Show and Rodeo Champions wine seminars are available at:
http://www.rodeohouston.com/events/wine/garden.aspx