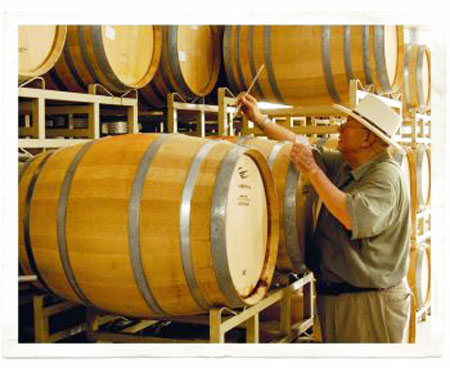 Texas Black Spanish – The Grape Otherwise Known as Lenoir:
Regional Character, International Reputation
Photo: Franklin Howser, making Black Spanish wine at Dry Comal Creek Winery (click here) for more.
::::::::::::::::::::::::::::::::::::::::::::::::::::::::::::::::::::::::::
Update: For a Video on Texas Black Spanish wines, go to:
https://vintagetexas.com/?p=852
::::::::::::::::::::::::::::::::::::::::::::::::::::::::::::::::::::::::::
My recent Hill Country Holiday Wine Tour was an opportunity to taste a great variety of Texas wines – Classic varietals of Cabernet Sauvignon, Chardonnay and others; Mediterranean varietals of Syrah, Mourvedre, Grenache, Viognier and Rousanne; Hybrid grape varietals such as Norton, Lenoir and Blanc du Bois. One of the most impressive aspects of this trip was to taste the progress being made to first-rate wines in Texas from this latter group, and especially Black Spanish or as it is otherwise known – Lenoir.
Lenoir actually has many names that go back over a hundred and fifty years back into history: Jacques, Jaquez, or Jack, as well as El Paso, Burgundy and Black Spanish. The credentials of Texas Black Spanish were established in the mid-1860's when its vines were introduced by the millions into Southern France. It was found to furnish an excellent, Phylloxera-resistant root stock onto which the classic French grape vines could be grafted. Additionally, it also made a superior, deeply colored red wine. In Texas, reports of that period can be found on Lenoir grapes growing in the "Sand Hills" of Bastrop county, that were "as fine as any Zinfandel" of its day.
My early Sunday morning tasting notes taken during my recent visit to Chisholm Trail Winery near Fredericksburg (See link below)
https://vintagetexas.com/?p=298
report that their Diablo premium red wine (a blend of 70% Syrah with 30% Lenoir) showed particularly well. It was a deeply colored, chewy wine. I use this term not in a negative context but to describe its mouth-filling thickness of texture and tannins that one almost "chews" before swallowing. This was accompanied with an aroma and flavor of dark fruit and a hint of pepper on the finish. I also tried their Lone Wolf dry red 100% Lenoir wine that also expressed ripe fruit qualities but tended toward plum and blackberry accented by a distinguishing red-berry finish.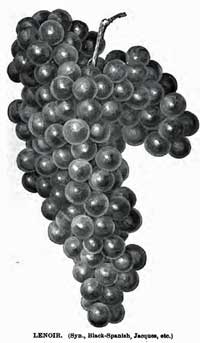 Some of the earliest comments on Lenoir of the late-1800s describe it as being a southern grape of the Herbemont class. Its bunches are loose, best to handle hot weather, and medium to large in size with dark round berries of bluish-purple to nearly black color. The grapes have a tender flesh that contains a juicy, sweet and vinous center that is very rich in coloring matter. In fact, Lenoir is one of the few grapes that actually bleeds red juice. In this era, viticulturalists describe its ripening qualities as "magnificent" for the southern United States, and quite acceptable for making red table wines.
In my later stop after Chisholm Trail was at Dry Comal Creek Winery in New Braunfels that brought another tasting opportunity to indicate just now true the "ancient" words were about this grape. Franklin Houser owner and wine consultant at Dry Comal Creek is getting quite a reputation crafting Lenoir grapes into a fine red table wine. When I arrived, he was just about to release his new 2008 Black Spanish table wine and broke open a bottle for us to taste in private.
Franklin said, "You know something….this wine is really different than Cabernet Sauvignon. Just about everything that is bad for Cabernet is good for Black Spanish." What Franklin was referring to was the ability of Black Spanish to improve in taste for an extended period after opening. After we had a quick taste from the newly opened bottle, he challenged me to take the bottle and leave it open for several days and taste it again.
Notes from my initial taste of the Black Spanish wine at Dry Comal Creek reflect its red-garnet color and the pink rim with initial aromas and a flavor of black cherry. This year's wine was somewhat lighter bodied that previous vintages, but it still had a pleasant medium-bodied consistency, actually feeling heavier on the palate due to the explosion of ripe and jammy fruit flavors.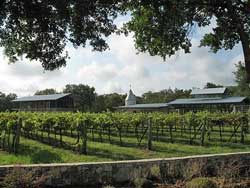 Rather than descriptions used for classic Cabernet-like black currents and cassis, the Dry Comal Creek Black Spanish provided different fruit qualities that needs to be enjoyed on their own merits – the wine was dry with well evolved jammy aromas and flavors of fruits like a preserve made from lesser known berries – elderberry and boysenberry, but with a spicy initiation. If I had to compare it to something in the known wine world, this Black Spanish wine is more like a good Pinotage (grown extensively and enjoyed in South Africa) and I emphasize "a good Pinotage".
In 1860s and following years, when the Phylloxera devastated France, the vines known as "Jacques" were initially sent from the United States to France were reported to have "luxuriant growth and perfect health". This caused a great demand for Jacques vines to the point where none were available for shipment to France. Back then, no one knew that the Lenoir and the Black Spanish, cultivated in Texas, were basically the same as Jacques. It was only after considerable research that viticultural experts of the time in the late 1870s, started to make associations between Jacques, Lenoir and Black Spanish due to the basically similar descriptions for all three types of grapes. It was only then that the differences in appearance between them were attributed to varying vintages and regional growing conditions.
As mentioned above, upon first opening the Dry Comal Creek Black Spanish at the winery, one part of the tasting experience still a mystery to me was a spicy initiation. After taking this bottle of Dry Comal Creek's Black Spanish wine home, I removed the cork and upon the second tasting I finally associated the initial aroma to include an aromatic baking spice dominant in the nose. I then proceeded to leave the bottle on the kitchen counter opened for the next five days, and tasted the wine daily during this period. The interesting finding was that the initially aromatic note that was dominant in the initial tasting progressively backed-down over the first two days leaving the pleasurable fruit qualities to stand alone. This same progression may also occur during bottle aging, as well, but over much longer periods of time.
By the third day, it was obvious that the wine had benefited from the extended aeration with the dominant tastes changing from jam berries to something more like black cherry jam. The Black Spanish did not have any signs of oxidation or bitterness that develop in wines open to the air. In fact, the real surprise was that in days three through five, the finish included a pleasant and complimentary hint of black pepper integrated with the dark fruit qualities. I think that the opened bottle of Black Spanish wine could have presented nicely much longer than five days. But alas, after this period of five days, it was consumed.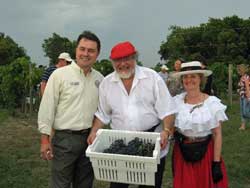 While writing this article, I had one more Lenoir tasting moment. I retrieved an old bottle of Port wine from my cooler that I had received many years ago. It was a bottle of Messina Hof Private Reserve 1998 Papa Paulo Texas Port (Double Barrel Aged) made from Black Spanish grapes including those on the Messina Hof Estate in Bryan, Texas. From old notes, I recall that the wine was originally dominated by berries, vanilla, toasted oak and a heady alcoholic yet interesting aromatic character.  From this tasting, it was evident that time had treated this Port wine very well. It presented a deeper, darker and smoother tasting experience with a collection of blackberry fruit and non-fruit elements including wet earth, leather and cigar smoke characteristic of a maturing wine. However, after the ten years since vintage, the Messina Hof Port was not ready to give up and I think that it has many more years to go. I will be interesting to give it another ten years and taste it again at the age of twenty.
In this grand Lenior tasting experience, I have used Lenoir and Black Spanish somewhat interchangeably as this is the way different wine makers in Texas tend to go. Some favor Lenoir – it probably sounds a little more French. However, some winemakers tend to go with Black Spanish and others with Jacques or Jaquez, particularly if they want to focus attention on the strong regional heritage for this grape in Texas and the southern United States, or Texas' international contribution to saving the French Wine industry in the 1800s.
Ref: "Illustrated Descriptive Catalogue of American Grape Vines: A Grape Growers Manual", Bush & Son & Meissner (Viticulturists and Proprietors), 3rd Edition, H.P. Studley & Company, St. Louis, MO, 1883.