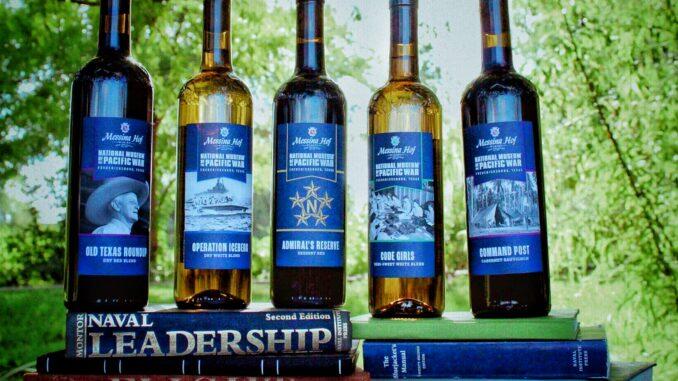 Messina Hof Winery, recently announced their new collection of five wines co-branded with The Admiral Nimitz Foundation and the National Museum of the Pacific War in Fredericksburg, Texas. Messina Hof crafted these new wines specifically to provide support for the Museum with an ongoing portion of the wine collection's sales proceeds going to this worthy cause.
Messina Hof Winery is a proud veteran-owned business and family winery with a history of three generations of United States military service. Messina Hof is honored to craft and showcase a collection of its wines that pays respect to the brave men and women that served during World War II and specifically supported the Pacific War effort.
Messina Hof's five new wines in this commemorative collection include Operation Iceberg, Code Girls, Old Texas Roundup, Command Post and Admiral's Reserve. The full history and stories behind each label can be found on  Messina Hof's website and are also summarized below.
Operation Iceberg: A dry white blend, Operation Iceberg is crisp and austere with notes of citrus, lemongrass and pineapple. Launched by the Allies to capture the strategically significant Okinawa Island, Operation Iceberg activated more than 1,300 ships and over 500,000 Allied personnel to create the greatest amphibious offensive of World War II. 
Code Girls: A semi-sweet white blend, Code Girls pays homage to the elite group of more than 10,000 female codebreakers of the same name that served during the war. Notes of jasmine and ripe tropical fruit intertwine to create this beautiful wine.
Old Texas Roundup: In January 1944 on the island of Oahu, Hawaii, Fleet Admiral of the United States Navy, Chester W. Nimitz, hosted an "Old Texas Roundup" for all Texans serving in the Pacific in order to keep their fighting spirit strong. Old Texas Roundup is a dry red blend boasting notes of blackberry, smoke and earthy richness.
Command Post: The number one priority for an ideal command post position is survivability. It is the nerve center of a battle campaign as it holds the tools and personnel from which both strategic and tactical decisions will emanate. This full-bodied Cabernet Sauvignon showcases suede tannins with notes of plum, spices and toasted oak.
Admiral's Reserve: This dessert red has commanding notes of leather, black cherry, dried herbs and liquorice.  It pays homage to Fredericksburg native, Admiral Chester Nimitz, a true hero of the Pacific War. The National Museum of the Pacific War remains committed to its promise to Admiral Nimitz to honor all who served and supported the war effort in the Pacific by proudly presenting the facts, stories, and authentic artifacts of the Pacific War for today and generations to come.
The Tasting
Along with other members of the media, I had the pleasure of sampling two of these wines during on online presentation and wine tasting hosted by husband-wife, co-operators of their family's Messina Hof Winery, Paul M. and Karen Bonarrigo. The tasting included Operation Iceberg and Old Texas Roundup and both were serious wines and quite enjoyable.
Operation Iceberg is a blend wine composed of three grapes (Muscat, Semillon and Chenin Blanc). It showed as a lighter-styled and aromatic dry white wine with citrus and tropical fruit notes on the nose and refreshingly smooth on the palate. Old Texas Roundup is a full bodied, fruit forward red blend. In our tasting, it brought together juicy dark berry and savory elements along with medium tannins from several red wine grapes (Petit Verdot, Syrah, Cabernet, Petite Sirah and Malbec).
More Information and Wine Availability
Each purchase of Messina Hof Winery's commemorative wines benefits the National Museum of the Pacific War. The wines are available at Messina Hof Winery locations and offered for online purchase and shipment from the website store. The full history and stories behind each label and purchase information can be found on Messina Hof's website.
Photo Credits: Messina Hof Winery (Bryan, TX) and the National Museum of the Pacific War (Fredericksburg, TX).