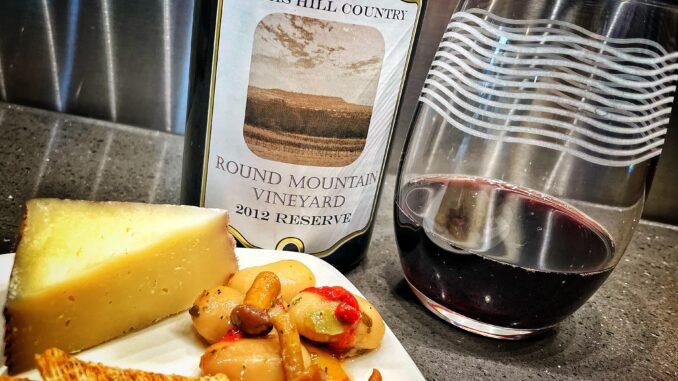 Doug Lewis shared his thoughts about making wine, learning and the experiential lessons that came from his efforts with his Texas Hill Country 2012 Round Mountain Reserve. This wine is a red blend comprised of 53% Tempranillo, 26% Tinto Cao, and 21% Touriga Nacional that spent 24 months in oak eventually producing 363 cases. On paper, this wine seems to be rather straightforward – grow the grapes, make the wine, age it for 24 months and bottle it. But, as with many fine wines produced around the world, there is often a whole lot more to the story than first impressions might indicate.
Round Mountain Vineyard – The Place
In 2011, the Strickler family began partnering with Lewis Wines to craft high quality wines. Round Mountain Vineyard was a 6-acre locally owned and operated vineyard that is "Iberian Strong" growing Tempranillo, Touriga Nacional, Tannat, and Tinto Cão, varieties that derive from Spain and Portugal the Iberian Peninsula. They thrive in the sandy, mineral rich soil of the Texas Hill Country. The vines were first planted in 2006, tended by the Strickler family eventually with assistance from Lewis Wines. Wines produced between 2011 through 2021 are now available through Lewis Wines.
2012 Round Mountain Reserve – The Tasting
For me, this red blend is hitting on all cylinders. It is deeply garnet colored and elegant structure, having well integrated fruit, soft tannins and acidity with evolving nuances from extended aging. The wine showed a medium-plus body, with medium-high tannins but integrated and finely structured on the palate, and a noticeable and agreeable acidity through to the finish. Descriptors include black and blue berries, tart pomegranate, cedar, leather, wet earth and pepper. This multifaceted wine appears extremely food friendly, my feeling is it will pair well with a range of meats (pork, beef, and game) and sausages grill or otherwise prepared. Despite the heft of this wine, the acidity carries a lightness that refreshes the palate with each sip.
But, you might ask… Why am I writing about this wine now ten years after the vintage? Well, sit back and read the story Lewis Wines owner and winemaker Doug Lewis has to tell about this very special (yet challenging) wine.
2012 – It was Was A Very Good Year for Wine
Lewis says, "The 2012 Round Mountain Reserve taught us a lot about these varieties, vintage variation, extraction, acidity, pH and aging. 2012 was a really nice vintage with mild weather, moderate temperatures and ample rainfall which resulted in good yields, especially in comparison to 2011's epic heat and drought vintage, and great quality."
I'll agree with him on the 2011 vintage, alright. That year, it was a real lizard scorcher! I was driving around the state doing my book signings for The Wineslinger Chronicles and taking photos for the Texas Hill Country Wineries books. It seemed like the whole state was going to burn up, literally.
"We usually sorted the best fruit for our Reserve bottling and blended the rest into the Estate blend, but in 2012, we elected to use the whole crop for the Reserve bottling," continued Lewis.
That year was also notable for Lewis Wines since it coincided with the first year that he and his partners were in their own winery near Johnson City, and the first vintage where they had access to their own tanks with temperature control for fermentation.
In 2012, they decided to push the envelope in terms of extraction, especially on the Tempranillo. They did several delesages* during fermentation followed by 65 days of skin contact post-maceration. According to Lewis, "We extracted tons of tannin from the Tempranillo skins and seeds, and we barreled the wines down to begin refining these tannins. The Touriga had a shorter fermentation but with delesages in tank, and the Tinto Cao was one of the slowest extractive fermentations we've done."
The blend was assembled after two years in barrel with only one racking other than bottling leaving the wine unfined and unfiltered.
*Delestage is a fermentation and maceration technique used in red winemaking from grapes that extracts phenolic compounds by oxygenating the juice to produce softer tannins in the wine and extracting more fruit character.
The Moment of Doubt
"We barreled down the wines in a mixture of new and used French, Russian and American oak, mostly barriques [traditionally holding 225 liters] with a couple puncheons [larger barrels holding over 500 liters]. A little over two years later, we expected the wine to be ready to bottle. Also, like the previous vintage before, we expected it to need to age another 1-2 years in bottle before release," says Lewis.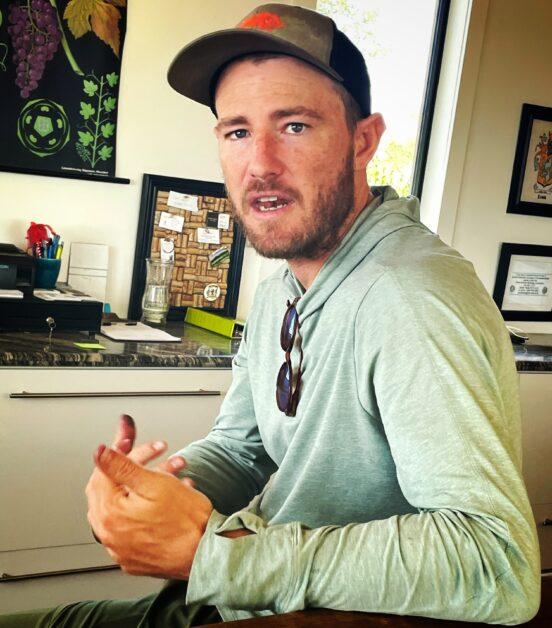 Well, as the wine approached two years in the bottle, they tasted the wine expecting it to be showing well only to find it tight and austere, but had an interesting aroma of forest floor. However, it didn't drink well without 24 hours of decanting. At this point they were wondering what they may have done wrong. The grapes from 2012 had better quality, as far as they could tell, compared to those from 2011, and the wine from the 2011 vintage was drinking great, commanding a good price, and even won gold and silver medals at the Texsom Wine Awards. 
Wine Geek Squad Time
As Lewis relates, "After reviewing the chemistry closer, we realized that the 2012 wine had more acidity resulting in a lower pH compared to the 2011, and that this may have contributed to the 'problem' of the 2012 not drinking well young. Our choices as far as extraction and the inclusion of Tinto Cao (which wasn't in production in 2011) were also exasperating the issue."
"I've had pH described to me as the speed at which wine drives down its aging highway [higher pH wines age faster, lower pH wines age slower] and that totally makes sense in the context of these wines. Pushing the extraction on the Tempranillo made a wine with 'monster' tannins. The Touriga layered richness and fruit into the blend. The Tinto Cao was elegant and aromatic, but a screaming terroir, also due to its high acidity and high tannin. This shifted the balance back towards the wine being tight and tannic even after two years of barrel aging. At that point, we decided to cellar the 2012 until it was good to drink. We were thinking that we had another year or two at the most to wait. Every winter we tasted the it, but the wine still wasn't ready."
Drinking No Wine Before It's Time Sometimes Requires Patience
At this point, if you are old enough, you might remember the wine commercials on TV in the 1970s where Director Orsen Wells proclaimed, "I drink no wine before its time." Well, fast forward six more years to the winter of 2020. Finally, in the context of this story… IT WAS TIME!
Lewis recalled, "We reopened our tasting room after 7 months of being closed from the pandemic and opened a bottle of the 2012 Round Mountain Vineyard Reserve to see how it was drinking. Finally, we were really happy with the way it showed, even though it drank even better on the second day, so we decided to put it on the tasting menu."
Lewis Wines rotate their big reds off the tasting menu in late spring and wait for cold weather in late fall to put them back on. They've seen the 2012 evolve over a couple more winters now, and it's amazed them to see it continue to open up and evolve more nuance and complexity.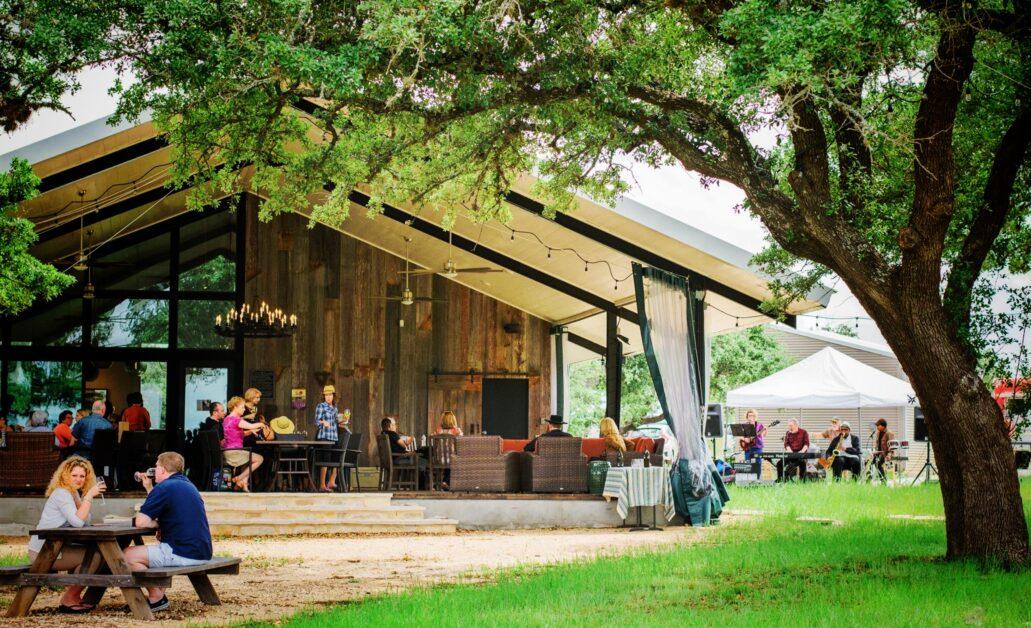 Friendly Now, Even Better In The Future
Lewis says, "I'm not sure when the 2012 will peak to be honest, the 2011's at higher pH's that have aged more quickly are just now reaching their peak from my perspective. The 2012, by virtue of its lower pH and more tannic structure, is miles behind them, so I'm betting that it'll continue to improve for many more years to come."
Since the inventory of the 2012 Round Mountain Vineyards Estate wine is limited, Lewis Wines will most likely just be offering it by the bottle and not put it on the usual tasting lineup anymore. This wine was released in 2014 and sold for $55 a bottle. Now after 8 more years of bottle aging, they are selling it for $75, and it's worth it.
Winemaking is a Commitment
Lewis acknowledges that this wine is a testament to the efforts from the family that owned the vineyard at the time (The Stricklers) and the Lewis Wines crew that helped them farm and harvest it and make the wine, and had the patience to let it rest in bottle through the years until now. This 2012 Round Mountain Vineyard Reserve is available at the Lewis Wines tasting room and on their online store. It has also been sold at shops like the Austin Wine Merchant, and can be found on the restaurant wine menu at Dai Due in Austin.
The Purchase
We should all be glad that "it's time" for the 2012 Round Mountain Vineyard Reserve and time to sit back and enjoy this wine. To schedule a visit or purchases this award-winning wine, visit LewisWines.com or call 512-987-0660.
Photo Credits – Lewis Wines, Round Mountain Vineyard, VintageTexas