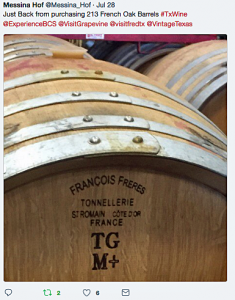 #TweetThoughts: French Oak in Texas
This Tweet from @Messina_Hof got me thinking about two things:
What would 213 French Oak barrels cost?
From a quick search, I found that the cost French Oak barrels can be in the range $850-$3600 a barrel, depending on quality. American made French Oak barrels can be ordered online for as little as $550 and be delivered in 1 week. So, for sake of argument, let's pick a price for Messina Hof Winery's French Oak barrels at $850, that's a total purchase price (not including delivery) of roughly $200 Gs, but it could easily have gone higher. Think about that next time you can't get yourself to pay $20 to $40 for a nice oak aged Cabernet.
Why use oak barrels to age wine anyway?
Oak barrels add flavor and aroma compounds to wine. They can be coconut, vanilla, baking spice/clove and/or caramel/butterscotch. Some oak barrels are "toasted" internally which also leads to nuances of char and smoke.
Additionally, oak used in barrel making has pores which allow the wine to penetrate the surface of the wood while also letting small amounts of oxygen from the surrounding air enter the wine. This micro-oxygenation slowly changes the wine making it softer and smooth on the palate.