Messina Hof Winery 40th Anniversary Honored with Special Wines & Cuvée
Paul V. and Merrill Bonarrigo's paired vision for starting a winery came about slowly and, after some encouragement. It led to the planting of a small vineyard in 1977. The event that really got this project going occurred through Paul's physical therapy practice in the Bryan – College Station area.
The Past
One of Paul's patients was Ron Perry, then a graduate student at nearby Texas A&M University. Ron told Paul that he was doing a study on the viability of growing grapes and making wine in Texas. He asked Paul if he would consider putting in an experimental vineyard. This piqued the couple's interest, particularly since Paul's Italian family in the Bronx (and still farther back in Europe) had a tradition of making wine, albeit mostly small quantities in the basement of the house for family and friends.
The 1980s brought rapid growth for Messina Hof and the Bonarrigo family while a new winemaking generation was established with the birth of Paul's and Merrill's  son Paul Mitchell. The planting of two additional vineyards allowed Paul V. and Merrill to produce 1,300 gallons of wine in 1983 – enough to release Messina Hof's first commercial vintage including Chenin Blanc, Cabernet Sauvignon, and Papa Paulo Port. By 1987, Messina Hof's expansion allowed them to enter Texas distribution that later expanded internationally.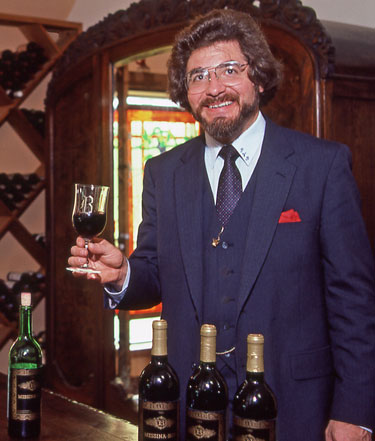 The recently released 40th Anniversary cuvée called "Heritage Blend" and other commemorative wines come with black and gold labels honoring Messina Hof Winery's original design that pays tribute to the beginnings of its Texas winemaking legacy.
"Our 40-year journey from industry pioneer to leader in the production of Texas wines is only the beginning," said now adult Paul Mitchell Bonarrigo, Chief Executive Officer of the multigenerational Messina Hof Winery. "We invite all wine lovers to join our family in celebrating with great wine, exclusive events, and good friends." Today, Paul Mitchell with his wife  Karen as the Director of Administration continue the legacy that Paul V. and Merrill Bonarrigo started forty years ago.
The MessinaHof Winery 40th Anniversary Collection consists of three wines including 2015 Cabernet Sauvignon, 2014 Papa Paulo Porto, and 2015 Heritage Blend. Along with the release of these commemorative wines, Messina Hof will also host a variety of events at their 3 winery locations (in Bryan, Fredericksburg, and Grapevine) celebrating this historical year (click here).
2015 Heritage Blend
Having just tasted the 2015 Heritage Blend (a blend of seven red grape varieties led by Cabernet Sauvignon, Merlot and Texas-grown Sagrantino a variety that originates from the Italian region of Umbria), the words that come to mind include: inky black-purple color, aromas of sweet red-black fruit melange, leather, baking spice and damp forest floor, flavors of concentrated black cherry, rustic bramble berries, and a brisk tannic structure balanced against lush ripe fruit with moderate acidity on the finish.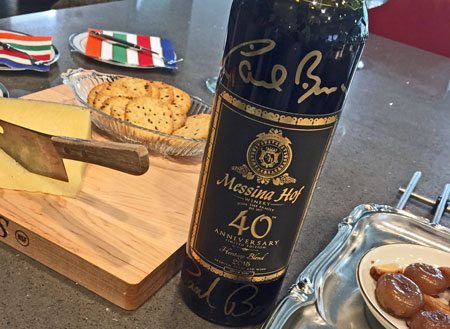 A Story Along the Way
From my book, The WineSlinger Chronicles, Texas on the Vine (click here):
I once talked to Paul and Merrill. I mentioned that I was told about a Messina Hof event that involved somebody riding a white horse into the lobby of a big-name Houston hotel. I asked Paul, "Was that you?" He laughed while shaking his head and said, "No, it wasn't me. But it did happen. It was back in 1987 during the release of our first Nouveau Red Zinfandel. We wanted to do something akin to the release of the Nouveau Beaujolais in France, but with a distinctive Texas flair. I actually don't know how we did this". Then Paul gave Merrill a long look.
She said, "I'm actually the one that called the Shamrock Hilton to try to arrange that event. The Shamrock was my first big hotel experience when I was growing up, and, back then, it was still a big name in Houston high society. I really didn't know if they would do it." Merrill continued as she and Paul wept with laughter while reliving what had to be one of the most memorable of Texas wine moments.
She said, "The movie Rhinestone Cowboy had been released back a year or so before, so I wanted a glittered-up cowboy mounted on horseback to carry a bottle of our wine into the lobby of the Shamrock Hilton where the tasting was being held. The hotel manager suggested that I call the county sheriff 's office and ask if one of the off-duty sheriffs would do it, and sure enough, one said he would. I remember that he wore a spangly cowboy outfit and came down Main Street on a big white horse with a fancy saddle. He came riding on horseback right into the hotel lobby to deliver our wine. It was one of the most amazing things that I've ever seen. People stopped on the street and in the hotel to see what was happening."
Today and the Future
Forty years later, the two generations of Bonarrigos work side-by-side – Paul Victor, Merrill, Paul Mitchell and Karen. Messina Hof has expanded to produce 130,000 gallons per year and faces the future at the forefront of the Texas wine industry.
Come out to the MessinaHof Winery location near you (click here). Purchase their wines locally around the state, or from their online store (click here).