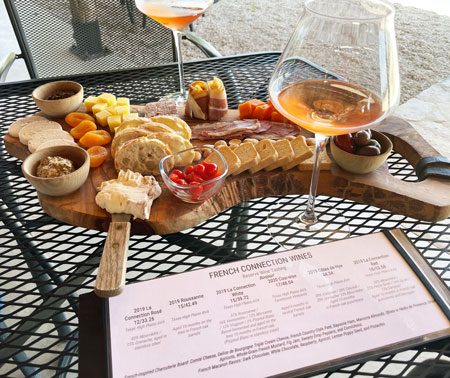 It was a warm summer afternoon driving east on Route 290. I approached the hamlet of Hye and made a turn south and, in short, found Ben and Victoria Calais' French Connection Wines (FCW). This trip was a result of a "Texas Wine Drinkers" Facebook group post I made inquiring about food possibilities on and around the Route 290 wine trail. One particular response focused me on an offering at FCW – a charcuterie board with a selection of six paired FCW wines.
On arrival at FCW, we were greeted by Victoria Calais and Sheri Pattillo who offered a table on the winery's shady back patio where breezes and moderate early-afternoon temperatures were comforting. Before us was a French-inspired presentation of charcuterie, including: Comté Cheese, Delice de Bourgogne Triple Cream Cheese, French Country-Style Paté, Bayonne Ham, Smoked Duck Breast, Marcona Almonds, Olives in Herbs de Provence, Dried Apricots – I need to take a breath before I continue – Whole Grain French Mustard, Fig Jam, Sweety Drop Peppers, and (always tart on the tongue) Cornichons.
Friend and longtime Texas winery presence Bill Kreitz was our host and server for the afternoon. He arrived with the first wine, FCW 2019 La Connection Rosé, Texas High Plains AVA. After a swirl, a sniff, and a sip, it was obvious that this wine was a Mourvèdre-driven, "Chateau-Tempier-Bandol-style" Rosé wine that was refreshing, yet much more. This wine had weight and structure on the palate with the ability to handle anything on the Charcuterie board. However, it's most notable pairing (I believe) was with the Ham.
Bill came back with the second wine, FCW 2019 Roussanne, Texas High Plains AVA. This single-varietal wine was aged on lees in French oak barrels for 15 months yielding a soft, silkiness on the palate with characteristics of lemon drops and vanilla. He followed with the FCW 2019 La Connection White blend, Texas High Plains AVA, a Roussanne-dominant five-blend. It was light and bright with notes of white peach, citrus, green herbs, and mineral. These two wines were my go-to pairings for all cheese accompaniments that afternoon.
The tasting continued with a pour of FCW 2020 Counoise (pronounced "Coonwaz"), High Plains grown at Farmhouse Vineyards. This red grape variety is one of the lesser-known of the 13 allowed French Rhône grape varieties. This particular wine was more extracted than most Texas Counoise that I've had that had been more rosé than actual red wine. Coming with 8 months of neutral French oak aging gave this wine a Pinotesque medium-body, mellowness and a hint of tannic structure that paired well with the Paté and dried apricots. The pairing was heightened further when a dab of mustard was added to the Paté. Nice!
The last two wines Bill served us were medium-plus-bodied reds very compatible with Texas's warm weather and gourmet cuisine: FCW 2019 Côtes de Hye, Texas High Plains AVA, and 2019 La Connection red blend. The Côtes de Hye [Hills of Hye] led with Carignan while the "meatier" La Connection red blend focused on its Mourvèdre.  I savored these wines that really came alive and aromatic with a few good swirls and then enjoyed them with the smoked duck breast and the hard-aged cheese.
I'll admit that the reason I was focused on this trip on Route 290 wine trail food goes back to a wine trip I took to the coastal Russian River area of northern California for a sojourn long before it was a well-recognized wine area. Someone on the trail mentioned to me, "It takes more than wine to make a wine trail." In response to the lack of wine-compatible food on the Russian River trail, wineries there offered trail visitors wines and paired foods at participating wineries. They realized that, much like it is said of an infantry, wine trail visitors also "travel on their stomachs" My feeling is that many Texas wineries today like FCW are doing the same.
To finish off our delightful visit to French Country Wines, it was topped off with a bit of sweetness in the form of a French macaron.
If you're interested in visiting French Connection Wines for its sampling of charcuterie and paired wines, check it out at 1197 Hye-Albert Rd, Hye, TX 78635. For more details and reservations, go to: www.frenchconnectionhye.com.
— — — — —
A more complete list of 290 wine trail food suggestions that I received from the members of the Texas Wine Drinkers Facebook group can be found below:
Bryan's on 290, Hye Thai in Johnson City, Hye Market. – Donna J.
Chase's Place in FBG. JUST AWESOME!!! We also like Bryan's on 290, Pecan Street Brewing, Proof & Copper, Hye Thai, Hye Market, Cabernet Grill, OTTO, Hondo's, FBG Brewing Company, and Emma + Ollie. – Maria T. Oh, and definitely can't forget doing Ab Astris' Food & Wine Pairing for a great lunch with Mitchell Sharrock!
Hye Market, Granite House Lounge, Emma + Ollie for pastries – Amber H. Emma and Ollie also have a salmon cob salad that is delicious! Ample perfectly cooked salmon too – Natasha S.
I've heard nothing but good things about Hye Thai- can't wait to eventually try. Chase's place has only been for cocktails but lovely charm! – Natasha S.
Silver Dollar Winery Hill Country has great food and wine. – Richard B.
Bryan's, Hye Market, Otto's, August E's, & Cabernet Grill are among our favorites when in the region. We haven't been able to try some of the fun new ones named here yet, but soon! 😉🍇🍷 – Krista H.
Bryan's on 290🍷 – Phyllis Smith
A great option too is the charcuterie board at French Connection Wines for lunch/afternoon snack as well! Absolutely amazing too! Victoria Calais and Sheri Parker Pattillo can help you out!!! 🍷🧀
Most of these places I've been to and LOVE. The only one I didn't notice (forgive me if I missed it) was Hill Top Cafe. The food is good and they have a Sunday Gospel Brunch. I have never been disappointed. – Deena W.
Bryonson290 and Cabernet Grill – Scott.
Hye Market – Bridgette H.
Sweetbriar Rose is a good option for lunch or brunch, love their chicken salad sandwich, homemade bread, and pastries! – Nina H.
Carter Creek Winery and Resort – Anna H.
Untamed Wine Estates had amazing pizzas and the charcuterie board looks amazing!!! – Amanda N.