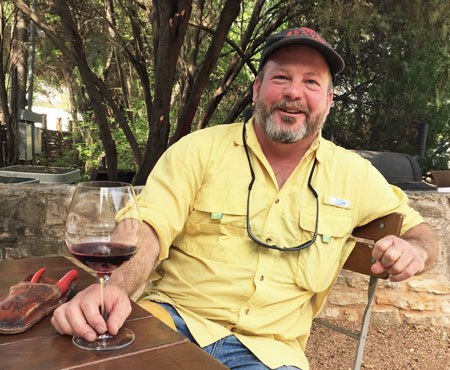 In recent stories and blog posts on the Internet, you've probably seen reference to Texas hill country winemaker John Rivenburgh as the "Johnny Appleseed" of Tannat or the "Father of Texas Tannat". In a recent, Zoom meet-up with John, owner of Kerrville Hills Winery, I shortened all this and simply greeted him as Texas's "Johnny Tannat".
My mission in our discussion was not Tannat-centric. It was my intention to explore another side of John Rivenburgh… his interest in another deep, dark tannic grape, Sagrantino. What prompted me in this quest was an alignment of the stars and the Moon… not really.
What got me going was the receipt of two bottles of Sagrantino, both made by John. The first, Kerrville Hills Winery 2017 Sagrantino, Narra Vineyards, 2017, was gifted to me by my friend and photographer Jim Skogsberg. Nearly the same day, I received a second bottle in a box [Rivenburgh Wine, Texas High Plains, Sagrantino, Narra, Vineyards 2016] with a handwritten note –
"Russ. Enjoy this bottle. Only five left now. I have been blown away with this variety! Its history says it all. A true testament to nearly a decade of working to get this in a bottle. I hope you enjoy! JFR".
So, I decided to make contact with John and get the behind-the-scenes details. But first I decided to taste these wines side-by-side.
Both offered a ruby color; the 2016 with a medium ruby color, and the 2017 with its deeper ruby hue. Both exhibited red and black fruit notes, but that is where the similarity ended.
Rivenburgh Wine, Texas High Plains, Sagrantino, Narra, Vineyards 2016
The 2016 Rivenburgh Sagrantino offered a pleasant granular tannic feel on the palate with flavors of black cherry punctuated with herbal notes of baking spice and mint. It had a wonderful "drink me now" quality calling out in a food-friendly way to pair it with grilled venison or quail.
Kerrville Hills Winery 2017, Texas High Plains, Sagrantino, Narra Vineyards, 2017
The 2017 Kerrville Hills Sagrantino (a year younger) was still packed tight on pouring. But, as it opened up after about an hour, it showed a Bordeaux-like character with blackberry to black current fruit flavors combined with wet earthy and truffle notes followed by the warm sensation of vanilla extra. With the more complex experience with this wine, my food pairing ideas move upward to braised meat, or possibly dry-aged steak or rack of lamb.
After I offered my comments on the differences between the 2016 and 2017, and the Bordeaux-like character of the 2017 wine, John gave a short chuckle and said, "You've nailed it. What you are likely picking up are the differences in the barrel treatments I used in these wines. The 2016 was aged in American oak whereas for the 2017 it was French oak."
Those of you that know me, know that I read wine bottle labels like a geek, searching for the story behind the wine that helps explain where the grape came from, what the winemaker had in mind when making the wine, and what the wine presents in the glass. An interesting aspect of these two wines is that they both indicate on the back label "Vinted and Bottled by Kerrville Hills Winery". According to federal TTB regulations, "vinted" has a distinct definition different from fermentation (winemaking). Vinted means, the wine was subject to cellar treatment at the stated location but was not made (fermented) there.
Knowing that these wines were made during John's early consulting years when I previously referred to him as a "Gypsy Winemaker", I tongue-in-cheekly asked John if he made this wine in the back of his truck. John said, "Nope, I didn't make these wines in a truck. But, they were made before I had a 'bricks and mortar' winery. I made these wines while I was working with John and Dabs Hollimon getting their 1851 Vineyards [now Slate Mill Wine Cooperative] up and running. The Hollimons were nice enough to allow me to make my wine there. I later moved these wines to Kerrville Hills Winery after my purchase in 2019 where I finished barrel aging and eventually bottled them."
I also mentioned to John that I was surprised, but not surprised, that he was working with Sagrantino. To this, John said, "My interest in Sagrantino started at Bending Branch. Gosh, it must have been sometime around 2011 or 2012. At that time, there was no Sagrantino to be had; none here and very little in California. While consulting, Novavine helped me find a source of vines. One of the places that I found to plant Sagrantino was on the high plains at Narra Vineyards. I was consulting with them and had a chance to get some of the fruit to make these wines."
Why was I not surprised with John's interests in Sagrantino? Well, since as long as I've known John, back to his Bending Branch days, he's been a big fan of big-bold red wines. If asked to pick one wine style he likes, he is likely to say Amarone, the favorite he cited in our conversation. In his efforts to discover his Texas-style, he's been on record of helping to introduce in Texas Tannat, Sagrantino, Souzao, and Charbono – all sun-loving red wine grape varieties. These varieties that John likes so much make wines with deep-dark, thick-skin red color that also bring along the excellent tannic structure that enhances the wine's agability and pleasant firm feeling on the palate.
John said, "You know me… I'm a big fan of grape varieties that we can successfully grow in Texas, and these are varieties that we can grow. Sagrantino is a warm-weather grape and I'm planning on planting more of it in a couple of years, this time here in the hill country."
In closing, John indicated that now in a leadership position after his purchase of Kerrville Hills, he was excited about making his own wines under both Rivenburgh and Kerrville Hills labels. He also noted his interest and excitement about making wine and sharing his knowledge with Kerrville Hills incubator member wineries like Ab Astris Winery, Kalasi Cellars, Fly Gap Winery, Siboney Cellars, and others to come.
— — — — —
Note: Lead photo was from my 2016 "Gypsy Winemaker" story on VintageTexas.com.