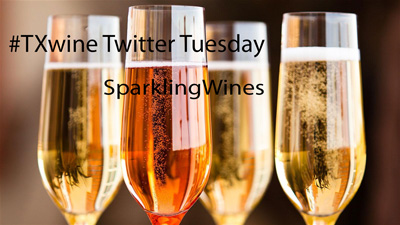 #TXwine Twitter Tuesday – Features Texas's Sparkling Wines: May 12th 7-8p Central Time
Join us on May 12th 7-8p CT for another installment of #TXwine Twitter Tuesday. This week we are featuring your Texas sparkling wine selections in their many forms: Dry, Lean & Zesty, Light & Dry, Fruity & Floral, or Sweet & Perfumed. We have an increasing number now from many different wineries in white to Rosé, traditional Méthode Champenoise to Charmat (tank) to Pétillant Naturel (Pet-Nat), or mildly effervescent frizzante.
As you likely know, #TXwine Twitter Tuesdays are the tastings that take you across the expanse of Texas via the Internet (no travel required) to meet-up with fellow Texans, winemakers and grape growers to taste and discuss some of the best wines being made in this state.
For this week's tasting, please focus on Texas's Sparkling wines. For some ideas, check with these wineries: Bending Branch, Dandy, Farmhouse Vineyards, Grape Creek Vineyards / Heath Sparkling Wines, McPherson Cellars, Messina Hof, Southhold, Wedding Oak, William Chris, and Ron Yates.
Also, click on the following links for more ideas: here, here, here, or here, or check your favorite winery or wine shop. You select your sparkling wine(s) made from Texas grapes, then join us for #TXwine Twitter Tuesday, and share what's in your glass, comments and/or photos.
Please follow hashtag #TXwine and organizers Denise Clarke @DeniseClarkeTX, Jeff Cope @TXwinelover, Matt McGinnis @MattMcGinnis, and Russ Kane (me) @VintageTexas and our other faithful tweeters across the state. Our recent #TXwine Twitter Tuesday event have tracked over 1.5 million Twitter impressions, over 60 tweeters and over 325 tweets in the one-hour period… so join in for the fun. Remember – More Tweeters, More Tweets, More Fun!
IMPORTANT: To join our Twitter wine tasting, log into your Twitter account, follow the #TXWine hashtag, and share your favorite Texas wines, wineries, and experiences. You can post photos and share a special #TXwine moment. Taste – Tweet – Repeat… then Retweet what others are doing!
To support our Texas wineries – pick up wine from your local retailer, order directly from Texas wineries (many have free or reduced-price shipping) or open your wine cooler. You can also order wine at some restaurants along with your food order. Then, join us online.
Our line up of #TXwine Twitter Tuesday events after May 12th includes: May 19th – Great Grilling Wines of Texas, or Blanc Du Bois, and Lenoir, and May 26th – Texas Cabernets & Chardonnays.
Here are a few additional suggestions:
If you are new to Twitter, here's how you participate: just sign up for a free Twitter account at twitter.com. You can follow hashtag #TXwine from your twitter page or use a Twitter chat website like http://www.tchat.io/rooms/txwine. No registration is required; you can login using your Twitter account info. The hashtag #TXwine will automatically be added. If you are using another platform for tweeting, make sure you add #TXwine to your tweets – Example: follow the action on #TXwine on your browser at TweetDeck.
Tip: When you participate in #TXWine Twitter Tuesday, don't just "Like" a tweet. Do a "Retweet" too so your followers will see it and learn more about #TXWine, and then hopefully your followers will also retweet it to build the #TXWine audience.