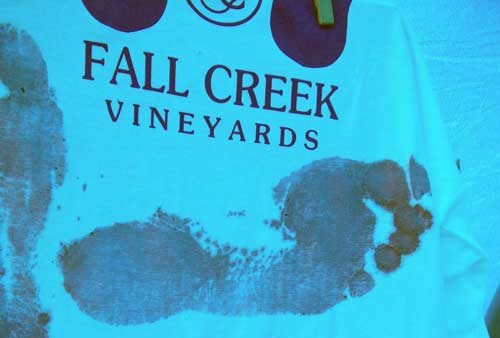 Fall Creek Vineyard's 2010 Grape Stomp and Harvest Festival – August 21 and 28, 2010
Don't miss this year's 21st Annual Grape Stomp and Harvest Festival at Fall Creek Vineyards (www.fcv.com) THIS Saturday, August 21st, and Saturday, August 28th, from 11:00am to 5:00pm, both days at Fall Creek Vineyards, Tow Texas.
The annual "Grape Stomp" is a two-Saturday traditional favorite; full of fun and activity for all ages! Families can enjoy winery tours, live local music on the vineyard patio, Castle Bounce, a play house, hayrides, and, of course, the excitement of your own "bare" feet grape stomping, "I Love Lucy"-style, with the video playing, in wine barrels … all free of charge!
Receive a free souvenir wine glass with $4 wine tasting. No wonder Fall Creek's 21st Grape Stomp & Harvest Festival is where YOU want to toast the harvest in the Texas Hill Country!
Enjoy lunch, quick demo by the chefs, and the culinary talents of the following Chefs:
August 21st
1st Course … Chef ALMA ALCOCER of the hot, new TNT Restaurant in Austin will prepare Roasted Coriander and Cumin Crusted Chicken Taco with Poblano Ranch Dressing, Pickled Onions, Corn Cake and Sweet Potato Chips with 3 salsas.
2nd course … Chef MICHAEL FLORES of San Antonio, a noted cookbook author, gourmet instructor and celebrity chef on the morning show "Great Day SA", will be preparing Tamarind Cured Beef Tenderloin with Gorgonzola and Pumpkin Seed Salsa on Mole Mashed Potatoes.
August 28th
1st Course … Chef/Owner LEU SAVANH of Zagat-rated, August E's Restaurant in Fredericksburg, will prepare Baby Back Ribs encrusted in Lemon Grass and Garlic, Mesquite Grilled on an Asian Style Slaw with Sweet Chili Sauce.
2nd Course … Chef BRIAN HAY of the TV Show "Austin Cooks" and Program Director of ACC's Culinary Arts Program, will be preparing a Smoked Beef Tenderloin over Wild Greens with Creamy Celery Seed Sauce and Smoked Poblano Pepper Sauce.
— — — — —
Lunches will be paired with two glasses of award-winning Fall Creek Vineyards wines at 2 seatings each Saturday, 11:30am and 1:30pm, for $22/person, all inclusive of food and wine!
Seating by reservation only … call the Tasting Room, 325-379-5361 – during business hours – M-F 11am-4pm, Sat 11am-5pm, Sun Noon-4pm – to make your reservations.
Don't worry about the Texas heat, as all activities are either inside the winery or under shade tents or on the covered patio with misters to keep you cool.
Additionally, there will be delectable catered food on the patio to purchase, BY RESERVATION, by calling 325-379-5361:
Grilled Hamburgers or Veggie Burgers (please specify when making your reservations), Fruit, Chips & a Cookie @ $8.50/person, or
Chicken or Beef Fajita Tacos w/ Salsa, Doritos & Fruit @ $8.50/person, or
Children's Plate, a hot dog, fruit and cookie will be offered for $6.00…all to enjoy while listening to a wide array of live music!
Join "Miss Jane" Nickles of Le Cordon Bleu College and learn a little bit about what kinds of wines you like – and why! – offered at 1:00pm both Saturdays, $20/person by reservation/325/379-5361! All our demo lunches and classes sell out early, so reserve your seat now!
Looking for a place to stay? Check www.marblefalls.org/lodging.htm or www.visitburnetcounty.org for area lodging opportunities.
FALL CREEK VINEYARDS is centrally located on the NW shores of beautiful Lake Buchanan in the Hill Country, and is open to the public every day. Contact us: (325)379-5361/1820 C R 2241/222 off Hwy 29 at Tow, Texas or (www.fcv.com). Open: Mon – Fri, 11a to 4p; Sat, 11a to 5p; Sun, noon to 4pm.