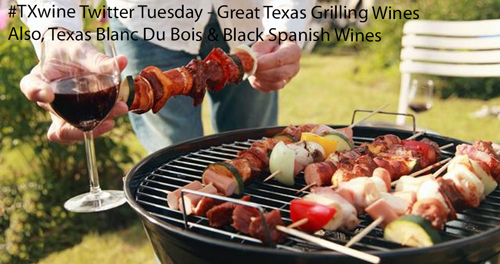 TXwine Twitter Tues. – Texas's Grilling Wines, Also Blanc Du Bois & Black Spanish Wines: May 19th 7-8p CT – Taste-Tweet-Repeat-Retweet!
Join us on May 19th 7-8p CT for another installment of #TXwine Twitter Tuesday. It's coming up to Memorial Day and the unofficial start of the Grilling Season in Texas. This week we are featuring your favorite grilling wines along with wines made from two other important and historical grape varieties: Blanc Du Bois & Black Spanish (Lenoir).
For this week's tasting, please focus on Texas's Grilling Wines: Rosés and Sparkling wines (for sure) along with Spanish, Italian and other Mediterranean whites and reds that your experience tells you go well with BBQ beef brisket, pork spare ribs and pulled pork, lamb chops, sausages, and even grilled vegetables. You make your selection(s) and show us what's in your glass. Remember to Taste-Tweet-Repeat-Retweet!
Additionally, our wine focus on May 19th will extend into the many fine wines made from Blanc Du Bois (Texas's most-grown white grape variety) and Black Spanish from wineries around the state. Click here for more information on sources for Blanc Du Bois, and for Black Spanish, click here. This information is from Jeff Cope's Texas Wine Lover Blog.
Please follow hashtag #TXwine and organizers Denise Clarke @DeniseClarkeTX, Jeff Cope @TXwinelover, Matt McGinnis @MattMcGinnis, and Russ Kane (me) @VintageTexas and our other faithful crew of tweeters across the state.  Our recent #TXwine Twitter Tuesday events have tracked over 1.5 million Twitter impressions, over 60 tweeters and over 325 tweets in the one-hour period… so join in for the fun. Remember – More Tweeters, More Tweets, More Fun!
IMPORTANT: To join our Twitter wine tasting, log into your Twitter account, follow the #TXWine hashtag, and share your favorite Texas wines, wineries, and experiences. You can post photos and share a special #TXwine moment. Taste – Tweet – Repeat… then Retweet what others are doing!
To support our Texas wineries – pick up wine from your local retailer, order directly from Texas wineries (many have free or reduced-price shipping) or open your wine cooler. You can also order wine at some restaurants along with your food order. Then, join us online.
Our line up of #TXwine Twitter Tuesday events after May 19th will include one more featured event: May 26th – Texas Cabernets (Sauvignon, Franc, blends) & Chardonnays.
Here are a few additional Twitter suggestions:
If you are new to Twitter, here's how you participate: just sign up for a free Twitter account at twitter.com. You can follow hashtag #TXwine from your twitter page or use a Twitter chat website like http://www.tchat.io/rooms/txwine. No registration is required; you can login using your Twitter account info. The hashtag #TXwine will automatically be added. If you are using another platform for tweeting, make sure you add #TXwine to your tweets – Example: follow the action on #TXwine on your browser at TweetDeck.